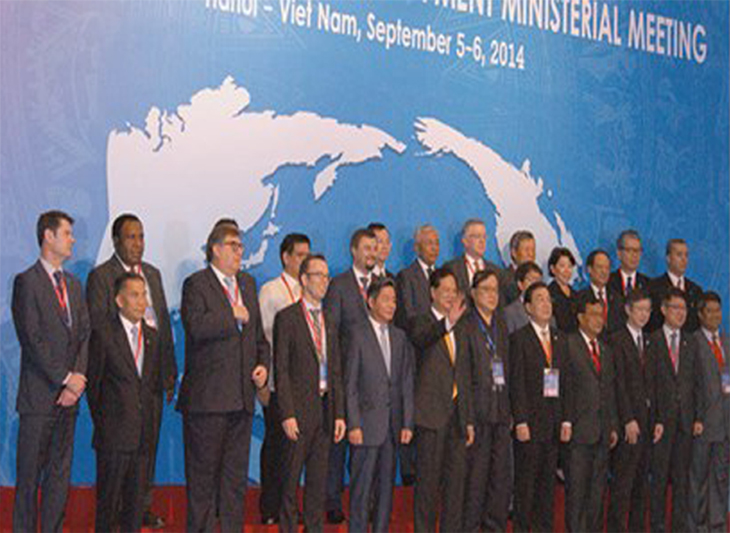 APEC Human Resources Development Ministers endorse Joint Ministerial Statement
Ha Noi, Viet Nam, 06 September 2014
APEC Human Resource Development Ministers concluded their meeting on Saturday by endorsing a Joint Ministerial Statement focusing on APEC's priority to promote people to people connectivity and committing to maximizing opportunities afforded by globalization to improve workforce capabilities, promote decent jobs, strengthen social protection and address inequality.
Meeting in Ha Noi under the theme, "Promoting Quality Employment and Strengthening People-to-People Connectivity through Human Resources Development," the Joint Ministerial Statement includes the following sections:
Supporting Inclusive and Sustainable Growth to Address the Social Dimensions of Globalization, including Equality and Needs of Vulnerable Groups
Enhancing Human Resource Quality to Meet Supply Chain Demands
Facilitating Mobility of Labor and Skills Development
Enhancing the Participation of Women in the Economy
APEC Ministers also adopted the Action Plan (2015-2018), which sets out priority areas and actions as well as a follow-up mechanism to effectively implement the Joint Ministerial Statement.
A joint news conference chaired by Minister of Viet Nam Planning and Investment, Bui Quang Vinh, will follow the conclusion of the meeting.
Viet Nam will be the host economy for APEC in 2017.
# # #
For more details, please contact:
David Hendrickson +65 9137 3886 at [email protected]
Michael Chapnick +65 9647 4847 at [email protected]
Information about APEC's 2014 priorities and initiatives can be found on www.apec.org. You can also follow APEC on Twitter and Sina Weibo and join us on Facebook and LinkedIn.