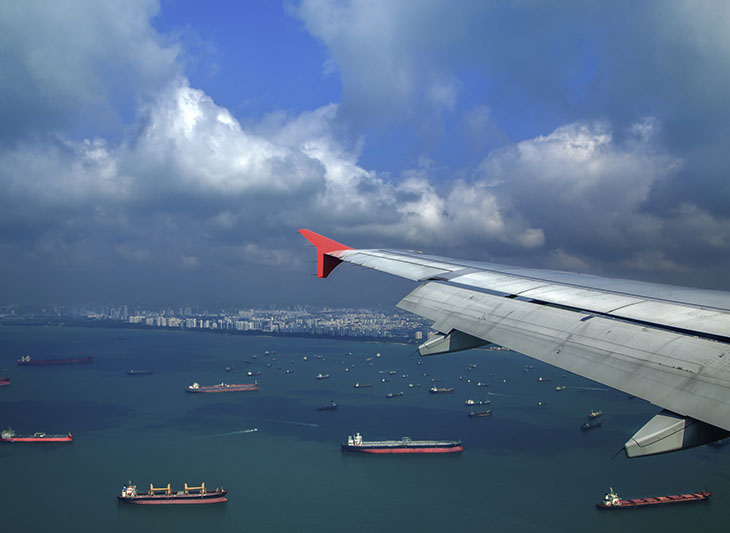 APEC Enhances Transportation Security
Beijing, People's Republic of China, 11 August 2014
The recent string of transportation security incidents across the Asia-Pacific and rising costs of shocks to goods and people flows are prompting the region's economies to move forward with more aggressive measures to ensure safe and efficient trade and travel.
Transportation, counter-terrorism, law enforcement, customs and immigration authorities from APEC member economies underscored their commitment to cooperatively tackle supply chain threats and detailed a plan for action during the just concluded 9th Secure Trade in the APEC Region (STAR) Conference in Beijing. It set the stage for implementation work that will proceed here and in an APEC transportation officials' meeting in Hong Kong, China over the coming days.
"The successive loss of airliners and major incidents involving land and maritime transport have exposed the vulnerability of the guaranteeing system for transportation security," said Li Guoping, Director-General of the Public Security Department within China's Transportation Ministry. "It is imperative that we address transportation security gaps to protect lives and livelihoods."
"Increasing traveller numbers and goods flows, combined with the rapid operation and wide distribution of the region's transportation infrastructure, are raising the stakes," cautioned Bambang Susantono, Indonesia's Vice Minister of Transportation. "Shocks to the transportation system not only threaten Asia-Pacific economies but also the world economy as whole."
APEC member economies account for 22 of the top 30 busiest airports by cargo volume and 24 of the top 30 busiest airports by passenger traffic, according to security firm, Nutech. They also account for 23 of the top 30 world's busiest container ports, a mode of transportation that overall moves about 95 per cent of all manufactured goods.
"Huge traffic volume, sophisticated concealment methods and diverse routing make container transportation increasingly vulnerable," noted Dmitry Feoktistov, Deputy Director of the New Challenges and Threats Department at Russia's Foreign Affairs Ministry. "Without proper safeguards, there is a real danger of container misuse by terrorists and organized crime to smuggle illicit drugs, weapons, explosives, cash, endangered species, counterfeit goods and other contraband." About two per cent of containers are inspected by authorities worldwide, he added.
"APEC economies are pursuing a risk-based approach and taking information-sharing to new lengths," explained Ambassador Harry Purwanto, Chair of the APEC Counter-Terrorism Working Group. "Our measures aim to boost the security and resilience of physical and people-to-people connectivity without compromising the flow of legitimate trade and travel."
These include coordinated efforts to implement a global security code for ships and port facilities, identify vital port infrastructure to improve resource allocation and risk reduction, and adopt model port security legislation and regulatory regimes. To protect land-based cargo and passengers, APEC economies are meanwhile working together to advance bus security policies, and enhance responses to bus terrorism based on assessments of real case studies.
Enhancements to an APEC Regional Movement Alert System (RMAS) that automatically confirms the validity of a passport issued by a participating economy are also in the works. This will enable participating economies to better facilitate genuine travellers while combating fraud, further criminal activity and terrorism. Emphasis is on boosting the operation of RMAS in existing participant economies – Australia, New Zealand, the Philippines and the United States – and facilitating the accession of additional entrants from the region.
APEC economies are furthermore creating a new Global Trade Recovery Information Platform (G-TRIP), in collaboration with the World Customs Organization, to facilitate the exchange of critical information during major transportation disruptions. Examples include infrastructure conditions, priority goods and added security constraints to support emergency decision-making by governments, carriers and shippers. G-TRIP is expected to become operational by the end of the year when attention will turn to testing, information-gathering and distribution, and the building of capacity for adoption among APEC economies and, ultimately, worldwide.
For more:
Downloadable high resolution photos from the STAR Conference are available at this link.
To view the schedule of related APEC capacity building events this month in Beijing and Hong Kong, China, please click here.
# # #
For additional information, or to arrange possible interviews, please contact:
David Hendrickson +65 9137 3886 at [email protected]
Michael Chapnick +65 9647 4847 at [email protected]
Details about APEC's 2014 priorities and initiatives can be found on www.apec.org. You can also follow APEC on Twitter and Sina Weibo and join us on Facebook and LinkedIn.