APEC Minsters issue statement on advancing gender equality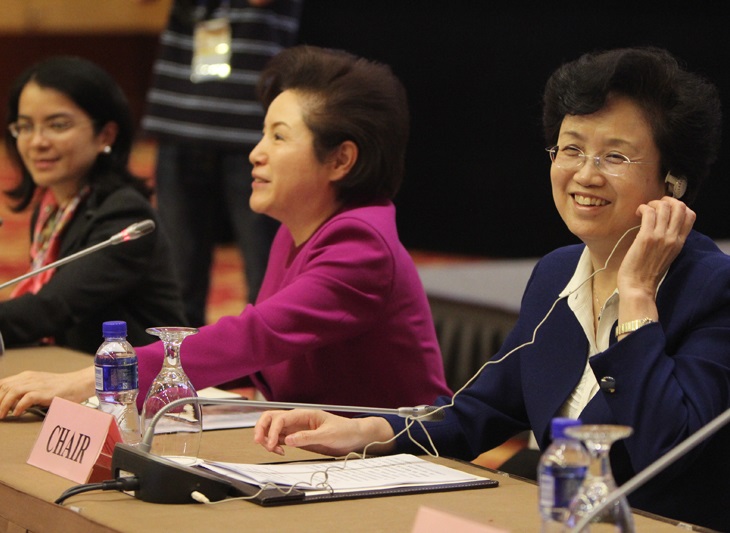 APEC Ministers concluded the APEC Women and the Economy Forum on Friday in Beijing by issuing a statement on advancing gender equality and greater economic empowerment for women in the Asia-Pacific.
The statement outlines a course of action for the region in the following areas:
Women and green development
Women and regional trade and economic cooperation
Policy support and women's economic empowerment.
"We are focused on supporting the five pillars of women's economic empowerment," said Song Xiuyan, Chair of the 2014 APEC Women and Economy Forum and Vice Chairperson of the National Working Committee on Children and Women under the State Council, China and Vice President of the All-China Women's Federation.
"This means improving access to markets and capital as well as promoting skills development and capacity building, women's leadership, and more effective use of innovation and technology," added Song.
Training women to use information technologies and e-commerce to start their own businesses as well as encouraging girls to study science, technology, engineering and math (STEM) fields and the development of a regional women's entrepreneurial network are among some of the initiatives.
"APEC will also work on integrating gender responsive programs and policies as a cross-cutting issue across all other APEC initiatives including our work in human resource development, small and medium enterprises, e-commerce and transportation," said Dr Alan Bollard, Executive Director at the APEC Secretariat.
Limits on women's participation in the workforce across the Asia-Pacific region cost the economy an estimated US $89 billion every year, according to the United Nations. Over the past years, APEC's Policy Partnership on Women and the Economy has been working with APEC economies to implement initiatives to help the region fully realize the potential economic contribution of women.
The APEC Women and Economy Forum 2014 in Beijing and its initiatives to close gender gaps and promote inclusive growth coincided with the 23rd World Economic Forum on East Asia in Manila 21-23 May 2014 on leveraging growth for equitable progress.
To download the APEC Women and Economy Forum 2014 Ministerial Statement, click here.
# # #
For more details or to arrange possible media interviews, please contact:
Jennifer Juo +65 9721-8660 at [email protected]
Michael Chapnick +65 9647 4847 at [email protected]
Additional details about APEC meetings, events, projects and publications can be found on www.apec.org. You can also follow APEC on Twitter, Facebook and LinkedIn.