APEC Trade Ministers adopt Qingdao Statement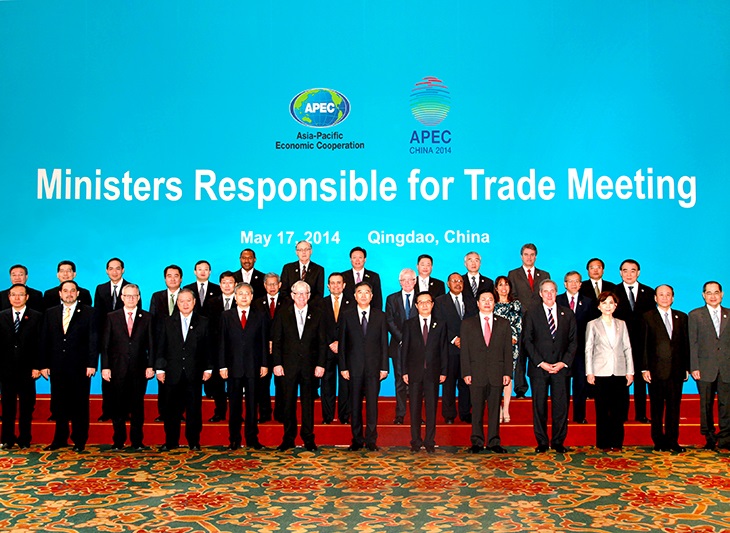 APEC Trade Ministers concluded their two-day meeting on Sunday by issuing a Qingdao Statement describing actions for improving trade and economic growth across the Asia-Pacific. The Statement includes the following chapters:
The Global Economy: An Asia-Pacific Partnership that Looks into the Future and Beyond the Region
Continuing Support for the Multilateral Trading System
Advancing Regional Economic Integration

Bogor Goals
Free Trade Area of the Asia-Pacific (FTAAP)
Global Value Chain
Supply Chain Connectivity
Next Generation Trade and Investment Issues
Environmental Goods and Services
Intellectual Property Rights
Services
Investment
Industry Dialogues
Regulatory Cooperation

Promoting Innovative Development, Economic Reform and Growth
Strengthening Comprehensive Connectivity and Infrastructure Development
Economic and Technical Cooperation
Strengthening APEC
Towards Yanqi Lake
Trade Ministers also adopted a standalone statement: Continuing Support for the Multilateral Trading System
The Qingdao Statement can be downloaded at this link.
The standalone statement can be downloaded at this link.
# # #
For more details or to arrange possible media interviews, please contact:
David Hendrickson +65 9137 3886 at [email protected]
Michael Chapnick +65 9647 4847 at [email protected]
Additional details about APEC meetings, events, projects and publications can be found on www.apec.org. You can also follow APEC on Twitter, Facebook and LinkedIn.