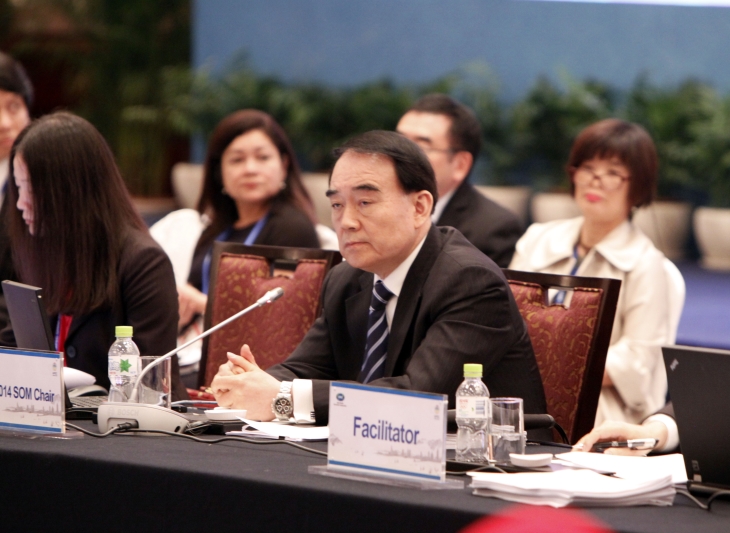 APEC pursuing continuity and innovation balance
Qingdao, People's Republic of China, 14 May 2014
Senior Officials from APEC member economies are now meeting in the port city of Qingdao to deliver new breakthroughs in the promotion of trade and economic cooperation and design frameworks for the sustainable development and prosperity of the Asia-Pacific.
Li Baodong, Chair of the APEC Senior Officials' Meeting and Vice Foreign Minister of China, provided insight into how this is being advanced in his opening speech and articulated a desire to realize early returns based on the APEC China 2014 framework and priorities.
Collaboration between APEC economies is focused on "Advancing Regional Economic Integration," "Promoting Innovative Development, Economic Reform and Growth," and "Strengthening Comprehensive Connectivity and Infrastructure Development."
Together, APEC's 21 member economies account for about half of world trade and 60 per cent of total gross domestic product.
"In the coming days, we will improve cooperation initiatives, design outcome frameworks and further consolidate consensus," Vice Minister Li said. "We will lay a solid foundation for a successful APEC Economic Leaders' Meeting in November."
"We should give attention to both global trends and pragmatic demands by member economies," he explained. "We should also try to strike a balance between continuity and innovation."
APEC Senior Officials are addressing the next step towards the realization of a Free Trade Area of the Asia Pacific, a goal endorsed by APEC Economic Leaders. This involves improving information-sharing between participants in free trade agreements and regional trade agreements.
Advancing the multilateral trading system, global value chains, innovative development, economic reform and growth, and an APEC blueprint on connectivity are additional subjects for discussion over the next two days.
"We're now arriving at the mid-point of the China APEC year," Vice Minister Li noted. "What we should do now is fulfill the historic mission to bring more strength to regional partnership and openness, inclusiveness, mutual benefit and win-win process."
"We should attach high importance to relevant conclusions and recommendations, improve our initiatives and bring our work on cooperation to an even higher level," Vice Minister Li continued. "We should spare no efforts to promote relevant cooperation with the aim of getting an early harvest."
"As the saying goes, once an outline is laid out, everything will fall into its right place," he concluded.
The Second APEC Senior Officials' Meeting will continue through Thursday. The APEC Ministers Responsible for Trade Meeting will follow on 17-18 May.
# # #
For more details or to arrange possible media interviews, please contact:
David Hendrickson +65 9137 3886 at [email protected]
Michael Chapnick +65 9647 4847 at [email protected]
Additional details about APEC meetings, events, projects and publications can be found on www.apec.org. You can also follow APEC on Twitter, Facebook and LinkedIn.