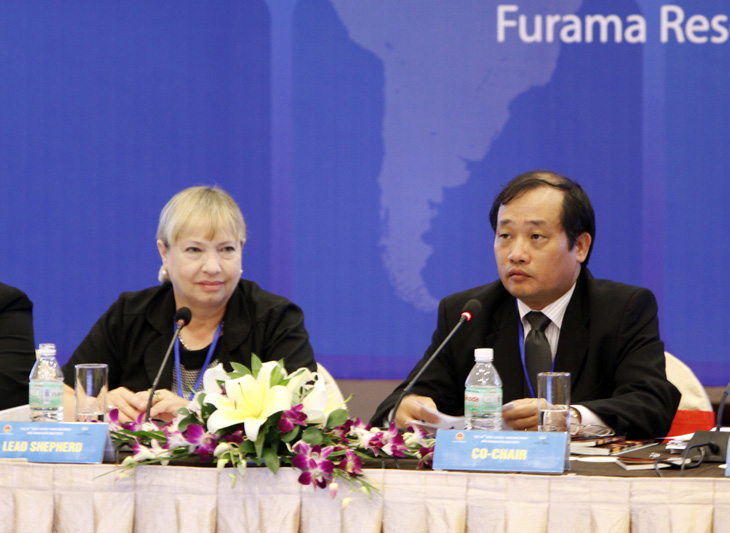 APEC economies are stepping up their joint efforts to improve their energy policies amid landmark shifts in global production and rising demand that is intensifying pressure on growth and the environment.
Strengthening energy efficiency and promoting low-carbon energy supply was the focus of a four-day gathering of APEC energy officials that concluded on Thursday in Da Nang. This included welcoming Da Nang into a city-level clean energy and low carbon scheme whose development was billed as a priority heading into 2014 when China will chair APEC.
"We seek to further the APEC goals of facilitating energy trade and investment within member economies and ensuring that energy contributes to the enhancement of our regional community," said Pham Manh Thang, Director General of Viet Nam's General Directorate of Energy.
"Da Nang's participation in the APEC Low Carbon Model Town project is an opportunity for Viet Nam and the region to learn how to better manage our rising energy consumption based on consultant analysis and the implementation of best practices in urban planning," Pham explained. "APEC funds and supports this."
APEC economies as a whole account for around 60 percent of global energy demand and are net energy importers. Their consumption of primary energy, which is all energy, including fuels, for electricity generation, is expected to grow by 40 percent between 2010 and 2035, according to the Asia-Pacific Energy Research Center.
"Our reliance on fossil fuels will decline but remain the major component of our fuel mix given the scale of demand, our increasing ability to tap additional reserves and their use in cleaner, more sustainable ways," said Dr Phyllis Genther Yoshida, Lead Shepherd of the APEC Energy Working Group. "Better incentives, information and technology are resulting in much higher energy efficiency within APEC, though considerable further reductions in carbon dioxide emissions through the adoption of cleaner energy and the lowering of energy intensity are still needed to combat climate changes that pose a risk to economic growth."
"APEC is working to help governments improve low carbon policies and increase technical capacities in areas such as green buildings, clean energy production and sustainable transport," explained Dr Yoshida, who is also U.S. Deputy Assistant Secretary of Energy. "This initiative and others are set for expansion based on the strides we made in efficiency and cleaner energy in APEC, including in the first two Low Carbon Model Towns, in China and Thailand."
Da Nang is the third entrant into the APEC Low Carbon Model Town project that was launched in 2011.
The APEC-wide goal is to reduce energy intensity, a common indicator of efficiency, by 45 percent by 2035 compared to 2005. Member economies achieved a seven percent improvement in primary energy intensity in the first six years to 2011, according to an analysis presented by Dr Ralph Samuelson, Vice-President at the Asia-Pacific Energy Research Center.
"Boosting energy efficiency is good for economies, saves consumers money and protects the environment," Dr Samuelson noted. "Peer reviews of energy efficiency and Low Carbon Model Towns are helping every APEC economy implement global best practices. But there is more to be done if the region is to achieve its energy intensity improvement target."
"One critical step to raising energy efficiency will be the implementation of the APEC Leaders' initiative to rationalize and phase out inefficient fossil-fuel subsidies that encourage wasteful consumption, while recognizing the importance of providing those in need with essential energy services," Samuelson concluded.
Photos from the APEC Energy Working Group Meeting can be downloaded at:
http://www.apec.org/Press/Photos/2013/20131120_EWG.aspx
# # #
For more information or to arrange possible interview opportunities, please contact David Hendrickson +65 9137 3886 at drh@apec.org or Michael Chapnick +65 9647 4847 at mc@apec.org.
Additional details about APEC meetings, events, projects and publications can be found at www.apec.org. You can also follow APEC on Twitter and join us on Facebook and LinkedIn.