APEC Economic Leaders' Week 2013 opens in Bali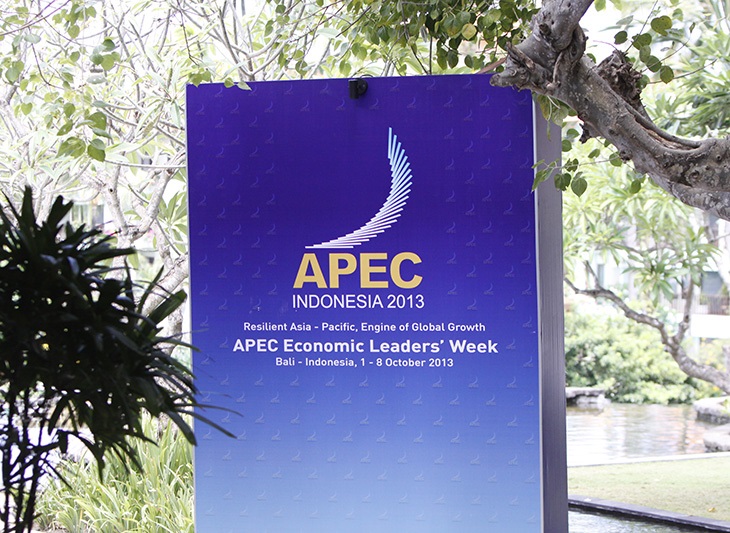 The Leaders and Ministers of 21 Pacific-Rim economies will gather this week in Bali intent on revitalizing trade to keep the global economy on a path to recovery, create jobs and move the region towards more balanced and sustainable long-term growth.
Following a meeting of APEC Senior Officials that concludes on Wednesday, Leaders and Ministers will focus on strengthening free trade and investment in the region, addressing growing inequities and environmental challenges that are a bi-product of economic transition, and improving connectivity to facilitate the cross-border movement of goods, people and capital to drive greater productivity.
"APEC member economies are united in our commitment to building a resilient Asia-Pacific as an engine of growth and taking practical steps to support the realization of this objective," Ambassador Yuri Thamrin, the lead APEC Senior Official who has guided work undertaken within APEC during the course of Indonesia's 2013 chairmanship.
"Leaders and Ministers will have an opportunity to assess our efforts to lower barriers and further our pursuit of the Bogor Goals for free trade and investment in the region by 2020," he explained. "The commitments they make this week will guide APEC economies as we address complex at and behind-the-border issues, develop policies that help small businesses enter into global supply chains, and pursue measures to ensure that proper infrastructure is in place for businesses and people to benefit from increasing integration."
Leaders will come together on 7-8 October for two retreats to discuss policy. They will also engage with heads of industry and consider their recommendations for improving the business environment in the region through a constructive two-way dialogue.
Ministers will meet on 4-5 October to examine the actions and insights that have sprung from APEC deliberations, projects and economic and technical collaboration between economies, ministries, the private sector and partner regional and global institutions.
"The APEC region has been impacted by continued uncertainty as economies recover from the global financial crisis and confront shifts in the stimulus polices that were put in place to address it," said Dr Alan Bollard, Executive Director of the APEC Secretariat.
"This week's meetings can help to breathe renewed confidence in the global economy by laying the groundwork for increased trade and investment, and domestic consumption, noted Dr Bollard who will discuss the latest economic trends and put APEC's agenda in greater context at a news conference on Thursday. "Identifying processes for bridging unfolding regional agreements and improving the chances for a positive outcome during the 9th World Trade Organization Ministerial Conference in Bali in December are components of APEC's agenda."
The APEC region is home to about three billion people, and accounts for 45 percent of global trade and half of total gross domestic product.
# # #
For more information or to arrange possible interview opportunities, please contact David Hendrickson +65 9137 3886 at [email protected] or Michael Chapnick +65 9647 4847 at [email protected].
Additional details about APEC meetings, events, projects and publications can be found at www.apec.org. You can also follow APEC on Twitter and join us on Facebook and LinkedIn.