APEC Ministers issue first joint SME and Women statement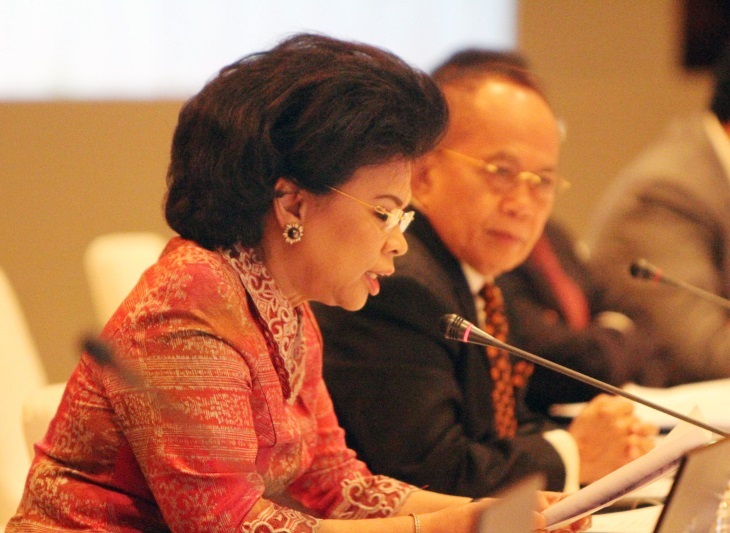 The APEC Joint Ministerial Meeting on Small and Medium Enterprises (SME) and Women concluded their first joint meeting today and issued a statement to synergize concrete efforts across APEC for empowering women SMEs in ways that provide direct and practical benefits.
Ministers gathered in Bali for the first time to coordinate initiatives between the APEC SME Working Group and the Policy Partnership on Women and the Economy.
"It is important to note that women entrepreneurs have made remarkable economic steps in generating employment, driving production and innovation, and contributing to local development. However, to foster women entrepreneurs, it is necessary to formulate proper intiatives," said Dr Sjarifuddin Hasan, Indonesian Minister for Cooperatives and SMEs, in his opening remarks.
"Therefore, it is important to bring together the expertise of both the APEC Small and Medium Enterprise Working Group (SMEWG) and the Policy Partnership on Women and the Economy (PPWE) to provide a coordinated approach to address common challenges faced by women in SMEs," added Minister Hasan.
In Indonesia alone, around 60 percent of women own and play significant roles in micro and small and medium enterprises (SMEs). Most SMEs provide significant contributions to economic development. SMEs make up to 90% of all business establishments and absorb 60% of the total workforce in the Asia-Pacific region.
"Women's participation in the economy can bring about a dramatic impact on the competitiveness and growth of our economies," said Ms Linda Gumelar, Indonesian Minister for Women Empowerment and Children Protection, in her opening remarks.
"The 2012 World Economic Forum on Gender Gap Report shows that across 135 countries, greater gender equality correlates positively with higher GNP per capita," Minister Gumelar explained.
However, women-owned SMEs in general still face barriers to attain their full potential. These barriers include lack of access to finance, skills training and capacity building, information technology innovation, as well as lack of access to markets, knowledge management, and resources and decision making positions.
Minister Gumelar explained that first it is important to build a conducive culture of entrepreneurship through gender responsive entrepreneur policy. Second, she said, it is critical to increase access to finance through affirmative action for women entrepreneurs.
The Joint Ministerial Meeting on SME and Women released a joint statement focusing on the following priorities:
Importance of women SMEs in APEC economies
Enhancing cooperation to empower women SMEs in the region
Promoting an entrepreneurial culture
Increasing access to finance
Taking actions to empower women SMEs in the region
The APEC Joint Ministerial Meeting on SME and Women Statement can be downloaded here.
# # #
For more information or to arrange possible interview opportunities, please contact Jennifer Juo +65 9721 8660 at [email protected] or Michael Chapnick +65 9647 4847 at [email protected].
Additional details about APEC meetings, events, projects and publications can be found at www.apec.org. You can also follow APEC on Twitter and join us on Facebook.