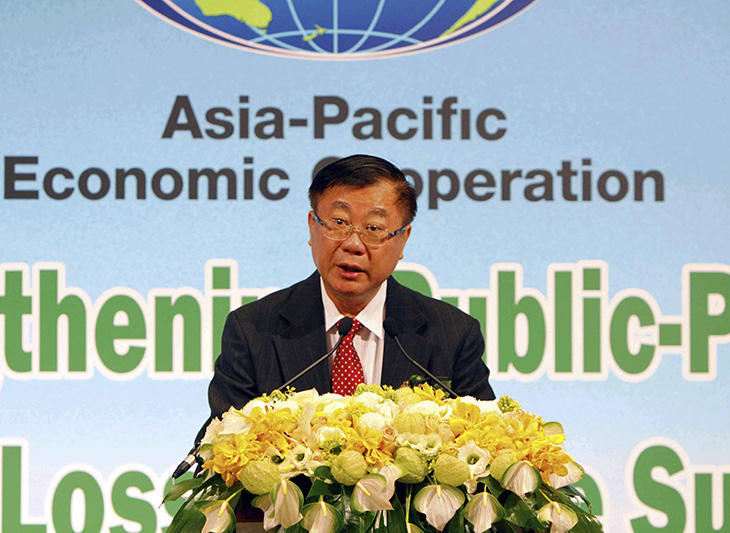 Public-private sector cooperation in APEC to reduce food losses
Taipei, Chinese Taipei, 13 August 2013
APEC member economies have launched a five-year initiative to boost cooperation with the private sector to reduce post-harvest losses across the supply chain. The goal is to improve food security and promote more sustainable growth in the region.
The initiative recently commenced in Chinese Taipei with a gathering of agriculture officials, researchers and business representatives who described their current efforts to address food losses and waste. The exchange laid a foundation for greater technical coordination on the issue.
"The importance of reducing food losses cannot be overemphasized given increasing population size, limited water resources and arable land, and the effects of climate change on agricultural production worldwide," said Dr Chen Bao-ji, Minister of the Council of Agriculture for Chinese Taipei.
"Food security requires more than increasing yields alone since a large share of output is lost along the supply chain," he explained. "This is prompting us to work together with the private sector to identify the key factors behind these losses and develop policy tools that support APEC economies' pursuit of an integrated food structure system by 2020."
Based on United Nations research, an estimated one-third of food produced globally, totaling about 1.3 billion tons, is lost or wasted along the supply chain annually, noted Dr Tang Huajun, Lead Shepherd of the APEC Agricultural Technical Cooperation Working Group. Calculations based on energy content or calories are marginally lower but offer a similar industry picture.
"Our ambitious long-term project breaks new ground within APEC and will play a critical role in disseminating innovative technologies, training and policy strategies that support more efficient and sustainable use of agricultural resources," said Dr Tang. The Agricultural Technical Cooperation Working Group will administer the initiative.
Industry researchers were asked their views on the potential implications of improving food use within the region and offered a clearer framework for achieving it.
"Globally, there is a fairly even split between food that is lost during production and handling and storage, which is more prevalent in developing economies, and food that is wasted during processing, packaging, distribution, marketing and consumption, as seen more in developed economies," said Brian Lipinski, an agricultural expert with the World Resources Institute.
"Even modest reductions in the amount of food lost and wasted could save economies, farmers and businesses billions of dollars," Lipinski added. "It would also reduce greenhouse gas emissions and pressures on land and water, all while helping to meet food demand for the world's population as it grows to over nine billion people by 2050."
"Our businesses are pursuing a range of initiatives to better preserve food," said Pornsil Patchrintanakul, Vice Chairman of the Thai Chamber of Commerce and Board of Trade of Thailand. "This includes the development of damage-resistant seed technology and incentives to encourage farmers to harvest crops during drier times of the year that are more transport-friendly."
"We are also introducing mechanized factories and prioritizing worker training to improve the production of foods ranging from chicken and shrimp to spring rolls," added Patchrintanakul. "The exchange of next generation ideas and tactics among APEC economies and the private sector could help our industry take further steps towards greater food security."
The project will seek to draw on information and experience-sharing to establish a policy development toolkit, datasets on reducing food losses and a consolidated methodology of APEC food losses assessment.
# # #
For more information or to arrange possible interview opportunities, please contact David Hendrickson +65 9137 3886 at [email protected] or Michael Chapnick +65 9647 4847 at [email protected].
Additional details about APEC meetings, events, projects and publications can be found at www.apec.org. You can also follow APEC on Twitter and join us on Facebook.