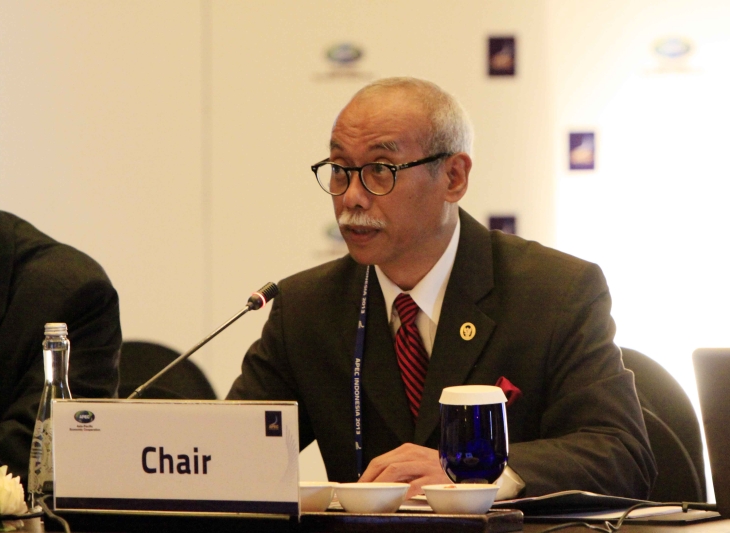 APEC reducing supply chain vulnerabilities to accelerate growth
Jakarta, Indonesia, 31 January 2013
APEC member economies are taking the next step to ensure a secure trading environment and promote accelerated growth with the launch of a strengthened capacity building agenda for 2013 that places greater emphasis on information-sharing and technical assistance.
The decision was reached on Wednesday by APEC counter-terrorism officials after two days of planning and technical exchange during the APEC Counter-Terrorism Task Force Meeting in Jakarta, part of a cluster of member dialogues taking place here through next week. Analysis of APEC economies' real world experiences and lessons learned helped to guide the decision.
"Many APEC economies have been affected by terrorist incidents which, on a commercial level, reinforce the connection between human security and trade," said Harry Purwanto, the APEC Counter-Terrorism Task Force's new Chair. "The fact that we and other APEC fora have gathered in Jakarta, the subject of attacks in the past, is a reminder of the importance of our work to address this issue."
Recognition that terrorism poses a direct threat to APEC's vision of secure, open and prosperous economies prompted members to come together, starting in 2003, to pursue ways to help ensure that trade and economic development continues uninterrupted while safeguarding the people of the region.
"APEC economies are now seeking to build on the progress that has been made to reduce supply chain vulnerability to incidents of terror, enable more effective response mechanisms and ensure that vital trade installations and infrastructure are able to recover more quickly in the event of an attack," Purwanto added.
"For this reason, APEC is moving ahead with an agenda to enhance capacity to better adapt to new challenges and enhance the region's resiliency and economic continuity."
Initiatives being addressed as part of the new work agenda for 2013 focus on areas such as aviation security canine screening; low cost/no cost security and checkpoint optimization; and advance passenger information systems.
APEC's 2010-2015 Counter-Terrorism Action Plan's objectives include the building and maintaining of secure supply chains, secure travel, secure finance and secure infrastructure.
"We believe that through our cross-cutting efforts to strengthen partnerships and close cooperation under the APEC framework, it will help create a secure environment for economic activity that is essential for the acceleration of growth and prosperity," Purwanto said.
The next gathering the APEC Counter-Terrorism Task Force will be held alongside the APEC Senior Officials' Meeting and related meetings to take place in Surabaya, Indonesia from 6-19 April 2013.
# # #
For more information or to arrange possible interview opportunities, please contact David Hendrickson +65 9137 3886 at [email protected] or Michael Chapnick +65 9647 4847 at [email protected].
Additional details about APEC meetings, events, projects and publications can be found at www.apec.org. You can also follow APEC on Twitter and join us on Facebook.