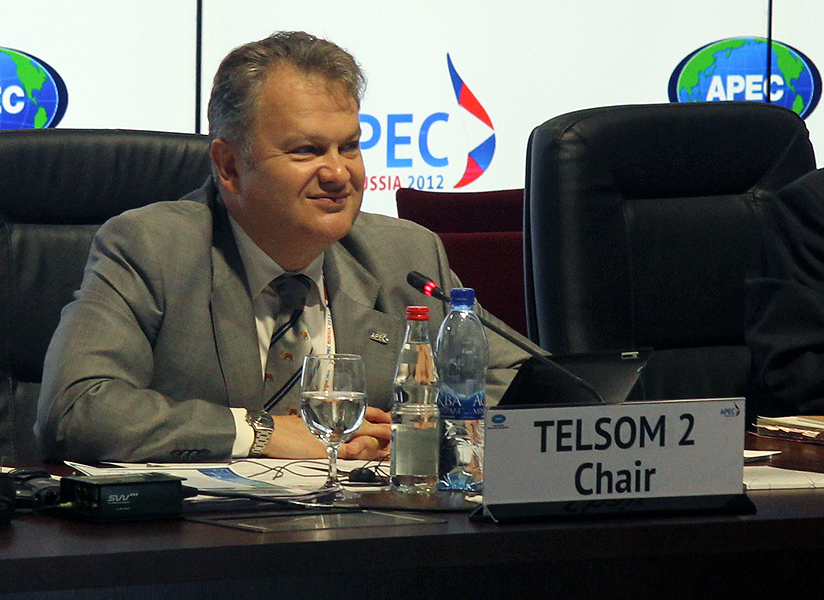 Secure and trusted ICT infrastructure crucial driver of regional economic integration
Saint Petersburg, Russia, 06 August 2012
The development of stronger, more integrated digital economies in the Asia-Pacific region will be the focus of the APEC Ministerial Meeting on Telecommunications and Information (TEL) on 7-8 August 2012 in St Petersburg, Russia.
APEC Ministers will consider actions and proposals put forward by APEC senior telecommunications officials who concluded their strategic and technical meeting here on Monday. The goal is to advance practical policies that improve confidence in information and communications technology (ICT) infrastructure across APEC economies.
The advancement of joint initiatives designed to promote greater information and communications ICT inclusiveness and security will be among the issues on APEC Ministers' agenda.
"Widespread access and use of ICT such as broadband infrastructure and applications remains a crucial driver of regional economic integration and can furthermore improve trade opportunities and supply-chains," said Andrey Mukhanov, chair of the APEC senior telecommunications officials' meeting.
"APEC economies continue to work together, in coordination with key industry stakeholders, to reduce barriers to information flows, bridge the digital divide and create a safer, more trusted ICT environment."
In 2010, APEC economies reported that they had achieved the goal of universal internet access throughout the region. Two of their concrete targets now are to achieve universal broadband access by 2015 and access to the next generation of high-speed broadband networks and services by 2020.
APEC Telecommunications and Information Ministers will assess ways to build on the progress made this year to promote the sharing of regulatory frameworks and best practices between member economies.
This includes harmonizing regional industry development in areas such as data and network integrity, and ICT user privacy.
Efforts to boost member economies' technical capacity to accommodate the sector's growth, including the rapid proliferation of fixed and mobile devices, and their ability to raise ICT proficiency in the region will also be examined.
"Greater education and awareness, in addition to the lowering of costs for consumers, are critical to ensuring that everyone has the skills, ability and access to benefit fully from the information economy," said Mukhanov.
"APEC's ongoing work in this regard is bolstering growth and expanding business participation in the region." he added, "It is also bringing important social benefits such as improved human safety, including food and energy security, as well as providing practical solutions for a broad spectrum of challenges related to green growth and emergency situations."
# # #
For more information, please contact David Hendrickson (in Russia) +8 (911) 812 02 66 at [email protected] or Michael Chapnick +65 9647 4847 at [email protected].
More details about APEC's 2012 priorities and initiatives for the year can be found on www.apec.org or www.apec2012.ru.
Additional details about APEC meetings, events, projects and publications can be found at www.apec.org. You can also follow APEC on Twitter and join us on Facebook.