Promoting SME cooperation for greater innovative growth in the Asia-Pacific region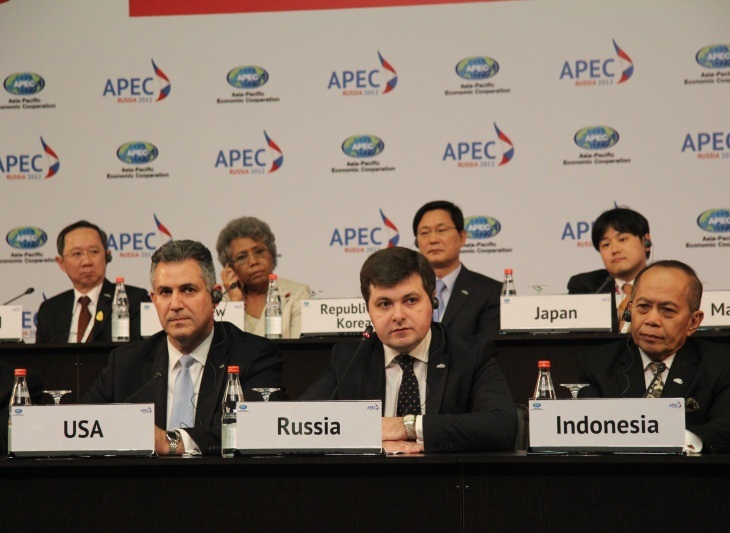 APEC Ministers Responsible for Small and Medium Enterprises (SMEs) concluded their meeting today in St Petersburg, Russia by issuing a joint statement on promoting SME cooperation to deliver greater innovative growth in the Asia-Pacific region.
In the Joint Statement, APEC Ministers endorsed a new four-year strategic plan for guiding member economies' on-going work to address critical issues and concerns pertaining to SME growth in the APEC region.
APEC's SME focus areas for 2013-2016 will include the following:
Building management capability, entrepreneurship and innovation
Financing
Business environment, market access and internationalization.
Chairing today's meeting was Vladimir Simonenko, Deputy Minister for Economic Development of the Russian Federation, who said that SMEs are a key to building state of the art economies but that they require particular attention in some areas to continue to foster an environment that allows innovative firms to flourish.
"We have to strengthen the operating environment for the SME sector and to bring down the barriers on the way of developing our SMEs. We have to share best practices," said Simonenko.
"The burgeoning economic development of our region shall be carried out by the young generation," he added. "This merits special focus on start-ups and youth entrepreneurship."
APEC Ministers and officials agreed that advancing SME cooperation for innovative growth can be enhanced through promoting start-ups which were identified as the most important stage of entrepreneurship.
The consensus was that the development of start-ups facilitates job creation and increases international trade that benefits APEC economies.
The SME sector accounts for roughly 90 percent of all businesses among APEC's 21 member economies and employs nearly sixty percent of their workforce. SMEs furthermore account for over 50 percent of GDP in some APEC economies.
"APEC is continuing to take actions to boost SMEs and their capacity to drive innovative growth by encouraging increased cooperation in the region," said Ambassador Muhamad Noor, Executive Director of the APEC Secretariat.
APEC is taking a comprehensive approach to the development for SMEs, consistent with their importance to our economies, Noor explained. This includes continuing efforts to enhance the SME sector's inclusiveness and address ground-level barriers to expand innovative growth.
"In the process, members are delivering on APEC and Russia's 2012 priorities to strengthen innovation, trade and investment, regional economic integration and supply-chains," Noor said.
The results of the 19th APEC SME Ministerial Meeting will be reported during the 2012 APEC Leaders' Meeting in Vladivostok on 8-9 September.
# # #
For more information, please contact David Hendrickson (in Russia) +8 (911) 812 02 66 at [email protected] or Michael Chapnick +65 9647 4847 at [email protected].
More details about APEC's 2012 priorities and initiatives for the year can be found on www.apec.org or www.apec2012.ru.
Additional details about APEC meetings, events, projects and publications can be found at www.apec.org. You can also follow APEC on Twitter and join us on Facebook.