APEC Ministers adopt Khabarovsk Declaration on tourism facilitation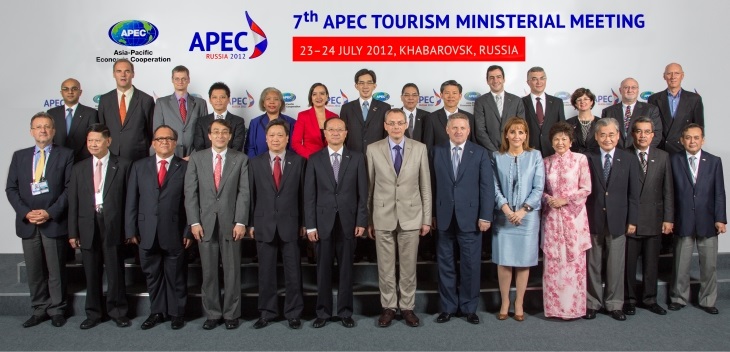 APEC Tourism Ministers concluded their meeting in Khabarovsk, Russia today by issuing the Khabarovsk Declaration to facilitate tourism to realize more robust economic growth in the Asia-Pacific.
The Khabarovsk Declaration, unanimously adopted by APEC's 21 member economies, provides a roadmap for advancing policies that facilitate and secure cross-border tourist flows, and strengthen tourism development. The goal is to boost travel and tourism businesses, promote greater industry investment, increase employment and create a more seamless regional economy.
Chairing today's meeting, Alexander Radkov, Head of the Federal Agency for Tourism of the Russian Federation, described the value of members working together to bolster the tourism industry for APEC economies' social and economic development.
"Tourism is an invaluable source of economic growth and a means for economic integration in the Asia-Pacific region," said Radkov.
"At the same time, tourism is creating jobs, particularly in the small and medium-sized enterprise sector. All these issues are the focus of APEC attention."
According to Radkov, maximizing the tourism industry's potential in the region requires cooperative actions in some key areas.
"It is very important for APEC to take steps to develop tourist destinations including through the liberalization and facilitation of tourist movement, and providing the maximum level of tourist safety and security," Radkov said.
APEC Ministers noted that the travel and tourism industry contributed 8.3 percent or US$3.22 trillion to APEC economies' GDP in 2011 and today employs more than 120 million people in the region.
"All of this is welcome news," said APEC Secretariat Executive Director, Muhamad Noor. "And it is consistent with APEC's Growth Strategy which identifies tourism development as an essential contributor to the region's economic sustainability and inclusive growth.
"Efforts by APEC member economies to drive travel and tourism development are delivering on APEC's 2012 priorities, including the strengthening of free trade and investment, and regional economic integration," Noor added.
APEC Ministers offered their assessments on how best to move forward and approved the APEC Tourism Strategic Plan.
The open, constructive exchange of views and ideas between APEC economies, the private sector and international organizations is critical to furthering regional tourism development, APEC Ministers agreed.
"The Declaration which came out of today's meeting demonstrates APEC's determination to continue to build the tourism industry into a pillar of economic growth in the Asia-Pacific region," said Radkov.
"It also delivers a clear and strong message to our colleagues in the private sector and other interested bodies on the results and priorities of our work in the near future."
The results of the 7th APEC Tourism Ministerial Meeting will be reported during the 2012 APEC Leaders' Meeting in Vladivostok on 8-9 September.
# # #
For more information, please contact David Hendrickson (in Russia) +65 9371 8901 at [email protected] or Michael Chapnick +65 9647 4847 at [email protected].
More details about APEC's 2012 priorities and initiatives for the year can be found on www.apec.org or www.apec2012.ru.
Additional details about APEC meetings, events, projects and publications can be found at www.apec.org. You can also follow APEC on Twitter and join us on Facebook.