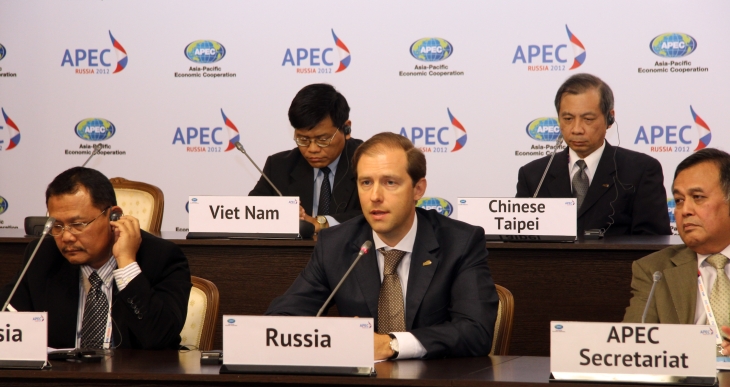 APEC Ministers Responsible for Mining issue joint statement recognizing sustainable mining
Saint Petersburg, Russia, 28 June 2012
APEC Ministers Responsible for Mining today issued a joint statement recognizing the significance of sustainable development in mining at the conclusion of their meeting in St Petersburg on Thursday.
The Joint Statement of APEC Ministers Responsible for Mining covers:
Regional integration, industry and social responsibility;
Investments in mining;
Innovations and environmental issues in mining and metallurgy; and
Activities of the APEC Mining Task Force
The Joint Statement of APEC Ministers Responsible for Mining is now available
Russian Minister of Industry and Trade Denis Manturov said that APEC economies must continue to demonstrate their dynamic development, address the constantly growing demand for mineral resources, and aspire to further liberalize the sector and create an attractive investment climate.
"We cannot lose the momentum," Manturov told Ministers on Thursday. "Everyday we're meeting new challenges and we should not underestimate those or they will grow into serious hurdles on the way to economic growth."
"One of the ambitious objectives that we have in the context of our forum is to attain a balanced market and prevent possible imbalances and economic disasters which might follow unless we respond," he continued. "This is very true for the mining and metallurgical industry and that is why we pay special attention to the matter of investment in the sector."
Advances in the mining and metallurgical sector within APEC economies were highlighted by Ministers during the meeting.
"Huge innovative potential has been accumulated in our economies and the way we manage it is so very influential on how we're going to succeed on our further activities," Manturov concluded. "I would like to invite you to follow a balanced approach to the successful development of our economies."
The results of the Fourth APEC Ministers Responsible for Mining Meeting will be reported during the 2012 APEC Leaders' Meeting in Vladivostok on 8-9 September.
# # #
For more information, please contact David Hendrickson +65 9371 8901 at [email protected] or Michael Chapnick (in Russia) +65 9647 4847 at [email protected].
More details about APEC's 2012 priorities and initiatives for the year can be found on www.apec.org or www.apec2012.ru.
Additional details about APEC meetings, events, projects and publications can be found at www.apec.org. You can also follow APEC on Twitter and join us on Facebook.