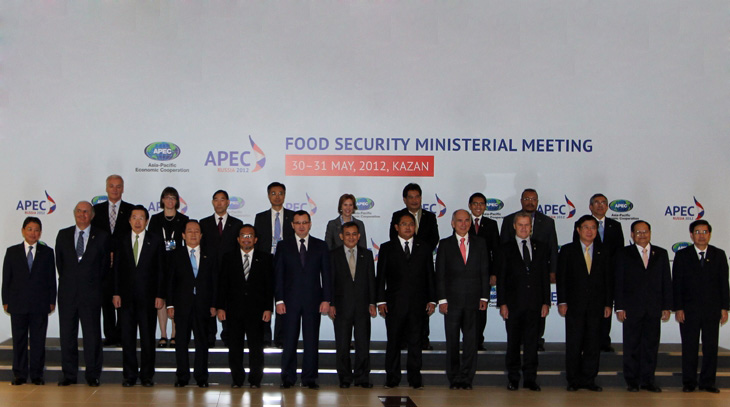 APEC Agricultural Ministers issue Kazan Declaration on APEC Food Security
Kazan, Russia, 31 May 2012
APEC agricultural ministers concluded the Second APEC Ministerial Meeting on Food Security in Kazan, Russia today by issuing the Kazan Declaration on APEC Food Security.
The Kazan Declaration, which was unanimously endorsed by APEC's 21 member economies and takes into consideration input from the private sector and key international institutions, provides a comprehensive assessment of food security issues and developments and an updated framework for APEC and external stakeholders to cooperatively address them.
To strengthen food security, an APEC 2012 priority, the Kazan Declaration states that at the present stage it is necessary focus on:
Increasing agricultural production and productivity
Facilitating trade and developing food markets
Enhancing food safety and quality
Improving access to food for socially vulnerable groups of population
Ensuring sustainable ecosystems based management and combating Illegal, unreported and unregulated fishing and associated trade
Ministers also took note of the progress made since their last meeting in Japan in 2010.
The Kazan Declaration on APEC Food Security is now available online.
# # #
For more information, please contact David Hendrickson +65 9371 8901 at [email protected] or Michael Chapnick (in Russia) +7 (8) 911 794 36 14 at [email protected].
More details about APEC's 2012 priorities and initiatives for the year can be found on www.apec.org or www.apec2012.ru.
Additional details about APEC meetings, events, projects and publications can be found at www.apec.org. You can also follow APEC on Twitter and join us on Facebook.