Women are vital to power economic growth, says US Secretary of State Clinton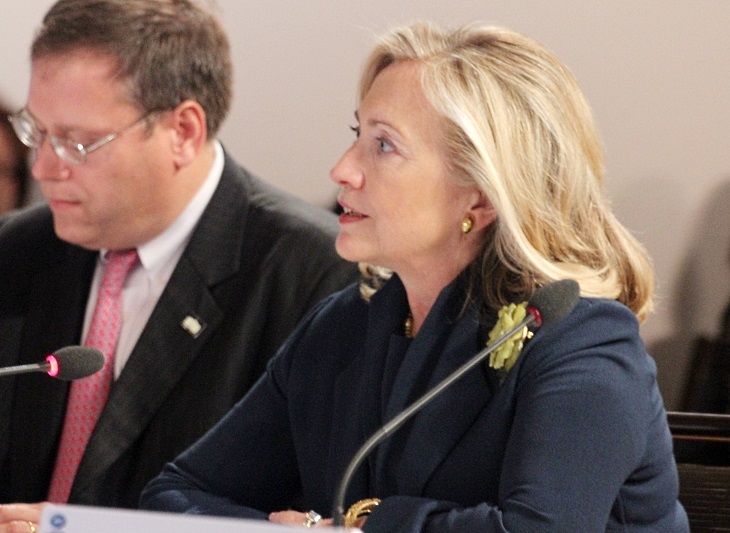 With economic models straining in every corner of the world, no economy can afford to perpetuate the barriers facing women in the workforce, said US Secretary of State Hillary Clinton today at the APEC Women and the Economy Summit in San Francisco.
The summit addressed access to capital and markets for women, building their capacities and skills, and supporting the rise of women leaders in the public and private sectors. Participants also discussed innovation, green growth, technology, entrepreneurship, and public-private partnerships.
Secretary Clinton said that by increasing women's participation in the economy and enhancing their efficiency and productivity, a dramatic impact on the competitiveness and growth of the region's economies can be achieved.
Describing the enormous challenges economies face, Secretary Clinton said that economies must remove the structural and social impediments to achieve full parity for women in the workforce.
"Laws, customs, and the values that fuel them all act as roadblocks to full inclusion," said Clinton. "In the United States and in every economy in APEC, millions of women are still sidelined, unable to find a meaningful place for themselves in the formal workforce.
"The twenty-one economies of APEC are among the most dynamic in the world. Together, we represent more than half of total global economic output. And more than 60 percent of women in the APEC economies are part of our formal workforces."
She said that economies can begin to close that gender gap by making it possible for more women to unleash their potential as workers, entrepreneurs, and business leaders.
"We must commit to giving women access to capital so women entrepreneurs can turn their ideas into the small and medium enterprises that are the source of so much growth and job creation in our economies," she explained.
"We must examine and reform our legal and regulatory systems so women can avail themselves of the full range of financial services. Such reforms can also help ensure that women are not forced to compromise on the well-being of their children to pursue a career," said Clinton.
Following the remarks, ministers and senior officials met in a High Level Policy Dialogue on Women and the economy and adopted the San Francisco Declaration. These policy recommendations will be delivered to the APEC Economic Leaders' Meeting, scheduled for November 12-13, 2011 in Honolulu, Hawaii.
Selected presentations can be viewed here:
https://www.apec.org/Press/Videos/2011/2011_0914_imf_lagarde.aspx
https://www.apec.org/Press/Videos/2011/2011_0914_wes_jarrett.aspx
# # #
For more information, contact: Ai Ghee Ong (in Singapore) +65 6891 9671 at [email protected] or Michael Chapnick (in San Francisco) +1 (202) 664 6245 at [email protected].
Details about APEC meetings, events, projects and publications can be found at www.apec.org or www.apec2011.gov. You can also follow APEC on Twitter and join us on Facebook.