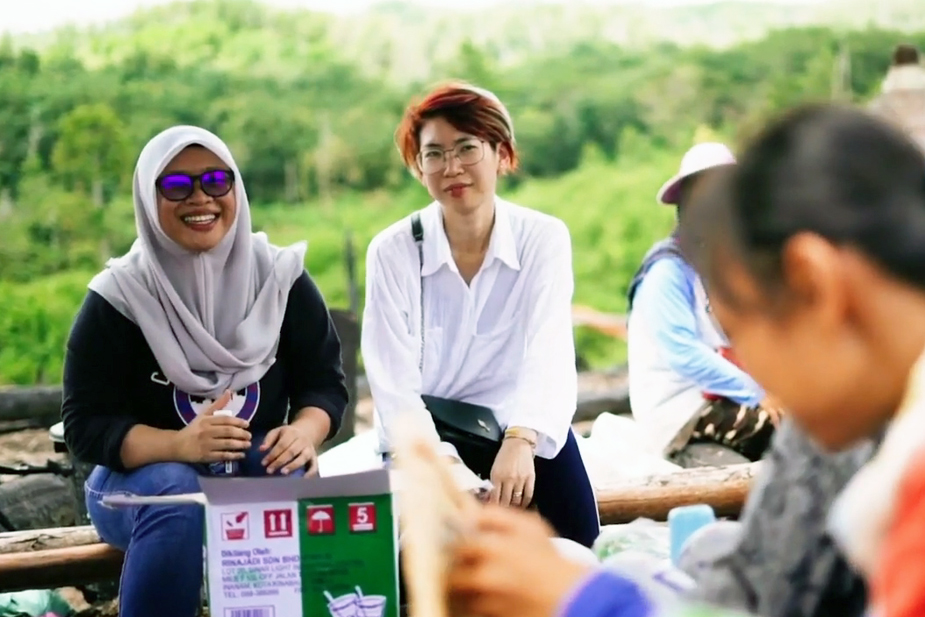 "Helping women means helping their entire family"
Deep in Borneo's rural heartland, far from bustling cities and their trendy restaurants, women are producing unique and sought-after ingredients.
From tuhau, a local spicy ginger used in pickles and sauces, to fermented raw cacao, packed with minerals and protein, the ingredients are produced by multitudes of women on small, sustainable farms.
Restauranteurs and other businesses in Kuala Lumpur are keen to secure the high-quality ingredients, often grown only in Malaysia's Sabah state on Borneo island, and each with their own flavors.
"The women have their own recipes and their own ingredients that you won't be able to find outside Sabah," said Jeannette Goon, who, along with partner Faezrah Rizalman, has developed a digital platform to help the women sell their products directly, and at higher prices than they receive now.
"The entire economy depends on agriculture, but these farmers, who are actually at the root of everything, are still stuck at the bottom of the supply chain, making the least money," the 32-year-old said.
"So we want to help them move up. We probably can't help everyone, but we can help those who are interested."
Goon, an experienced e-commerce developer based in Kuala Lumpur, said they focused on using technology as a solution, after noticing that most of the women had smart phones and access to the Internet.
Goon and Rizalman, based in Sabah, have won the 2019 APEC Digital Prosperity Award, for the app they developed called Bayu Harvest. The award, launched in 2017 and supported by the APEC Secretariat, Google and the Asia Foundation, recognizes initiatives that have the most potential to broaden prosperity and inclusive growth in the Asia-Pacific.
Developers taking part in the competition in 2019 focused their apps on empowering women and small businesses. They account for 95% of the region's businesses, but only 5% of them are directly involved in trade.
The award reflected the priorities for 2019 APEC host economy Chile, along with those of 2020 host Malaysia, which focuses on inclusive participation in the economy through digital and other technology.
"Small businesses are full of ideas and potential. They employ more than half the workforce and a large number of women. But they often lack access to markets and represent only 35 percent of direct exports," said Rebecca Sta Maria, Executive Director of the APEC Secretariat. "If small and medium enterprises are to flourish, they will have to expand beyond their borders. At APEC, we work to help close these gaps."
The Malaysian pair were announced winners at an APEC meeting in Langkawi late last year after competing in the 2019 APEC App Challenge in Chile. That competition pitted 22 software developers and designers from across the Asia Pacific against each other, in a challenge to build a winning app in 24 hours – side by side in one collective space.
Goon said she was inspired to help other women get ahead professionally after witnessing her own mother, a single parent, working hard to make her business a success.
"When I was small, we couldn't even afford to eat meat every day. But my mom was able to work, and eventually she started a business. Because of her drive, I was able to attend university and do what I'm doing today. I wish my mom had more support during the earlier years."
"Helping women means helping their entire family, and apps are just one of the tools that can be used."
The pair have built a regular e-commerce site so that the products can be sold directly to end users, and the app is being built with a range of tools for the farmers. The app, managed by the pair, allows the farmers to create and upload profiles of their products and their farms, and manage their inventory. A forum also means they can exchange information with each other and discuss concerns such as weather conditions on crops.
Workshops have been conducted in Sabah, including in villages in Rizalman's home district of Keningau, and more are planned for this year. The pair have been teaching farmers how to best use the app, and also teaching them about packaging, branding and marketing their products.
"We've got a really good response, everyone's interested, but at the same time, it's also something new for them, so it will take some time to onboard them onto the app, and to scale up their businesses," Goon said.
A priority is working with farmers and authorities to obtain Halal and other food standard certificates needed to trade in bigger markets.
They are planning to soon add a new product to the platforms – fermented raw cacao – a popular ingredient found in protein bars and other health foods. Each farmer produces their own uniquely flavored crop, depending on where the trees are planted and how the beans are fermented.
In the future, they hope to also develop a digital platform that allows restaurateurs and manufacturers to communicate more directly with farmers about their products.
Goon juggles building the platforms with her other work, including managing a women's health-related project, while Rizalman also runs a coding school in Kota Kinabalu. But they are determined to push ahead with helping Sabah's women break down market barriers and find new customers.
"I hope one day we will actually be able to expand all over the world," Rizalman said.