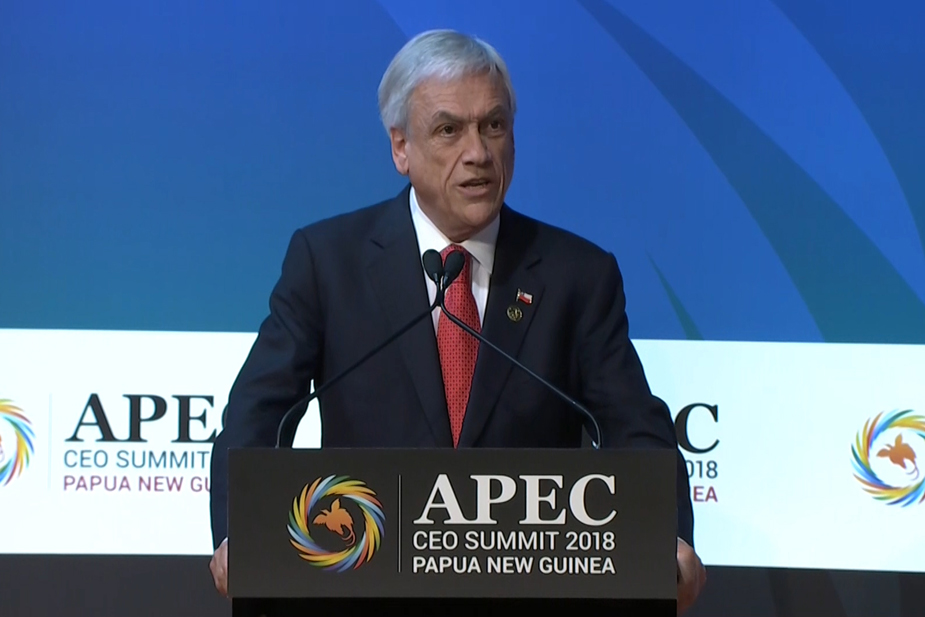 Chile's President Sebastian Pinera is head of the economy that will host APEC in 2019. President Pinera gave a closing speech to business leaders, ahead of the APEC Economic Leaders' Meeting. Below are excerpts.
1.On undertaking tax, education, pension and health reforms to strengthen development and economic growth
Of course these are huge challenges, but we have a very good ally, which is the tremendous technological revolution that we are facing that could help us to achieve all these goals. A comprehensive project to modernise our state, a real state for the 21st century.
2. On Chile's inability so far to cross the middle-income trap
This is the most important challenge that we are facing in Chile, to become a developed economy; to defeat poverty, to create a society with more equality of opportunity with more social justice. We need to change many things that we did wrong in the past.
3. On Chile's determination to take advantage of digital growth drivers
We were latecomers to the last three revolutions, the industrial revolution, the electricity-led revolution and the computer revolution. But we have fully decided not to arrive late this time, but to take centre stage in the current digital revolution, the society of knowledge and information.
4. On Chile's moves to foster a stronger and deeper alliance between the Pacific Alliance and the Asia Pacific
Both mechanisms can harness clear advantages not only from their geographical position, but also by putting forward possible areas of cooperation in the fields of common interest like services, small and medium-sized enterprises, trade facilitation, among many others.
5. On hosting APEC in 2019
Chile is a truly Pacific economy. We have a longstanding history of promoting greater integration with Asia.
But we can always do more. In 2019, we will champion for comprehensive, inclusive and sustainable growth for the APEC region. That is - for people-centred development, in which the digital society equips our citizens with the right tools and skills to ensure they can participate to their full potential in this new economy; where integration 4.0 is instrumental for trade and a critical driver for growth, and where women, small and medium-sized enterprises and native people are not excluded but encouraged in this new world.