Let Science Make Food Better
"Biotechnology isn't something new. Selective breeding to create more useful varieties of plants and animals is a form of biotechnology that farmers, scientists and others have been using for thousands of years."
Despite their many benefits, GMOs enjoy low public confidence. APEC economies are working to change that and get more of these superfoods into the market.
From disease-resistant pigs and chickens to fast-growing fish, genetically modified (GM) animals could potentially revolutionise whole areas of animal agriculture, according to scientists and genetic researchers.
But almost no GM food animals have ever come onto the market, despite numerous scientific breakthroughs. While public confidence in genetically modified organisms (GMOs) is low in some economies, experts say differing regulatory frameworks are also hampering the introduction of such modern biotechnologies which have the potential to address problems like animal disease.
Dr Alison Van Eenennaam, from the University of California, Davis, pointed to different definitions of GMOs among economies throughout the world as one stumbling block. Products classified as GMOs are regulated with strict safety assessments. However, the legal definition of what constitutes a GMO differs between economies, and this can lead to regulatory differences.
"Modern biotechnology doesn't have a precise definition," said Dr Van Eenennaam, a world authority on genetic engineering in animals. "Several APEC member economies have different approaches as to what and how GMOs are regulated, and so that's where it gets complicated."
Dr Van Eenennaam was speaking at the 17th APEC High Level Policy Dialogue on Agricultural Biotechnology recently held in Port Moresby. One of the aims of the high-level policy dialogue group is to identify ways to promote greater efficiencies and alignment on regulations between economies.
Food security officials from APEC economies are developing regulatory frameworks, facilitating technology transfer and encouraging investment in biotechnology.
They are also working to promote transparent, science-based and functional regulation of biotechnology innovations. This work involves increasing the understanding of new agricultural and plant breeding techniques, promoting information-sharing activities and enhancing scientific knowledge among policymakers and regulators.
Increasing public confidence in agricultural biotechnology products and processes is also high on the agenda. Effective science communication is seen as key to making the public understand the potential benefits of biotechnology, which is tied to acceptance of these innovations as they are reviewed within government regulatory processes.
"Although biotechnology products are subject to extensive scrutiny and review, the public is often unaware of this scrutiny and distrust the motives of private sector developers," said Dr Carl Ramage from Rautaki Solutions in Australia, which has been engaged by APEC to update a baseline study on the different regulations among member economies on agricultural biotechnology.
As part of this, Dr Ramage has been studying the outcomes of a project between Food Standards Australia New Zealand and Health Canada to explore ways to improve the efficiency, and synchronisation, of safety assessments for GM foods.
Biotechnology isn't something new. Selective breeding to create more useful varieties of plants and animals is a form of biotechnology that farmers, scientists and others have been using for thousands of years. Millions of hectares of GM plants have been introduced around the world to increase crop yields, reduce the need for pesticides and boost their resistance to disease, thereby increasing food security and feeding the world's growing population.
But genetically altered animals, and more recently genetically edited animals, have almost entirely failed to enter the marketplace. Editing gives animal breeders the opportunity to introduce genetic alterations by precisely turning off a gene to remove an undesirable trait.
Opponents cite a danger to humans that these altered animals might pose, along with religious, animal rights and other concerns. Others have animal welfare concerns, such as the pain or discomfort that the changes might bring.
But Dr Van Eenennaam said the decades of scientific data shows no risks to human health, and instead could reduce animal deaths from disease. She cited a breakthrough by scientists to inactivate a gene in pigs that makes them resistant to porcine reproductive and respiratory syndrome virus, a disease estimated to cost farmers billions of dollars in livestock loss and decreased productivity annually.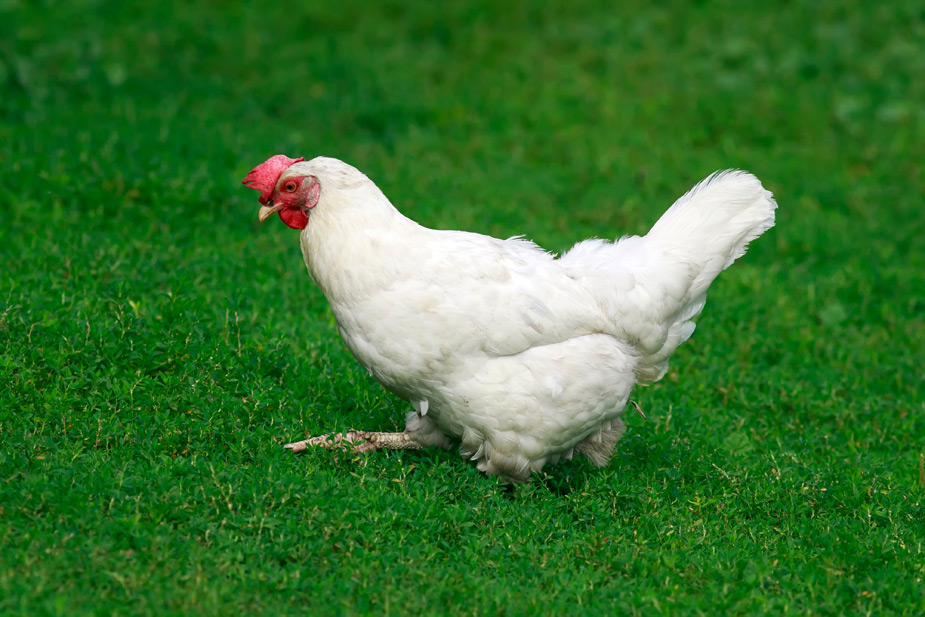 Avian influenza was a pathogen that struck the APEC region in 2002.
Scientists at the Roslin Institute in Scotland are also working on genetically modified chickens that contain an extra gene that interrupts the transmission of avian flu—a pathogen that struck the APEC region in 2002. And researchers in the United States developed a type of genetically modified dairy cow resistant to mastitis, a painful infection that develops in the milk ducts.
Canadian authorities have approved the only GM food animal that has reached the market to date, a fast-growing GM salmon. It is engineered to reach market size in 18 months, half the time of conventional Atlantic salmon. The salmon is raised in land-based tanks and it has been approved for sale to Canadian consumers. As of August 2017, it had been in the market for two years and had sold 4.5 tons, but only after 25 years of regulatory limbo.
Dr Van Eenennaam said she would like a more compatible regulatory approach among economies on biotechnology innovations. She hopes to eventually see some of them brought to market and introduced across borders, which is not always the case.
For example, the regulatory trigger for a GM safety assessment in some economies is based on the process through which a product is developed (such as using gene technology), while in other economies the focus is on the potential risk of the product itself.
"That's the most frustrating thing from a scientist's point of view. We have all these amazing genetic solutions to address real problems, but we are a long way from getting these products to the farmers and ultimately to consumers," she said.