Local Papua New Guinea Father and Daughter Team Win the 2018 APEC App Challenge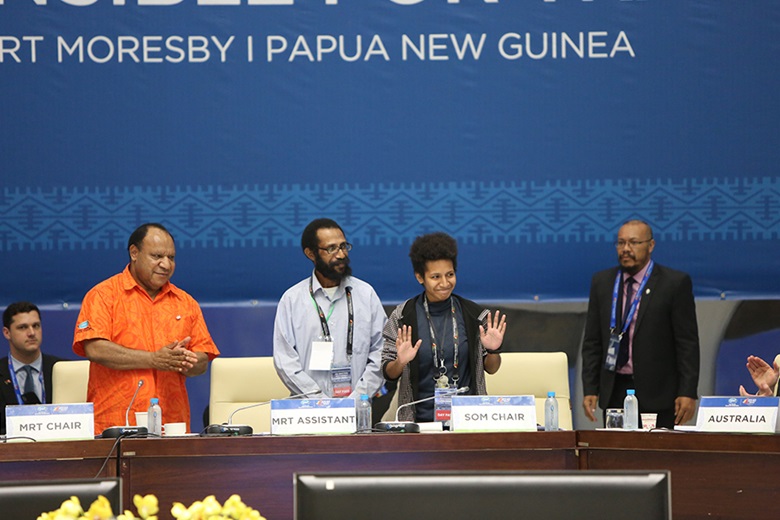 "This is the generation that is helping connect APEC entrepreneurs at every level of society to new opportunities to prosper and thrive in a global economy."
The 2018 APEC App Challenge—a friendly but intense competition among the region's most talented programmers—reached its exciting conclusion when the father-daughter duo from Papua New Guinea, Jonathan and Crystal Kewe, took the podium to accept First Prize from the APEC Judging Committee.
By combining Crystal's programming acumen and Jonathan's business and front-end design savvy, the Kewes developed Biluminous, an app designed to help local artisanal weavers of bilum—a culturally significant handicraft in Papua New Guinea—connect with more customers and grow their business.
"The APEC App Challenge provides an avenue for the creation of solutions that address real world problems," Crystal Kewe said. "Papua New Guinea bilum weavers have suffered for a long time, and the app will really help."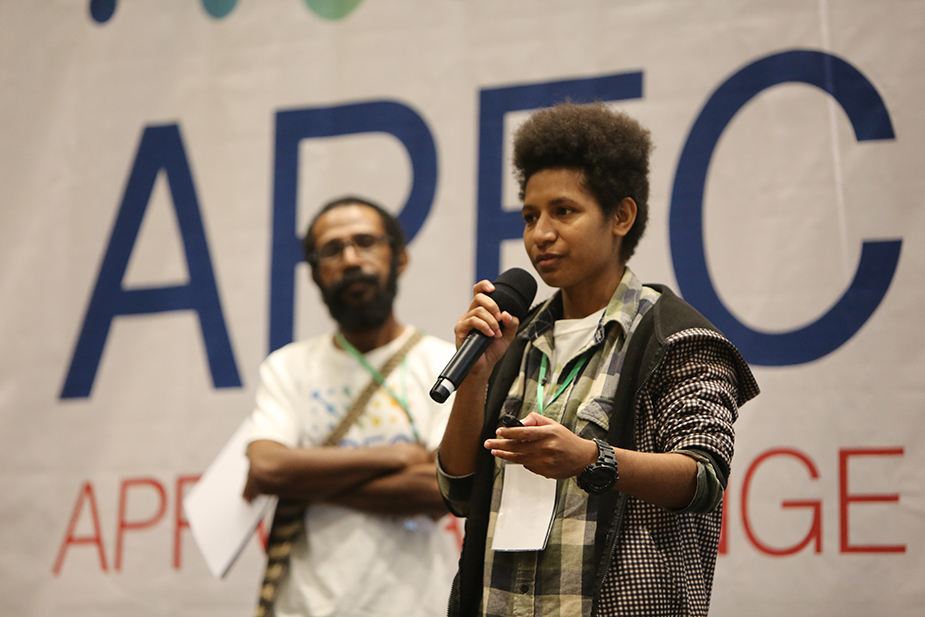 Programmer Crystal Kewe presents during the APEC App Challenge as her father Jonathan looks on.
All the winning solutions produced as a result of the APEC App Challenge serve as models for increased marketability for micro-entrepreneurs in informal economies—where talented and innovative makers have difficulty connecting to customers.
A pair of Australian developers, Venus Izadi and Kelly Benson, won Second Prize with their "Bilum Original" platform, which connects buyers and makers by combining a simple SMS interface with a sophisticated internal matchmaking algorithm.
Nguyen Duc Hiep and Ngo Minh Quoc Hung from Viet Nam won Third Prize, demonstrating an innovative blockchain solution to individually authenticate products produced locally and sold online.
The concepts generated during the 24-hour hackathon will likely have far-reaching effects for micro-entrepreneurs in Papua New Guinea and other informal economies.
"APEC officials are focused this year on enhancing digital prosperity throughout the region," said Alan Bollard, the APEC Secretariat's Executive Director. "The talent of these developers, their work and ultimately their creations are welcome contributions to the momentum of APEC meetings throughout this year in Port Moresby."
According to Dr Bollard, the winning entries of the APEC App Challenge will not only help entrepreneurs expand the capacities of micro enterprises in Papua New Guinea. "By looking at the challenges that beset informal enterprises locally, participants have identified scalable concepts for online platforms," he said. "These can potentially be used to grow informal economies in the Asia-Pacific region and around the world."
Papua New Guinea's trade officials have acknowledged the significance of the APEC App Challenge as a practical demonstration of the APEC 2018 theme of "Harnessing Opportunities, Embracing the Digital Future."
"The APEC App Challenge shows that many people can benefit from the digital economy," said Rimbink Pato, Minister of Foreign Affairs and Trade, Papua New Guinea.
"It gives real-world context to the important policy discussions we are having about how to enable the digital economy to grow and flourish."
Pato added that the event will drive continued work in Papua New Guinea to advance e-commerce frameworks and regulations, including improving telecommunication infrastructure, lowering internet costs, and providing support for e-payment systems.
"Internet platforms help local artisans showcase their incredible talent and skills to APEC economies and the rest of the world," said Karim Temsamani, President, Google Asia-Pacific.
"They help budding entrepreneurs find new opportunities and earn more income for their work,"
"Asia-Pacific is an extremely dynamic region, and micro- and small businesses here have huge potential," he continued. "They need the opportunity to showcase their craft to the world, and online tools and platforms give them that chance."
Despite lacking the opportunities afforded to developers from other parts of the world, the Kewes' talent and determination led them to success in the APEC App Challenge. When the local classes Crystal attended as a student in Papua New Guinea weren't challenging enough for her, Jonathan homeschooled her and sought alternative education opportunities to help his daughter expand her skills.
As a teenager, Crystal taught herself computer programming, and she and her father launched Crysan Technology, a software development company based in Port Moresby. Now 19, Crystal serves as the company's chief technology officer and software architect while Jonathan is its managing director and UX/UI designer.
"The APEC App Challenge helps us understand the creative potential of the region," said John Karr, senior director at The Asia Foundation, "and particularly the digital developers and designers who can build the region's future.
"Crystal Kewe is a great example of this local capacity. This is the generation that is helping connect APEC entrepreneurs at every level of society to new opportunities to prosper and thrive in a global economy."