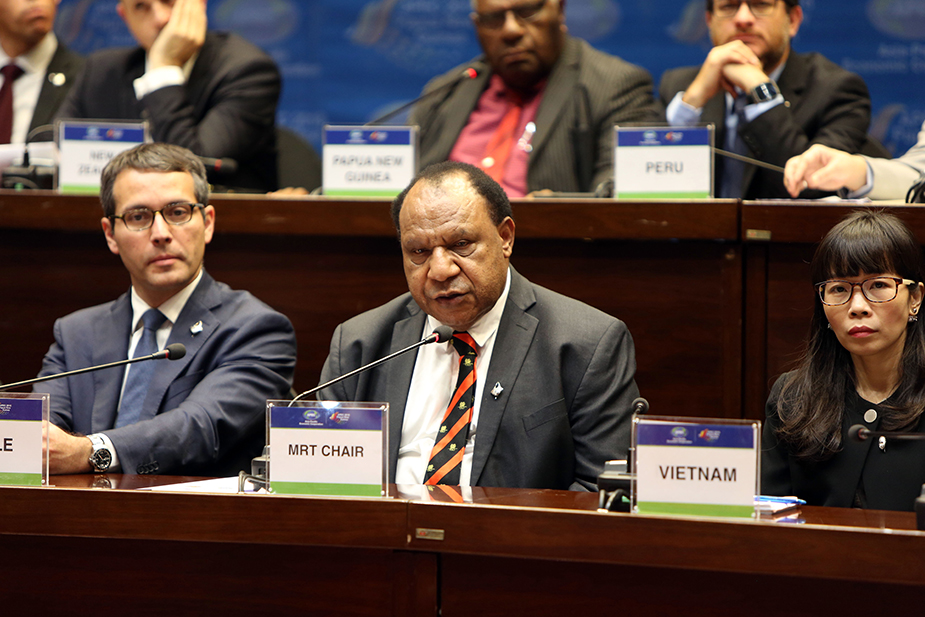 The key is inclusiveness so that nobody is left behind and that we are all moving in one direction towards prosperity.
In an interview with the APEC Bulletin, Papua New Guinea's Minister for Foreign Affairs and Trade and 2018 Chair of APEC Ministers Responsible for Trade, Hon. Rimbink Pato MP, spoke on the need to ensure robust and inclusive Asia-Pacific trade.
Minister Pato went on to discuss his expectations for engagement between APEC economies to advance this goal as well as the contribution Papua New Guinea can make to support it during the lead up to the APEC Economic Leaders' Week in Port Moresby and beyond.
Video: Minister Pato on Opening Up Trade
APEC Bulletin: What is your view of the current trading landscape and how APEC can help to ensure sound footing during Papua New Guinea's host year?
Minister Pato: Papua New Guinea's position is clear. Bilateral and multilateral systems based on an international, rules-based order form the framework that should bring about a non-discriminatory, level playing field, which will lead to inclusiveness and prosperity for the world.
You can contextualize it in a family sense. The nuclear family can only deal with certain issues. But when you look at it on a broader level, as in the case of a family dealing with uncles, aunties, cousins or grandparents, there are some issues that you cannot deal with on a bilateral basis.
In the course of Papua New Guinea's APEC chairmanship, from the Trade Ministers' meeting through to the Leaders' summit in November, there is a range of issues I want to refer to my colleagues so that we can reach some consensus moving forward.
APEC Bulletin: What do you think about rising protectionism and the implications for Papua New Guinea and Asia-Pacific economies more broadly?
Minister Pato: We would encourage our close friends and allies who want to focus a little more on their bilateral deals, to do so, but in accordance with World Trade Organization rules.
In this context, we would encourage negotiations to address trade policy differences because protectionism is counter-productive. It is a danger to the world's trading system and the benefits that open, integrated markets can bring to all of the communities in the APEC region and globally.
APEC Bulletin: What are Papua New Guinea's priorities for strengthening trade and how does APEC fit into those efforts?
Minister Pato: We are doing what we can to promote trade and investment in the Pacific. For example, we are active in the Melanesian Spearhead Group, which looks at trade between the Melanesian countries of the Pacific. We are active in the Pacific Island Forum. With Australia and New Zealand, we are working on opening up trade even while awaiting the outcome of an independent study into the Pacific Agreement on Closer Economic Relations Plus.
We will consider what is best for the Pacific islands, in general, and best for Papua New Guinea, in particular, so that we can have deals that are inclusive, open up the market and drive trade and investment across our region. What we want is to have effective participation.
If it means that we have to contribute to capacity-building, then we will do that. We can also learn a lot from fellow APEC economies. We want to make sure that while we have APEC in Papua New Guinea, we use it as an opportunity to create a legacy for our people, our country and our region.
APEC Bulletin: Can you illustrate how coordination between APEC economies is enhancing Papua New Guinea's capacity to trade?
Minister Pato: Difficult geography is one of the hurdles that we are actively working to overcome. By the use of digital technology, in cooperation with APEC economies, we should be able to leap this hurdle and improve our capacity to trade.
We have developed a new trade policy that looks at some of the difficulties we face. It outlines the steps we should take to build our capacity in such areas as, for example, customs and biometric assessment of our products so that they will meet quarantine requirements of other APEC economies and trading partners globally.
Our officials are doing a lot of work in areas like these, in coordination with APEC economies. It is a learning experience for us as well. We are working on getting the focus right. We want to see the benefits of our efforts flow into our economy for our people. The key is inclusiveness so that nobody is left behind and that we are all moving in one direction towards prosperity.
APEC Bulletin: Where do you see the biggest opportunities to advance digital development in Papua New Guinea and the region, and how can APEC help with next steps?
Minister Pato: We have made digital development one of the key issues of our APEC chairmanship. We want to take something back to our people and our region, to overcome the challenges we face such as distance and isolation of communities.
The use of technology is the answer to a range of questions: How can we overcome geographical barriers? How can we use innovation to promote education in our rural communities? How can we make credit and banking services more available? How can we do quick business deals? How can we assist with marketing? How can we promote a surge of trade and services? How can we enable greater access to our products in markets within the region and globally, including in APEC economies?
We want to see how digital technology will promote trade, open up markets and help us mitigate the challenges in Papua New Guinea and the Pacific.
APEC Bulletin: What are your expectations for trade as a result of hosting APEC and the implications for people's lives in Papua New Guinea and around the region?
Minister Pato: One outcome of hosting APEC will of course be the boost in tourism and visitors in general, including those interested in trade. APEC is centering the focus of the international community on our region. We must – and will – take advantage of it to increase prosperity for all.
People all over the world will, as a result of APEC, know where Papua New Guinea is located – and what we are able to organize because of our ability to host APEC. The world will see the potential that we have in our cultures; in our forestry and agricultural resources; our tourism attractions; the tuna resources we have. One-third of the tuna in the world is available here in our waters. Our opportunities for development of extractive industries are vast, particularly liquefied natural gas but also a wide range of minerals
There are opportunities that the world has not appreciated fully before but will do so now. Moving forward, we think that APEC will boost our economy and our opportunity for increased trade and investment. Because of the similarity of interests, of challenges and of our Pacific location, there are many benefits that we will share with other Pacific island economies.
APEC Bulletin: How will Papua New Guinea's APEC priorities contribute to trade policy beyond 2018?
Minister Pato: We are very excited about the meetings of the APEC Leaders that will take place here in November. I am equally excited about working with my colleague trade ministers on building greater inclusiveness and breaking barriers for free market access.
I want to share with those ministers information on development opportunities for our region and I want to see what we can do to achieve consensus on a range of issues. This is particularly important in the present climate where there is tension in terms of whether the international trading system is working for some of our APEC economies.
We want to bring everybody together and try to reach consensus. We will bring to the APEC process the spirit of Melanesian unity and compromise so we can do deals together and be part of the global society where we will be able to work together for greater security and prosperity that benefits all the human family.