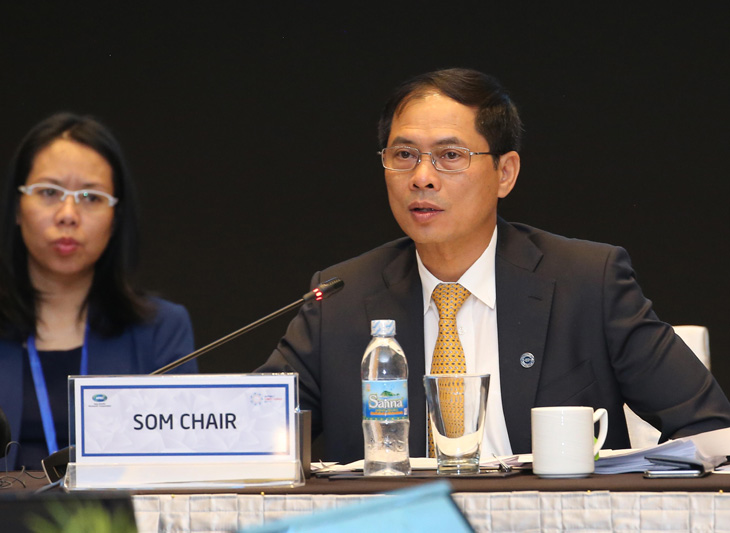 "We have learned a lot from others about placing people and businesses at the center of our policies."
The Brexit, fraying of the European Union and increase in populism worldwide have put globalization on the defensive. They also underscore the need to do more to address its shortcomings. Ambassador Bui Thanh Son, Viet Nam's Permanent Deputy Minister of Foreign Affairs and 2017 Chair of APEC Senior Officials, is at the forefront of efforts to do so in the Asia-Pacific.
In an interview with the APEC Bulletin, Ambassador Bui discussed lessons learned from market integration, innovation and trade. He went on to explain the keys to channeling these forces in ways that everyone can benefit from and support—the focus of APEC economies during Viet Nam's year as Chair and which their Senior Officials and Trade Ministers will work to advance in Ha Noi in May.
VIDEO: Applying Globalization Lessons in the Asia-Pacific
LAST CALL: Media Registration for Trade Ministers Meeting
REGISTER FOR BRIEFING: Trading Places – Populism, Protectionism and the Pacific
APEC Bulletin: How does Viet Nam view the direction of globalization and trade in the Asia-Pacific?
Amb. Bui Thanh Son: The economic and trade growth of the region and the world over is slow. Investment is also subdued and there are concerns in some corners that the benefits of globalization are not being evenly distributed to different groups within economies. But there are many positive developments or signals that we can be optimistic about when it comes to the trend of globalization and international integration.
Number one is that most people see that globalization brings benefits. The second is that integration in the Asia-Pacific brings about free and open trade and investment which continues to drive growth. The region last year still registered the highest growth in the world. Lastly, globalization and the process of integration, so far, has encouraged economies in the Asia-Pacific to work together as an incubator of ideas as well as a promoter of trade that brings benefits to more people and businesses.
APEC Bulletin: What has Viet Nam learned from its opening up, or Doi Moi, and participation in new trade initiatives like the Trans Pacific Partnership, Regional Comprehensive Economic Partnership and, within APEC, the Free Trade Area of the Asia-Pacific?
Amb. Bui Thanh Son: Viet Nam started the Doi Moi renovation process 30 years ago and the results have greatly benefited the people. We now have transformed completely from a centrally planned economy to a market-oriented economy. The international integration process has also opened up trade opportunities and brought foreign direct investment.
Our progress is supported by two factors. One is that we continue the process of internal reform, transforming our economy and restructuring its different sectors. The second is that proactive international integration has brought about close cooperation and gradually incorporated Viet Nam into the world and regional economies. We are now a member of the ASEAN Economic Community and deeply engaging in fora like APEC. Viet Nam has also negotiated 15 free trade agreements with different economies including 13 FTAs with member economies of APEC. This is very important for us.
Reform and international integration has created a very confident and firm foundation for us to accelerate this process. It is an approach that has been affirmed by our leadership and by the support of the people. I think the process will continue. We are working hard on reforms, with assistance from the international community, to deliver greater prosperity to Viet Nam as well as to enhance our prestige regionally and globally.
APEC Bulletin: How is market development and integration changing people's lives in Viet Nam?
Amb. Bui Thanh Son: Reforms and international integration have brought about many extraordinary changes in Viet Nam. First, we transformed from a very low level of economic development to a middle income economy. This is truly historic. I, myself, have lived through all of these periods. In the 1980s, when we started reforming, living standards were very low. But now, after 30 years of reform and integration, you see that Viet Nam has become very dynamic. In every city and every province, people are eagerly working, participating and there is very strong entrepreneurial sentiment.
Of course, during the process of reform, the government also paid new attention to social factors as well and the different vulnerable groups affected by it such as women and ethnic people in rural areas. As I have seen with my own eyes, the people in these areas are satisfied with the outcomes of our reform so far. The most important thing is that they are now happy and eager to support and work with the government to promote greater reform and international integration.
APEC Bulletin: What has Viet Nam learned from the trade liberalization experiences of other economies around the region?
Amb. Bui Thanh Son: International integration, in general, has been a process. We first joined ASEAN, then we joined the Asia-Europe Meeting, APEC, the World Trade Organization, etc. Viet Nam now participates in almost all trade and economic institutions. In the process, we have shared a lot with our friends about reform and international integration as well as learned from their development experiences.
We were considered a low level economic development partner within ASEAN at the beginning, when we joined, but we have since moved up the ladder of economic development as well as our degree of cooperation within ASEAN. In APEC, roughly 20 years of cooperation has particularly enhanced the capacity of our officials as well as our businesses to benefit from international integration and trade.
Continuing to share experiences and learn from our partners in APEC, in ASEAN, in other regional and global institutions will help us to build a stronger foundation for us to integrate in the region and the world in the future.
APEC Bulletin: Is it fair to say that the red flags being raised globally about the unintended consequences of trade and investment liberalization provide lessons to Viet Nam and the region on managing this process more effectively?
Amb. Bui Thanh Son: I think that's a fair assessment. During the process of reform and international integration, the benefits are not naturally brought to all parts of the economy, all segments of society, or all businesses. As we take things forward, we must pay due attention to the issue of social justice.
We have learned a lot from others about placing people and businesses at the center of our policies. This is why Viet Nam is working closely with its partners in APEC on the issue of inclusion and to address the adverse effects of trade and economic change on different groups. It is one of the priorities we set in APEC this year. Our goal is to bring the benefits to the different parts of each economy in the region.
APEC Bulletin: How is Viet Nam confronting the need to do more to optimize globalization and how do you see APEC coming into play in this regard during Viet Nam's year as Chair.
Amb. Bui Thanh Son: We are facing a challenging time, not only in APEC but also in other international institutions as well, including the World Trade Organization, because there is some skepticism about the benefits that globalization may bring to people. In that context, Viet Nam is working with fellow member economies in APEC to "Create New Dynamism for Our Shared Future"—the theme we have set for this year as chair. "Shared Future" in this context means people in every economy can benefit from the process.
Under this theme, we are acting on four key policy priorities in APEC. One is building more sustainable, innovative and inclusive growth. Number two is that we continue to deepen our economic integration. Number three is that we create a more enabling environment for micro, small and medium enterprises to work and bring benefit to all of us given that they represent 97 per cent of all businesses in the region. Last but not least, we are advancing sustainable agriculture in response to climate change. Any time there is turbulence in the world economy, agriculture is always important.
So far, we've got the very strong support and assistance from the APEC member economies and I think we can continue to take steps forward in addressing these challenges.
APEC Bulletin: What can be done to mitigate emerging challenges to regional economic integration and trade?
Amb. Bui Thanh Son: APEC has long been an incubator of new ideas for free and open trade and investment. It is also a pioneer in advancing regional integration and lending support to the multilateral trading system. That's very important. To overcome new challenges in these areas, APEC will have to continue its role as a forum for a free and open trading system. The question is, how can we do that?
The gathering of the Leaders of APEC in Da Nang in November and also the ministerial meetings before it could help to send a strong message of our commitment to improving free and open trade and investment in the region so that it benefits people more equitably. We can also work closely with each other to develop concrete policy plans and initiatives to move this agenda forward.
This includes accelerating implementation of the Bogor Goals—the vision of free and open trade and investment in APEC by 2020 and greater regional community to address shared economic and social challenges. We must also look ahead to a post-2020 vision to build momentum for APEC to contribute to long-term growth and better living standards across the Asia-Pacific and beyond.
APEC Bulletin: How suited is APEC as an institution to achieve results at a time when institutions globally are being viewed with increasing scrutiny and mistrust?
Amb. Bui Thanh Son: APEC is of course voluntary and mutually beneficial in nature. In this way, all member economies can cooperate more comfortably on trade and economic policy and with greater latitude to innovate. For example, we are sharing a lot of views now about how to move the Free Trade Area of the Asia-Pacific, or FTAAP, forward. With the voluntary, non-binding and consensus-based principles of APEC, everyone can participate if they want. The benefits that APEC has rendered for each member economy, so far, should help to rally support among us to maintain and build APEC's role in the new context.
APEC Bulletin: What is Viet Nam looking to achieve as APEC Chair in 2017?
Amb. Bui Thanh Son: If the region's Leaders can gather in Da Nang and affirm their support for freer trade and investment in the region that works for everybody, it would already be a success. If APEC's working-level committees and sub-committees, Senior Officials and Ministers can before that put forth policy solutions compatible with this focus, as reflected in the priority areas of cooperation we agreed to pursue this year, it would also move our agenda forward.
APEC Bulletin: What are some key outcomes that Viet Nam is targeting in APEC and working to take forward?
Amb. Bui Thanh Son: There several outcomes that we would like to see. First is that we would carry on with the strategies and policy work in APEC that our Leaders and Ministers have endorsed to date.
Second is that we develop initiatives that further tap the potential of our economies and improve lives and livelihoods for all. For example, to promote green, sustainable and innovative micro, small and medium enterprises by creating a framework that enables them to compete, to grow and to promote job creation and a cleaner, healthier environment. That's an important deliverable for us.
In the same vein, we want to work with APEC to give more attention to the issue of inclusion and the sustainability of our growth so that the benefits of integration, of globalization are more evenly distributed among economies and each segment of society within them.
Lastly, now that we are just a few years from 2020, we not only want to have a plan to accelerate our unfinished work towards the Bogor Goals for free and open trade but also to begin detailing a path for the region after 2020. This is another outcome that we would like bring to APEC this year.