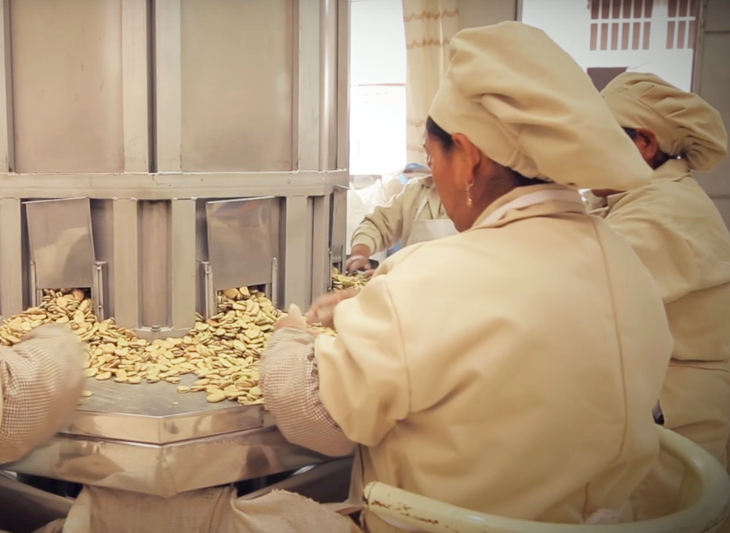 We involve many people in the community, and in particular, single mothers and young people who want to support their studies.
From the picturesque mountain town of San Jerónimo in Cusco, Peru, to the bustling city of Ha Noi in Viet Nam, small businesses are breathing life into the economies of communities around the Asia-Pacific. Nothing illustrates this more than the cases of entrepreneurs Thu Mai Hằng and Varinia Teresa Gonzales Zuniga.
The stories of Hằng and Varinia bring to life APEC's agenda of modernizing small business in the region. With small and medium enterprises (SMEs) making up more than 95 per cent of businesses in the Asia-Pacific, providing opportunities for expansion and growth to SMEs will significantly move APEC toward its goals of inclusive and sustainable growth.
APEC's outreach initiatives have brought stories such as these to light—stories that demonstrate how small businesses in the region are now embracing mobile technology and connectivity in order to trade and grow. Like their pursuits in Viet Nam and Peru, these businesses are growing their markets by engaging in activities like mobile banking and digital promotions, therefore expanding their access to an unprecedented number of potential clients and partners.
A Ha Noi Tire Company Steps on the Gas
Hằng and her family run a tire shop in the Hoang Mai district of Ha Noi, Viet Nam. Founded 20 years ago, the business has been in the family for generations.
"We started to change the way we operated in 2007," said Hằng. "Step by step, we moved our processes onto the internet, from marketing to payments. Then we installed online cameras so we can monitor our workshops remotely. This frees up time to focus on other areas of the business."
Establishing a mobile presence was a game-changer. According to Forbes, 36 per cent of Viet Nam's population now owns a smartphone. With usage soaring, Hằng reports that clients can now quickly locate their business when they need tire repair and purchasing services.
"With the mobile internet, all transactions are quicker," said Hằng. "I use mobile banking constantly, which means I don't have to arrange for money transfers physically. Also, cash flow has become easier: customers know our prices in advance, which makes transactions faster."
Within five years, Hằng's family business has grown to become the largest tire-repair shop in the Hoang Mai District.
"Being connected on the go has so many benefits," said Hằng. "From financial management to image promotion, our business is much more efficient, and we have lessened the physical burden of running a business. One of the unexpected but welcome results of this is that my family can spend quality time together beyond managing the shop."
From the Peruvian Highlands to the World
Varinia is from Cusco, Peru, where her family operates a fava beans export business. Renowned for its Inca heritage, Cusco is a major pull for 2.6 million people who visit Peru each year. But this remote Andean town is also extremely fertile—it produces high-quality staple crops, including corn, potatoes, quinoa and beans.
According to Varinia, whose family has farmed the hills around San Jerónimo for generations, one of the biggest local crops is fava beans. "My mother believed that sourcing local fava beans and packing them for export would make a good business," she said.
Over the past five years, Varinia introduced a variety of internet technologies to help her business, AGP Inka, market and sell Cusco fava beans around the world. "Internet connectivity reduced the gap between our clients and us," said Varinia. "We can contact our customers faster, market products easily and track deliveries more efficiently."
Her mother agrees. "We have clients who want to see our beans before placing an order," said Rosa Zuniga, who is also chief executive officer of AGP Inka. "So, we film our beans, our workers and our packing processes and email the videos to potential customers. Through these, we answer questions and solve problems before we accept and dispatch orders."
AGP Inka now provides livelihoods and a steady source of income to some 200 men and women in San Jerónimo. "We involve many people in the community, and in particular, single mothers and young people who want to support their studies," Varinia said.
According to APEC Executive Director Dr Alan Bollard, APEC will continue to push for the internationalization of SMEs.
"These are tangible examples of how APEC's work to promote sustainable and inclusive growth manifests in our communities," said Dr Bollard. "Part of this inclusiveness push is helping small businesses create more jobs by providing opportunities to grow and expand."
This year, APEC will continue to reach out to its stakeholders and to the public, to foster a deep and practical understanding of inclusiveness, growth and other issues that are important for, and which may well impact, every community and every family.