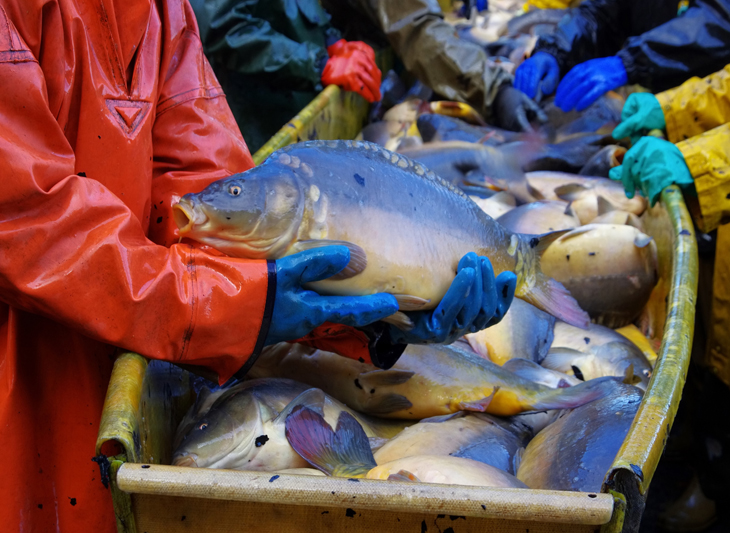 Aquaculture farmers gain access to food safety and standards support to help them tap into global industry.
Most APEC member economies are aquaculture producers and nine are among the top global players. Aquaculture commerce is an important source of livelihoods and food security in the Asia-Pacific region. Making this industry accessible to small-scale aquaculture farmers will help APEC take strides in its agenda of inclusive economic growth.
However, success will rely on good aquaculture practices so that food-safety measures meet expectations of authorities and buyers. To achieve this, small-scale producers need to incorporate international food safety standards in their production and logistics processes.
An initiative between APEC and the World Bank's Global Food Safety Program (GFSP) is under way to help small-scale aquaculture farmers gain access to food standards and safety support. Its objectives: to help them grow their livelihoods and integrate into a USD160 billion industry.
The aquaculture training project took off in Viet Nam in 2015 when it certified its first cadre of 30 trainers from APEC member economies. These trainers went on to share aquaculture safety guidelines in their own economies and are now part of a network of certified food-safety trainers in the region.
"The project includes access to mentors who are technical experts in aquaculture safety," says Megan Crowe, senior international trade advisor in the United States Department of Commerce, and administrator for Partnership Training Institute Network. "It helps aquaculture businesses to overcome major hazards and risks, and tap into the global trade in food."
"We are helping economies meet food production standards so that even the smallest aquaculture business can safely export," says Crowe. "Trade in food requires transparency and certainty."
Helping aquaculture farmers access a global industry
Commercially, the opportunity is huge. Between 2005 and 2015 the value of global aquaculture production more than doubled to US$160 billion — and Asia is at the center of the industry. In China alone, five million people depend on the aquaculture industry for their livelihoods. They produce 45 million tons of farmed fish, mollusks and crustaceans each year, which is approximately 60 per cent of Asia's total production.
"With limited annual increases in global fisheries, aquaculture remains the only option to increase the availability of healthful fishery products — but education is essential," says Steve Otwell, founder of project collaborator Seafood HACPP Alliance (SHA), which creates and delivers aquaculture education and training in the United States.
Selecting the best
The inaugural training in Viet Nam was an example of a regional collaboration that provides a critical platform to achieve region-wide impact. The World Bank GFSP funded the Responsible Aquaculture Foundation (RAF), non-profit program initiated by the Global Aquaculture Alliance (GAA) to help advance responsible and necessary aquaculture production around the world.
RAF combined their international experience with established trainers and course materials supplied by the SHA, which were anchored in the Association of Food and Drug Officials a 100-year-old organization of food-safety authorities, which includes the US-based Food and Drug Administration.
APEC funded the participation of selected trainees from developing economies in the APEC region. Identifying the best possible trainees was crucial to the long-term success of the project.
"The attendees were very carefully selected," he says. "APEC's criteria meant that every one of the participants already had an awareness of food-hazard issues and basic aquaculture operations."
The aquaculture training workshops took place in Ha Noi, Viet Nam, from 21-24 September 2015. Attendees from 24 nations examined some of the biggest challenges facing small and medium-sized fish and shrimp farmers. These include reducing the risks of water contamination and addressing the improper use of antibiotics.
Trainers also studied the post-farming supply chain. For example, they reviewed time and temperature controls to be used in food-processing facilities, as well as sanitation procedures that enable the facilities to manage risks and minimize health hazards.
"The program didn't just include training.We also assembled all the resources that trainers will need in their home economy to successfully teach aquaculture safety," says Otwell.
Global safety-mentoring network
Additionally, APEC secured funding to help set up a mentoring program on food safety.
"In July 2016, we sent a mentor to Peru to help the new APEC trainers deliver their initial food-safety course and that was a huge success," says Otwell. "A month after, we helped the new trainers from Chile get started with a similar type of support."
GAA and Seafood HACCP Alliance experts will continue to act as technical and training mentors so that the industry can take advantage of the practical benefits of the program.
Transparency and trust: the vital ingredients of aquaculture trade
According to Crowe, a network of certified aquaculture trainers will boost Asia-Pacific trade because it promotes trust in food production standards.
"Economies around the world are insisting on higher regulatory standards for food production," she says. "This program will help small-scale producers comply with those standards so they can expand into booming world markets."
"Certification is hugely important to industry buyers," adds Otwell. "They need to be confident that food producers and food-processing companies are following safety rules. The APEC–GFSP partnership is creating transparent food-safety credentials, which builds trust and eventually boosts trade."
For more information:
Ma. Lizbeth Barona-Edra | [email protected]