APEC Aims for Disaster Readiness to Protect Livelihoods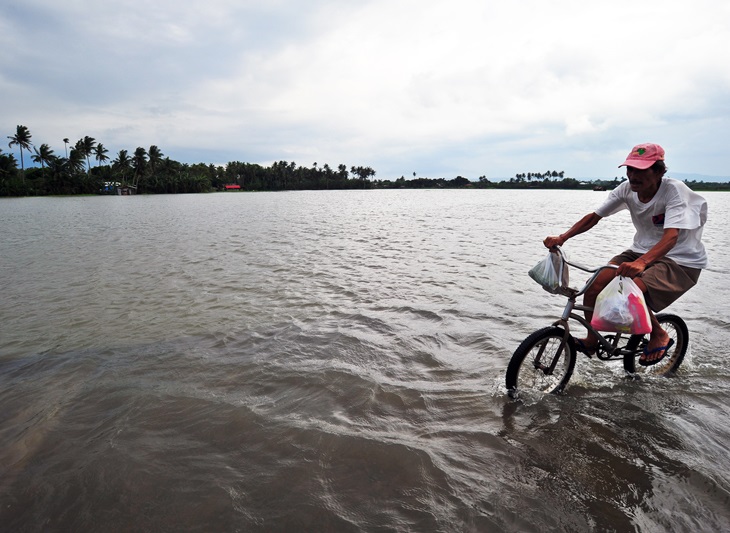 Disaster-prone Asia Pacific boosts emergency-preparedness in a bid to protect businesses crucial to post-disaster recovery efforts.
For a disaster-prone region, the importance of emergency preparedness could not be emphasized enough. APEC's human security agenda seeks to not only protect businesses in the Asia Pacific from terrorism and pandemics, but to also help economies prepare for emergency events before, during, and after they happen.
In the last decade, the Asia Pacific region was hit by 1,625 disasters affecting billions of lives and costing the region $523 billion in economic damages. This, according to a report, makes the Asia Pacific the most disaster-prone region in the world.
"On present trends, by the year 2030, annual losses in the region could average $160 billion per year," says the report. The concept of early-warning is among the many critical aspects seen as shielding the region from bearing the full brunt of disasters.
To this end, APEC economies are implementing initiatives to keep supply chains open and local businesses afloat in the event of a disaster. These are important elements for post-disaster recovery.
Empowering economies to be disaster-ready
APEC's emergency-preparedness group has been working to improve the region's readiness capabilities since 2005. A five-year initiative under this platform is helping APEC economies most vulnerable to disasters adopt measures to minimize their impact on businesses.
"Through this initiative, we identified the hazards that economies face from specific natural disasters by conducting a risk and vulnerability assessment," says Chris Chiesa, deputy executive director of the Pacific Disaster Center (PDC). "After doing so, we then identify the practical skills and resources needed to create effective risk-reduction strategies within each economy."
Viet Nam is pioneering a disaster management tool that allows its relevant local agencies to create action plans, manage evacuations, and predict humanitarian needs.
Chiesa says the tool, called "VinAWARE", based on PDC's DisasterAWARE platform, transforms data from multiple sources into actionable information.
This tool addresses human needs and it also takes account of infrastructure such as critical roads and bridges. Chiesa explains that if used in conjunction with hazard mapping and risk-reduction methodologies, it guides stakeholders through all the activities related to disaster-management so they can estimate potential impacts, and develop risk-related messages for key audiences.
With large populations on low-lying areas, Viet Nam is at huge risk from post-typhoon flooding. Chiesa says the Pacific Disaster Center and the Viet Nam government, through the Central Committee on Flood and Storm Control, are working together to implement VinAWARE such that it supports prompt early warning and decision-making.
"This means, for example, that evacuation orders can be issued when flood data reaches pre-defined thresholds—and when populations still have time to move," he said. "With proactive disaster management, public warnings happen at the critical moment, and every relevant agency is kept up to date."
Protecting business in a disaster
Supply chain resilience also greatly benefits from disaster preparedness.
"When the 2011 monsoon floods hit Thailand, the world's second-biggest producer of hard drives, the effect was felt by electronics production in nine different economies," says Janet Benini of the US Department of Transportation. "This event helped spark interest in supply chain resilience."
"APEC is a perfect forum to build disaster management strategies because it has a unique focus on government and business," says Benini. "In the US, 43 per cent of companies impacted by a natural disaster never re-open, and 29 per cent more close after two years."
Benini estimates that approximately 90 per cent of the businesses that closed after the 2011 Tōhoku earthquake in Japan went bankrupt owing to indirect losses or damage.
The Philippines experiences an average of 30 typhoons per year. In October 2015, public and private representatives came together to identify supply chain vulnerabilities, and plan mitigation strategies.
"We designed an action plan to ensure business continuity after a disaster, protect vital infrastructure, and ensure regional coordination," shared Benini.
Benini points to several lessons shared by APEC economies, including New Zealand's successful interventions following the 2011 Christchurch Earthquake, which damaged up to 45 per cent of city centre buildings.
"By directly subsidising wages, New Zealand limited the uptick in business failure rates from 10.4 to just 10.7 per cent," she adds. "Employees stayed loyal until businesses got back on their feet. This dramatically changed the long-term cost of the earthquake."
"If we can keep businesses operating, then we help communities recover a lot faster," Benini concludes. "By focusing on one economy at a time, our program will build supply chain resilience techniques throughout APEC."
For more information:
Ma. Lizbeth Barona-Edra | [email protected]