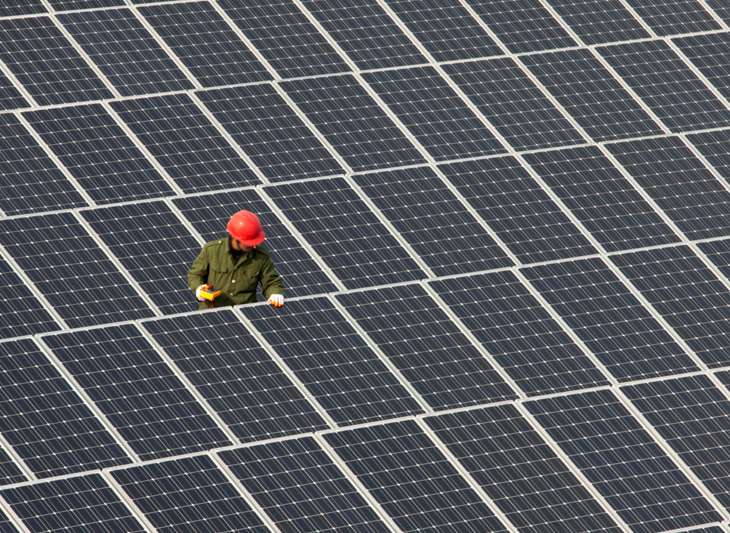 Over the last decade, APEC economies have been hard hit by global warming, losing $100 billion annually from disasters that are increasing in frequency and intensity due to climate change. That is why it is especially urgent that the region delivers on its green initiatives.
How APEC Reconciles Trade and Climate Policies
Originally published in Foreign Affairs online https://www.foreignaffairs.com/ on 1 February 2016 and viewable directly at this link.
Now that the dust has settled from the December Paris climate talks, where 195 governments agreed on a landmark plan for addressing global warming, the focus is shifting to the complex work of implementing those commitments. One concern is that the initiatives to fight climate change could negatively affect efforts to boost trade and economic growth, or vice versa. Although not without trade-offs, advancing these priorities can (and must), in fact, go hand-in-hand.
This is particularly true when looking back at 2015: It was one of the hottest years in recorded history and it was shaken by uncertainty in the world economy, which continues today. These events speak to the need to press ahead with viable, complementary solutions.
Out of all the groups working toward the goal of finding environmentally sound trade solutions is the 21-member Asia Pacific Economic Cooperation (APEC). Collectively, these economies are home to three billion people and account for half of global trade, 60 percent of the world's GDP, and 60 percent of the world's energy consumption. According to the World Resources Institute, APEC also includes seven of the top ten greenhouse gas emitters, which together produce around 70 percent of the world's total greenhouse gas emissions.
Over the last decade, APEC economies have been hard hit by global warming, losing $100 billion annually from disasters that are increasing in frequency and intensity due to climate change. That is why it is especially urgent that the region delivers on its green initiatives. The region's economic development and the rise of a middle class have created an opening for APEC economies—both developed and developing—to proceed.
For one, APEC members are working to open up the region's trade flows in order to facilitate the exchange of renewable and energy efficient technologies. APEC has committed to reducing tariffs on 54 environmental goods—such as solar panels, wind turbines, and air pollution control equipment—to five percent or less. This is the first multilateral tariff-reduction arrangement in two decades, and all 21 APEC economies have submitted plans for implementation.
When this landmark initiative is completed, it will help to lower the cost of green goods for consumers and, along with APEC's efforts to support service providers that utilize clean technologies, better position the region to meet its target of doubling renewable energy by 2030 and reducing energy intensity (a measure of energy efficiency) by 45 percent by 2035.
The tariff reductions on APEC's environmental goods will also promote trade, worth around $300 billion within the region and $500 billion worldwide, as well as unlock new sources of economic growth. In fact, the market for environmental goods and services is rapidly expanding and is expected to double to $2 trillion within five years. Wealthy economies are not the only ones poised to reap the benefits. Developing economies are also playing a greater role in the production and trade of green technologies. For example, according to the International Trade Centre, the Philippines increased its photovoltaic cell-related exports exponentially over the last decade by getting involved in parts of the manufacturing process.
For APEC economies to fully capitalize on these developments, however, they must promote an innovation-friendly environment. This involves resolving emerging trade and investment issues, such as promoting equal network access, securing data flows, and protecting intellectual property.
All these efforts need to be coupled with support for the right infrastructure for green technologies, particularly within fast-growing urban areas, which put out up to 75 percent of emissions in Asia, according to the Asian Development Bank. APEC is currently working to facilitate public–private financing to bridge the region's $8 trillion infrastructure investment gap. Member economies have already begun laying the technical groundwork for new projects through a smart energy communities initiative. Launched in 2010 under Japan's APEC chairmanship, the initiative is now promoting more efficient and resilient energy infrastructure, greater integration of renewable energy (including cutting edge fuel-cell technology), the large-scale adoption of electric vehicles, and the adoption of energy-saving windows and heat-deflecting building materials.
This work is building the expertise needed to move these innovations forward. It is based on the lessons of successful case studies, such as one in Hawaii, the United States' most petroleum-dependent state. Hawaii is advancing smart grid policies and technologies and by 2025, aims to generate 32.5 percent of its electricity through renewable sources. It is also the first U.S. state to set a 100 percent renewable energies goal, which it hopes to achieve by 2045.
Another example is the "no car day" campaign in Seoul, which offers incentives like discounted fuel and free car washes when people choose to take public transportation rather than drive their cars. It has garnered a 30 percent participation rate, reduced the city's traffic volume by seven percent, cut emissions by 12 percent, and saved $600 million in fuel costs annually.
To ensure that there is an adequate labor force to implement measures such as these, and to take advantage of the new economic opportunities they bring, APEC governments are deepening their cooperation with the private sector. For example, APEC members are working with the region's business community to create training and certification programs for designers and installers of solar photovoltaic rooftop systems. They are also establishing a network of clean transport and supply chain support centers and are sharing guidelines on how to cultivate low-impact tourism.
For these green technologies and approaches to have a significant impact in curbing emissions and global warming, there is still the matter of integrating them on a regional scale. APEC has also sought to tackle this issue. In 2010, energy ministers launched a task force to identify and support cities that were incorporating low carbon measures into their urban planning. These cities would serve as a real-world testing ground for green development. In Danang, Vietnam, for example, APEC developed and funded a low carbon feasibility study in order to offer technical guidance to city planners as they roll out green measures such as an innovative electric bike and charging system and the use of kitchen waste to generate power, among others. This is not only good for the environment, but will also help Vietnam's third largest city meet the growing demands of tourism and rapid urbanization.
Other participants in what is known as the APEC Low Carbon Model Town program are piloting similar measures. And so far, the results are encouraging. An APEC study has found that San Borja, Peru—one of the most recent participants to pursue new smart energy measures—may exceed its targeted 15 percent emissions reduction by 2021. Its success provides a framework that can be duplicated across the 42 municipalities within Lima Province, home to nearly ten million people. The development of green transport, buildings, power grids, and jobs across the growing network of APEC Low Carbon Model Towns—including Bitung, Indonesia; Mandaue City, the Philippines; Samui Island, Thailand; and Tianjin, China—demonstrates that building both economically thriving and clean, low carbon societies is possible throughout the Asia Pacific.
Of course, there is still a lot of work to be done. Challenges include rooting out inefficient subsidies for fossil fuels, which promote wasteful consumption and put green alternatives at a disadvantage. The region is also coming to grips with the need to stop the rampant exploitation of forests and the corruption that undermines environmental protection policies. But so far, APEC's diverse members have managed to position themselves to take the next steps. If APEC succeeds in achieving its agenda, it will set an unprecedented example of how environmentally beneficial policies need not come at the expense of trade and development.