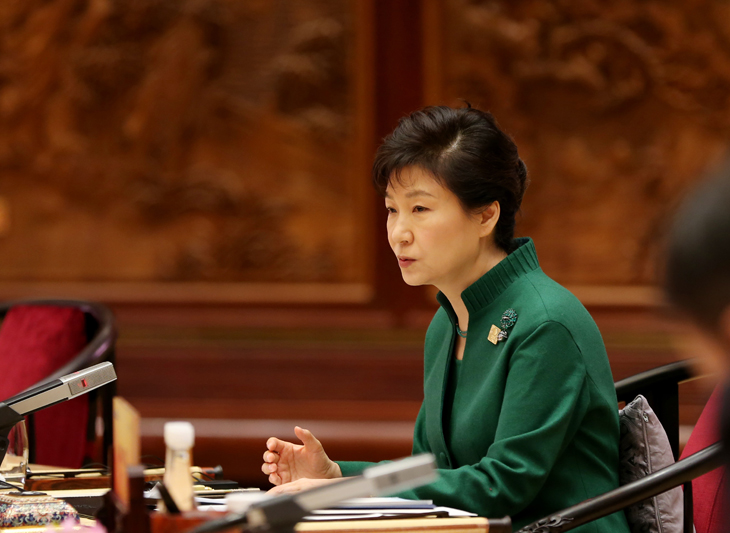 Korea will share its experience of economic development with international community, and continue to work together with other economies in our common endeavors for regional economic integration and inclusive growth of the Asia-Pacific region.
In an interview with the APEC Secretariat on the eve of the 2015 APEC Economic Leaders' Meeting in Manila, Korea President Park Geun-hye discussed the changing economic landscape in the Asia-Pacific and the role of cooperation in building capacity for regional integration and growth.
President Park described Korea's own development experience, evolving growth priorities and the lessons they offer other economies in the region. She also shared her expectations for the Leaders' Meeting and her views on ensuring that more open, integrated markets expand economic participation and translate into greater tangible benefits for more people.
APEC: What are your thoughts on the economic climate in the Asia-Pacific and the implications for Korea?
President Park: In the aftermath of global financial crisis, the Asia-Pacific economy is slowing down. In particular, trade growth has been falling short of the GDP growth of the region since 2012—for the first time after the inception of APEC. Given that trade has so far played a key role in putting our region on the rapid growth path, such a declining trend of trade is a matter of great concern.
APEC economies can no longer take economic growth for granted because "growth as usual" is no longer possible. We need to prevent the region from being stuck on a plateau of slow growth and to secure new drivers of growth. To this end, we should redouble our efforts to further strengthen regional economic integration.
We should also pursue inclusive growth that would enable all members of the society to benefit from the integration process. At the same time, we should pursue balanced growth between domestic demands and export, as well as among various industry sectors. To achieve these policy goals, a new holistic strategy is needed. I am confident that the APEC Strategy for Strengthening Quality Growth to be adopted at the upcoming APEC Economic Leaders' Meeting will contribute to the future growth of the APEC.
Korea has so far actively pursued trade and investment liberalization and the regional economic integration through APEC. Now, Korea is exploring new growth engines and pushing ahead with extensive structural reforms while overcoming low growth of domestic economy so as to achieve inclusive and balanced growth.
Korea will share its experience of economic development with international community, and continue to work together with other economies in our common endeavors for regional economic integration and inclusive growth of the Asia-Pacific region.
APEC: Please describe your initiatives for boosting Korea's trade and economic growth moving forward and how APEC fits into your calculation.
President Park: In an effort to boost growth, Korea is seeking to turn its economy into a "creative economy" by promoting convergence between industry, technology and culture, and is endeavoring to foster an environment under which anyone with creative ideas can easily start a business.
In addition, Korea is implementing a Three-Year Plan for Economic Innovation, aiming to achieve its employment rate to the level of 70 per cent and its potential growth rate to four per cent by 2017. In particular, to strengthen the growth potential of the economy, we are carrying out comprehensive reforms in four areas, namely public governance, finance, labor and education.
Besides, Korea is making efforts to increase the competitiveness of seven promising services industries – healthcare and medical services, education, tourism, cultural contents, financial services, logistics services, software services – with high growth potential in order to nurture service industry with the potential to create high level of employment and added value while removing unnecessary regulations that hinder the development of relevant industries.
Along with such efforts, Korea is endeavoring to expand its free trade agreement network with key trading partners while working to deepen regional economic integration and strengthen the multilateral trading system.
APEC has remained the leading premier forum for regional economic integration based on continued liberalization and facilitation of trade and investment. In this vein, APEC is an important partner that provides policy guidelines and cooperative frameworks for Korea in its implementation of economic policies. In particular, the APEC Strategy for Strengthening Quality Growth and the Renewed APEC Agenda for Structural Reform will be good a reference for Korea in exploring national strategies for economic growth and structural reform.
APEC: What do you see as the keys to ensuring that greater regional economic integration benefits all corners of Korea's economy and society?
President Park: To enhance inclusive growth during the course of economic integration process, we need to pay more attention to the global value chains or GVCs. GVCs work as channels through which the benefits of integration are delivered to every corner of each economy in our region.
In this regard, we need to enhance the efficiency of GVCs and make GVCs more inclusive by expanding participation of micro, small and medium enterprises – MSMEs – in GVCs.
For the enhanced efficiency of GVCs, physical, institutional and people-to-people connectivity should be promoted and various trade barriers should be removed through the conclusion of free trade agreements. These efforts need to be complemented by measures to facilitate trade, including the simplification of customs procedures.
The enhancement of the inclusiveness of GVCs requires comprehensive policy measures that would promote the integration of MSMEs to GVCs. The role of e-commerce using ICT applications is particularly important. A recent report prepared by the OECD and the World Bank for submission to G20 Trade Ministers' meeting in October this year cites Korean SMEs' utilization of e-commerce as a role model. Korea is willing to share with APEC economies its policy experience in boosting e-commerce using ICTs and expanding SMEs' participation in GVCs.
APEC: Please describe your initiatives to share the development experience of Korea to other developing countries.
President Park: The rapid economic development of Korea can be attributed to, among others, aggressive investment in education, successful rural development through Saemaul Undong, and efforts to develop export industries by liberalizing trade and investment. Korea is dedicated to sharing its development experience with other developing countries and strives to contribute to the co-prosperity of humanity.
Korea is well aware that one of the most solid investments for a sustainable future is to ensure that our future generation has access to good education and healthcare services. In this light, Korea is working together with developing countries to assist them in their efforts to support human resources development. One example of such efforts is the "Better Life for Girls" initiative, which was presented at the United Nations Sustainable Development Summit in September this year.
Sustainable development cannot be achieved without solving the problem of poverty in rural areas in which approximately 70 per cent of the world's impoverished resides. The Korean government has been sharing with developing countries around the world its experience of implementing Saemaul Undong, a nation-wide campaign in the 1970s that brought successful outcomes in reducing poverty in rural areas.
Notably, we are cooperating with the OECD and UNDP to develop a New Rural Development Paradigm, a more generalized and modernized model of Saemaul Undong that would reflect the conditions of developing countries in the 21st century. Korea plans to share its experiences with APEC economies by using this model.
Last but not least, Korea would not have been able to become what it is now without its tireless efforts to liberalize and facilitate trade and investment. Korea, since it joined GATT in 1967, has been growing through its export-driven development strategies. It is the multilateral trading system, represented by GATT/WTO, and free trade agreement networks with major trading partners that helped foster a stable and favorable environment for Korea's exportation and helped Korea to attract foreign investment.
Korea is leading the implementation of APEC's Capacity Building Needs Initiative, CBNI, the goal of which is to help APEC developing economies enhance their free trade agreement negotiating capabilities. We hope that such endeavors will contribute to bridging the negotiating capacity gap between developed and developing economies, often referred as obstacles in the realization of the Free Trade Area of the Asia Pacific—FTAAP.
Korea will continue to contribute to the socio-economic development of emerging economies in the region, playing a bridging role between advanced and developing economies within APEC.
APEC: What are your expectations for the 2015 APEC Economic Leaders' Meeting in Manila and the direction it will set for the region moving forward?
President Park: I expect that many cross-cutting issues will be on agenda at the 2015 APEC Economic Leaders' Meeting. Some notable topics include regional integration, structural reform, expansion and cooperation in the field of services trade, measures to support the globalization of SMEs, rural development, disaster response and many other issues that need to be addressed to achieve inclusive and sustainable growth in the Asia-Pacific region.
This year marks the 26th anniversary of APEC. Since its inception, APEC has been running steadfastly towards achieving the Bogor Goal by making tireless efforts to liberalize regional trade and investment. I believe that it is time that APEC sought sustainable and inclusive growth, while considering a more holistic and practical approach, taking into account social cohesion and environmental aspects of growth.
APEC is well suited to provide practical solutions that reflect the needs of private economic actors. In fact, APEC is equipped with mechanisms where the private sector can be heard in various issues of its agenda. Therefore, I have every confidence that APEC will enhance its relevance as the premier forum of the region to offer effective policy means to address new challenges to the global community in the future.