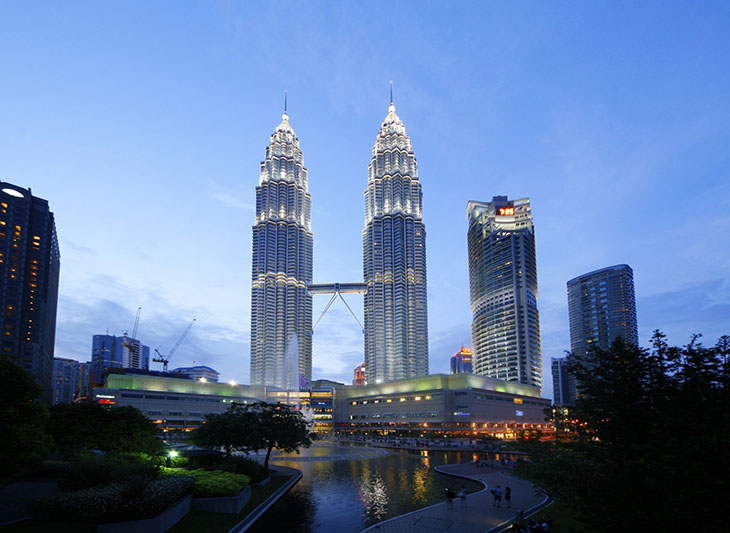 Perhaps it is time to visit the context of APEC as a 'loose consultative forum' and to identify carve-outs of sectors which can lend themselves to more structured and formalized regional or plurilateral arrangements or agreements.
During her more than two decades as Malaysia's Minister of International Trade and Industry, Tan Sri Rafidah Aziz was instrumental in founding and shaping APEC. Minister from 1987-2008, she championed Asia-Pacific trade as a driver of economic growth, with Malaysia and fellow APEC members today accounting for about half of global trade, 60 per cent of total GDP and much of the world's growth.
In an interview on the eve of the APEC Ministers Responsible for Trade Meeting in Boracay, the Philippines, Tan Sri Rafidah, who is now Chairwoman of Air Asia X, shared her views on the slowdown in trade, emerging regional trade agreements and inclusive trade development. She went on to describe the road ahead as APEC members work towards free and open trade by 2020, when Malaysia will chair APEC once again.
APEC: After more than two decades as a Trade Minister and helping to create and develop APEC, how has your move to the private sector, as a leader of a rising low-cost regional airline, shaped your views on trade and economic cooperation in the Asia-Pacific?
Tan Sri Rafidah: There should be continuous efforts to seek out new avenues to foster trade and investment crossflows within the APEC region. Perhaps it is time to visit the context of APEC as a 'loose consultative forum' and to identify carve-outs of sectors which can lend themselves to more structured and formalized regional or plurilateral arrangements or agreements.
These carve-outs can benefit business in the sectors concerned, while not subjecting every economy to an all-encompassing APEC agreement to liberalize trade and investments.
There must be thorough engagement with the business sector in order to strategize and prioritize the way forward, especially in the context of timelines and obligations.
APEC: How concerned are you about the downturn in trade growth and its knock-on effects for Malaysia and fellow APEC member economies across the region?
Tan Sri Rafidah: We have seen these economic downturns in the past, especially the impact of economic contagions which are triggered regionally, or in the major economies, and have various degrees of contagion effects.
Governments and businesses should have learnt the lessons of the past, in the context of the management of economic crises, and insulate domestic economies, to the extent possible, from the contagion effect.
Within the context of APEC, sharing of experiences and instituting collaborative strategies would assist the more vulnerable economies.
APEC: What are your thoughts on emerging regional trade agreements such as the Trans Pacific Partnership and Regional Comprehensive Economic Partnership that are being driven by large numbers of APEC members, including Malaysia?
Tan Sri Rafidah: These trade pacts are beneficial as long as all participants can benefit and it outweighs what they have to give up in the context of market liberalization.
There is no such thing as a 'win-win' outcome. It is about 'win some, lose some.'
Economies must undertake the necessary cost and benefit analysis, to see, objectively, what they can negotiate, demand and reciprocate.
Most importantly, there should be no political undertones to the negotiations. Nor should the initiative be driven by politics.
APEC: Looking ahead, APEC members, led by China and the US, are proceeding with a two-year collective strategic study on issues related to the realization of a Free Trade Area of the Asia-Pacific, or FTAAP, that is to build on emerging regional undertakings like TPP and RCEP, and include all 21 APEC members. Trade Ministers will decide the next step in May in the Philippines. What are key issues to consider?
Tan Sri Rafidah: As in any other regional and plurilateral trade and market liberalization initiatives, there are several factors that governments need to give due focus and consider.
For one, there must be attention to capacity issues relating to domestic inefficiencies, shortcomings and state of readiness in all key areas to enter into obligatory agreements.
There are domestic political, economic and socio-economic imperatives.
There must be focus on regional soft and hard support infrastructure, and the presence of the relevant domestic infrastructure that is adequately aligned to that at the regional level.
It's also important to adopt a best endeavour approach to allow economies which are not entirely ready to come on board later, perhaps using the 'x minus one principle' over a prescribed timeline.
APEC: Boosting trade and investment while ensuring that the benefits are widely felt by people and businesses around the Asia-Pacific is at the top of the agenda in APEC. What should be priority areas of focus for the region's Trade Ministers?
Tan Sri Rafidah: Certainly many of APEC's initiatives were and remain market driven, to seek more liberalized crossflows of trade and investment within the region and to facilitate such crossflows.
Within APEC there continue to be formal market arrangements amongst members for market liberalization for goods and services. It would be timely to evaluate the outcomes of those arrangements, to provide inputs into the way forward for the APEC process.
Moving beyond what APEC is now, there must be studies done to see if it can indeed evolve within the decade into a formal regional economic entity. One which characterizes the new 'Asia-Pacific Century.'
And to not only focus on just trade elements but to move into other important economic areas which reflect the new global and regional economic dynamics. APEC outreach must be expanded and intensified where necessary.
APEC: You have been active on women's issues in Malaysia. What more needs to be done to promote women's economic empowerment and entrepreneurship as a driver of trade, and how could Trade Ministers help to take this effort forward within APEC?
Tan Sri Rafidah: Women should no longer be seen to be needing special treatment, quotas and set asides. The needs of women as entrepreneurs are exactly the same as those of male entrepreneurs.
What's required is to remove any undue discriminatory treatment in the marketplace that hinder access for women to skills enhancement, training, financing and ancillary support services, and facilitate participation in cross-border business and trade.
APEC: Based on your personal experiences what advice do you have for aspiring women leaders—including future Trade Ministers and business executives?
Tan Sri Rafidah: No one should 'aspire' to be a leader. It is about having the right basic qualities and values that would enable a person to assume leadership roles in any situation and in any sphere--regardless of post or position held.
A person must be driven by qualities such as integrity and trustworthiness, discipline, a high sense of responsibility and accountability. They must also have vision to bring about change for improvement and to successfully overcome challenges.
A leader is not the person – man or woman – who is merely 'in charge.' A leader is the one who 'takes charge,' who performs creditably and delivers. Leadership is about performing creditably, to the highest possible benchmarks, and delivering what's expected.
APEC: Malaysia will chair APEC once again in 2020—the target year you helped to set to drive member cooperation towards 'free and open trade' and greater community to tackle shared development challenges. What are your thoughts on completing this mission, known of course in APEC as the Bogor Goals, and what comes next?
Tan Sri Rafidah: There are many things APEC members must do now as we move towards 2020.
It is important to stocktake what has been achieved through economic cooperation in the region and realistically identify what remain as obstacles and constraints. These should be addressed and resolved.
There is a need to collate the various domestic constraints that will inevitably be the stumbling blocks to future regional initiatives.
It's also necessary to put aside initiatives that are driven simply by 'motherhood statements' and slogans for 'free trade.' In actual fact, there is no such thing as free trade. Domestic considerations can put an end to it within 24 hours. This has happened time and time again.
Moving forward, APEC members must prioritize the economics of an initiative.