25 Years of Progress in the Asia-Pacific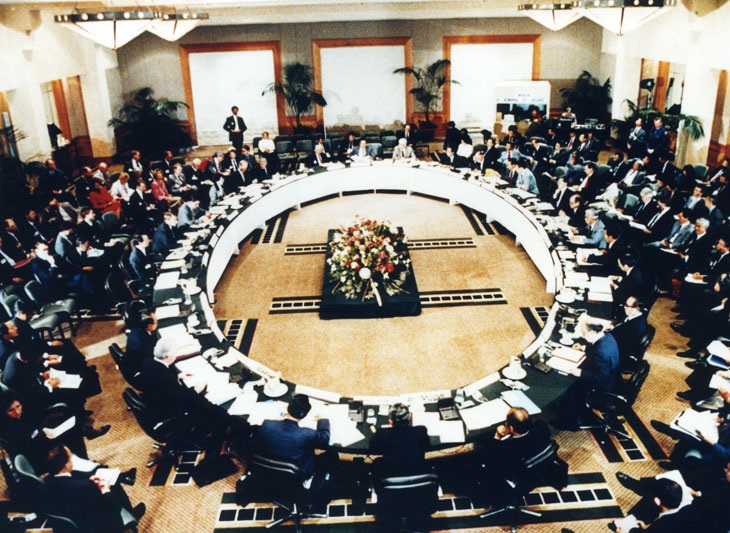 We commend the actions…of APEC economies to implement Single Windows in order to improve inter-agency coordination at the border. In those economies where a true Single Window has been put in place, it has benefited cargo clearance tremendously in terms of efficiency and cost.
Since 1989, APEC's 21 member economies have been working to improve prosperity in the Asia-Pacific by promoting trade and economic ties while addressing sustainability and social equity.
25 years later, the region has reaped the benefits. Growth has soared, with real GDP doubling from just USD 15 trillion in 1989 to USD 30 trillion in 2012. Meanwhile, residents of the Asia-Pacific saw their per capita income rise by 36 per cent, lifting millions out of poverty and creating a growing middle class in just over two decades.
Bringing the region closer together, reducing trade barriers, and smoothing out differences in regulations have boosted trade which, in turn, has led to this dramatic increase in prosperity. Between 1989 and 2012, the APEC region's total trade increased over six and half times—outpacing the rest of the world with two-thirds of this trade occurring between member economies.
The APEC Story
APEC's story is about taking the long-term view, gradually chipping away at the less glamorous aspects of economic growth and trade—the alignment of regulations across the region from food safety to telecommunications; faster customs procedures at borders for goods and people; and more favourable business climates.
All of these efforts have contributed to an increasingly integrated Asia-Pacific economy and resulted in better functioning regional supply chains. These complex manufacturing webs have enabled component parts to cross multiple borders before final assembly and ultimately delivered more products to consumers at better prices than ever before.
Syncing Regulations in the Region
APEC's initiatives to synchronize regulatory systems across the region is a key step to integrating the Asia-Pacific economy. A product can be more easily exported with just one set of common standards across all economies, rather than a myriad of different rules. APEC's past and current work to align regulations across the region covers a broad range of areas from harmonizing rules for the digital economy to common standards for life science research or aligning safety testing of electronic equipment and children's toys to streamlining regulations for wine exports.
Take for example, the world's first multilateral agreement to harmonize standards for new technology development in the telecommunications industry. When manufacturers can build, test and ship their products to supply the global telecommunications infrastructure in a more streamlined process, new innovations can reach the hands of consumers at a faster pace. Known as the Mutual Recognition Arrangement for conformity assessment of telecommunications equipment (APEC TEL MRA) and created by APEC's Telecommunications Working Group in 1998, this ground-breaking agreement provides an opportunity to test and certify products one time to meet the requirements of multiple markets and ship products without further conformity assessment. This helps decrease the costs of getting a new technology approved and accelerates the time for innovative products to reach the market.
For international telecommunications companies, the APEC TEL MRA has reduced the number of hurdles for approvals of new technologies, provided local access for exporting entities by allowing in-economy testing and created the incentive to design products to international standards. Over the last sixteen years, this agreement has helped encourage innovation in the region and stimulated the growth of the technology sector.
Digital World: Keeping Data Private
As innovations in information technology create new ways of doing business, APEC is also making sure regional regulatory systems keep pace. With the increasingly digital nature of business today, data can be stored remotely and accessed anywhere in the world, giving rise to privacy concerns. Since 2005, APEC's Electronic Commerce Steering Committee Group has tackled this issue by creating a common Asia-Pacific data privacy rules system to ensure free flow of information across borders while at the same time providing effective and meaningful protection for personal information, essential to trust and confidence in the online marketplace.
In 2005, the APEC Privacy Framework established a set of principles agreed upon by APEC economies—a trailblazer for its time. "APEC should be congratulated for being an early adopter of the concept," said Joseph Alhadeff, Vice President of Global Public Policy at Oracle, a multinational software company. "The APEC Privacy Framework is a key milestone in ensuring data privacy."
In order to implement the APEC Privacy Framework, APEC developed the Cross-Border Privacy Rules (CBPR) system in 2008. The APEC CBPR system is designed to protect the privacy of consumer data moving between APEC economies by requiring companies to develop their own internal business rules on cross-border data privacy procedures. By 2014, US, Mexico and Japan adopted the system and IBM was one of the first companies to sign on. APEC has also used its CBPR system to facilitate cooperation among diverse regional privacy and data protection regimes, including developing practices with the European Union that could apply across both systems. As a result, information technology companies in the Asia-Pacific can follow common data privacy laws and consumers can feel more comfortable with the global online marketplace.
Cruising Past Borders
At the same time, this digital technology has also enabled APEC economies to centralize the export-import process, accelerating the time it takes for goods to travel across borders. Known widely as Single Window, this virtual system links all government agencies involved in the export-import process, allowing companies to submit documents electronically one time from anywhere. Gone are the myriad forms, long queues, and visits to multiple agencies, while goods spoil in warehouses.
In 2007, the APEC Sub-Committee on Customs and Procedures (SCCP) launched the Single Window initiative. Since then, APEC capacity building workshops have provided training on software coding or legal issues to help APEC members implement their own Single Window systems. By 2012, 14 APEC economies had adopted various stages of the Single Window system and more are coming on board.
"We commend the actions…of APEC economies to implement Single Windows in order to improve inter-agency coordination at the border," said Asa Larsson, Deutsche Post DHL's Senior Director of Corporate Public Policy for Southeast Asia.
''In those economies where a true Single Window has been put in place, it has benefited cargo clearance tremendously in terms of efficiency and cost," Ms Larsson added.
APEC Business Travellers Jump the Queue
APEC has also made it easier for people, particularly business travellers, to move across borders. Since 1999, the APEC Business Travel Card (ABTC) has enabled pre-approved business travellers to enjoy fast-track entry and exit through special APEC lanes at major airports, and multiple short term entry to 19 fully participating economies. As a result, total immigration-related costs for card holders dropped by 38 per cent, representing some USD 3.7 million in savings between 2011 and 2012.
Making it Easier to Do Business
In addition to making it easier for business travellers, APEC is also making it more efficient for them to conduct their business in the region as well. APEC launched its Ease of Doing Business Action Plan in 2009, with the goal of making it cheaper, easier and faster to do business in the region. Between 2009 and 2013, member economies improved the ease of doing business in the Asia-Pacific by 11.3 per cent across all areas of the initiative, including starting a business, getting credit or applying for permits. For example, APEC has expedited the time it takes for a company to build a new factory or office building. Today, construction permits are issued at a faster pace, dropping 18.7 per cent from 169 days to 134 days in the last four years with APEC topping the charts globally for the shortest permit time. Starting a company in the Asia-Pacific is also simpler with the number of procedures falling by 20.2 per cent since 2009.
Nurturing Small Businesses
In fact, nurturing the competitiveness of small and medium enterprises (SMEs) and their ability to participate in global markets have been critical elements of APEC's agenda. Over the years, APEC has launched a wide variety of initiatives that have helped stimulate SME development in the region.
In 2005, the APEC SME Innovation Center was established in Korea to help improve the competitiveness of SMEs in the region through hands-on business consulting. Between 2009 and 2012, 96 companies in 7 different APEC economies from Indonesia to Peru received business consulting to improve their management and manufacturing practices. The APEC Start-up Accelerator (ASA) Initiative was launched in 2012 to promote entrepreneurship and innovation by connecting start-ups in the region with angel and venture capital funding as well as successful entrepreneur mentors. Spearheaded by the APEC SME Working Group, APEC also helps small rural producers connect to global markets through One Village, One Product projects.
Since 2011, APEC has worked to enhance SME business ethics, particularly in the healthcare sector. By 2014, APEC's initiative resulted in codes of ethics being adopted and implemented by around 60 biopharmaceutical and medical device industry associations and their member companies from 19 economies across the Asia-Pacific, representing more than 14,000 firms.
SMEs are also more vulnerable to disasters with many companies going bankrupt in the aftermath of a disaster and wreaking havoc on global supply chains. To improve SME disaster resilience, APEC has trained more than 250 regional experts to assist SMEs with business continuity planning in order to minimize disruptions due to a disaster.
Ensuring Everyone is on Board
In addition to supporting small businesses, APEC is working to ensure all members of the Asia-Pacific can participate in the growing economy. For example, an APEC project connected indigenous women-owned micro-enterprises in Peru, Chile, and Viet Nam to global markets. The APEC Digital Opportunity Center was established in 2004 to provide computer skills training to vulnerable rural and urban communities. With over a hundred centers in 10 APEC economies offering information technology (IT) training, the APEC Digital Opportunity Center (ADOC) is focused on transforming digital divides into digital opportunities. Over the last decade, ADOC Centers have trained over half a million people throughout the APEC region, and almost half are female. Many men and women who received this digital training found jobs or started their own businesses, improving livelihoods and incomes for their families.
A Sustainable Future for the Asia-Pacific
With its white sand beaches and growing tourism development, city planners in Da Nang, Viet Nam are working on an innovative system of electric motorbikes and charging facilities as well as power generation from kitchen waste as part of an initiative to become a green town.
Funded by a multi-year project under the APEC Energy Working Group, APEC is helping urban planners develop low-carbon model town plans for a series of cities throughout the Asia-Pacific. These cities are reducing their carbon footprint by adopting a set of carbon emission reduction targets and energy efficient initiatives from renewable energy to public transit systems.
APEC is also supporting the development of smart electricity grids that enable sources of clean power to be seamlessly connected to existing structures and distributed to rural communities. "We are building the region into an innovation hub for sustainable energy," said Dr Phyllis Genther-Yoshida, Lead Shepherd of the APEC Energy Working Group. "Our economies are committed to reduce energy intensity in the region by 45 per cent by 2030, from 2005 levels, and we are intent on realizing that promise of greater efficiency."
In a landmark agreement, APEC members are taking the lead to promote global trade in the environmental industry. In 2012 in Vladivostok, Russia, APEC Leaders agreed to reduce their applied tariffs on 54 environmental goods to five per cent or less by the end of 2015. The APEC list of 54 products— from solar panels to wind turbines—accounts for around USD 500 billion in world trade.
The Road Ahead
As APEC marks its 25th anniversary, APEC member economies acknowledge the many milestones achieved in terms of open trade, regional economic integration, business development, environmental sustainability and equity. However, there is still more work to do on all these fronts, and APEC members are committed to addressing the challenges ahead over the next twenty-five years and beyond.
Click here to view the new APEC 25th anniversary video featuring current and former Leaders and Ministers on how member economies are building on the region's progress.