Transforming Digital Divides into Digital Opportunities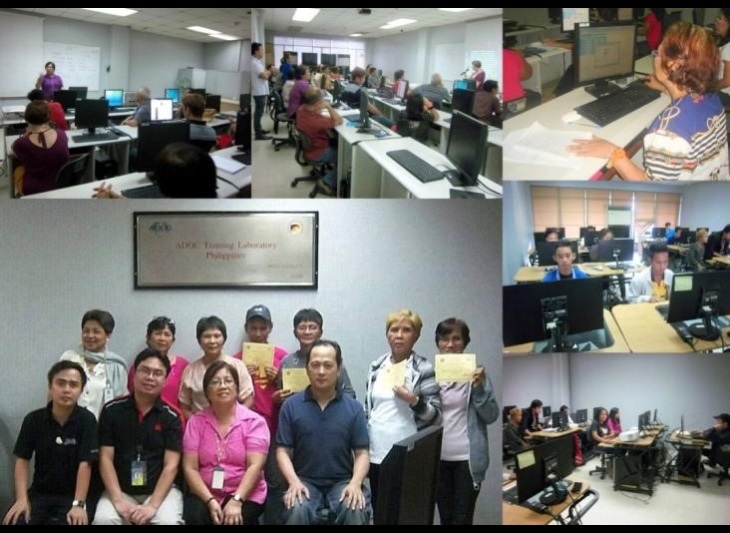 Along a busy Peruvian street, outside of Lima, a small cement building buzzed with new computers, internet connection and the excited chatter of all ages—children, young adults, and the elderly.
"I've never touched these things because we had no access here before," said Ismenia Begazo Pizango, a mother who sews handicrafts.
A teacher leaned over to show her how to set up an email account on Hotmail, and within minutes, Ismenia was connected to the digital world.
After taking the computer and internet training courses at the APEC Digital Opportunity Center (ADOC) in Peru with partner Mujer y Sociedad (MyS), located in Lima, Ismenia was able to start her own company with several friends, sewing custom-made blankets and sheets out of fleece. She now uses the internet to promote her brand beyond her village.
"The digital life was unusual at first," recalled Ismenia. "But it has given me opportunities I never even dreamed of."
Ismenia's connection to the digital world is part of the APEC Digital Opportunity Center (ADOC) initiative launched in August 2004, led by Chinese Taipei. This initiative is under APEC's Economic and Technical Cooperation (ECOTECH) projects, which help promote development with equity. With over a hundred centers in 10 APEC economies offering information technology (IT) training, the APEC Digital Opportunity Center (ADOC) is focused on transforming digital divides into digital opportunities throughout the Asia-Pacific region.
"The digital divide is a social issue, it is a form of technological inequality separating those that have access to computers and the internet and those who do not," explained Ms Meili Hsiao, Secretary-General of the APEC Digital Opportunity Center (ADOC) Secretariat in Chinese Taipei.
"There is a close relationship between poverty and the digital divide. For example, developing economies account for 40 percent of the world's population and yet of the 242 million internet users worldwide, only 5 million, or about two percent, are in developing economies," continued Ms Hsiao.
The APEC Digital Opportunity Center (ADOC) project leverages the advantages of Chinese Taipei's information and communications industry to help other APEC member economies and vulnerable segments within the APEC community access IT skills.
In 2004, Chinese Taipei contributed more than USD 10 million, in collaboration with seven APEC member economies, including Chile, Indonesia, Papua New Guinea, Peru, the Philippines, Viet Nam and Thailand who also provided funding and in-kind contributions for establishing local centers in their economies. Since then, three more economies—Mexico, Malaysia and Russia—have joined.
Over the last nine years, ADOC Centers have trained over half a million people throughout the APEC region, and almost half are female.
"I believe we train more women because many are very driven, and like Ismenia, are interested in starting their own business," said Ms Cynthia Fiorentini, the APEC Digital Opportunity Center Coordinator for Peru.
"The MyS Center, where Ismenia was trained, was a partnership with Mujer y Sociedad, a non-profit organization focused on helping women improve their lives," added Ms Fiorentini.
As Ismenia's story shows, digitization can boost economic growth and income. According to Booz & Company, information and communications technologies have boosted world economic output by USD 193 billion over the past two years and created 6 million jobs. Using a Digitization Index (from zero to 100), Booz & Company found that an increase of 10 percent in a country's digitization stimulates a 0.75 percent growth in GDP per capita.
Bringing more people into the digitization fold could help raise millions out of poverty.
For Jomar Lalata, a young man from the Philippines, the APEC Digital Opportunity Center did just that. Jomar grew up in a poverty-stricken family in Navotas, a fishing port north of Manila, where his parents struggled to put food on the table.
"I was not able to continue my education because there was not enough money for tuition," said Jomar. "Without further education, I had no hope for a good future."
Fortunately, Jomar was able to attend a course on computer training offered at an APEC Digital Opportunity Center in Navotas, through a partnership with ZOTO, a local urban community non-profit organization. After the training, he was able to find a job at Makro, an international mini-mart chain.
"Now I'm able to earn enough to cover my needs and support my family," said Jomar. "Without the knowledge in computers, I was hopeless."
The APEC Digital Opportunity Center in the Philippines was formally launched in 2005, working closely with the ADOC Secretariat in Chinese Taipei. Today, they currently have ten ADOC Centers around the Philippines, many in rural areas.
"We average twelve trainings per year at a given Center with about fifteen participants in each class," said Ms Angelita Nicolas, Project Manager of the ADOC Partner Office located in Quezon City, the Philippines.
As part of its second phase to strengthen self-sustainability, the APEC Digital Opportunity Center Secretariat in Chinese Taipei has also established 21 partners, including large corporations such as Microsoft, Intel, Acer Foundation and Chunghwa Telecom Co. Ltd. For example, this December, Asustek Computer Inc. recently donated 150 tablet computers to be used in Peru, Philippines, Indonesia and Malaysia on mobile ADOC Centers that will serve mountainous or remote communities.
Moreover, ADOC Centers are also going beyond individuals and assisting in IT training for specific industry clusters in rural areas. ADOC is currently piloting two small and medium enterprise (SME) projects in Malaysia and Peru to establish value-added business clusters by leveraging information and communication technologies. The SME cluster workshops bring together local governments, universities and SME businesses to provide training courses in software, internet access, e-commerce and e-marketing targeted at that particular industry.
"So far, the pilot SME IT training cluster projects include food processing and tourism clusters in Kedah, Malaysia and textile and food processing clusters in Cusco, Peru," said Ms Hsiao.
"These pilot projects and the many personal stories, like Jomar and Ismenia's, reveal the substantive benefits of the APEC Digital Opportunity Center project," added Ms Hsiao.
"We are not only bringing technology into the borderlands and the farthest frontiers around the world, but also improving the life and living standards of ordinary people."
For more information and to find out how your organization can get involved with the APEC Digital Opportunity Center: http://www.apecdoc.org Click here to watch video.