Connecting indigenous micro-enterprises to global markets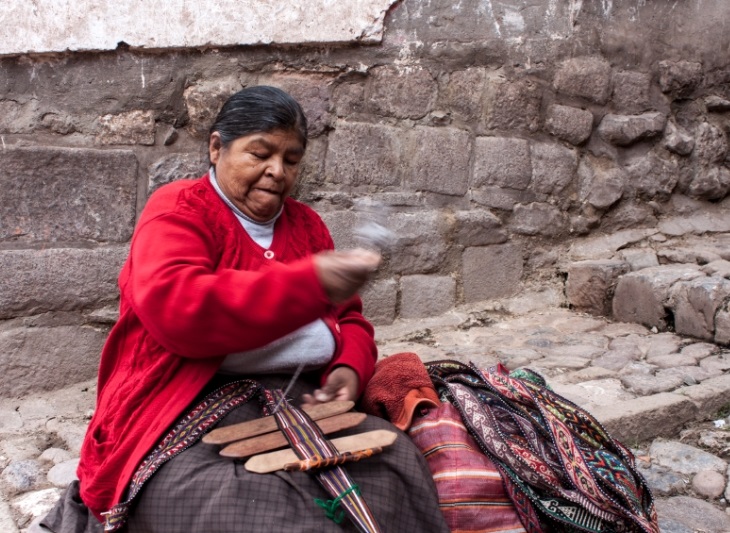 The pilot enabled a greater number of women to earn a living and care for their families at home. Employment opportunities have increased as these women's brands have gained publicity.
A deadly typhoon struck Chinese Taipei on 9 August 2009, devastating rural communities in the island's south. Indigenous women were hit hardest, and many of them struggled to restore the micro-enterprises they relied on to support their families.
A year later, at the APEC Women Leaders Network meeting in Japan, a team from Canada invited Chinese Taipei to join Viet Nam, Peru and Chile in an APEC pilot project to help women-owned micro-enterprises gain access to global markets.
Known as the Women's Micro-Enterprise Trade Network, the APEC project taught these women how to match their products to a foreign market and prepare them for export, said Rene Wu, Head of the International Division at the Foundation for Women's Rights Promotion and Development, which helped coordinate, enable and educate the women producers in Chinese Taipei.
"More importantly, the pilot enabled a greater number of women to earn a living and care for their families at home," Ms Wu said. "Employment opportunities have increased as these women's brands have gained publicity and the spirit of the project has been disseminated."
Globally, female-run micro-enterprises in remote, rural communities struggle to expand their markets beyond their villages because they lack links to international distributors. They also are not aware of new trade opportunities and lack understanding of the need to control product quality. This prohibits them from taking advantage of more open trade, and thereby boosting revenues.
To address these challenges, APEC's Policy Partnership on Women and the Economy launched the Women's Micro-Enterprise Trade Network, an APEC-funded project, designed to better support women-owned micro-enterprises' access to global markets.
The APEC project also engaged grassroots, non-profit groups, which provided training and outreach on both sides of the Pacific. The APEC project worked with the Mapuche Women's Enterprise and Artisan Craft Association in Chile, the QillaMaqi in Peru, and the Center for Women's Development in Viet Nam.
In addition to geographic isolation and lack of access to finance, many micro-enterprises offer the same products, which makes it hard to sell them domestically, said Andrina Lever, President of Lever Enterprises in Canada, who spearheaded the APEC pilot project. But there are potential markets for them outside their already saturated local ones.
"Indigenous women present an interesting market that has not really been developed or tapped into," Ms Lever said, explaining that the network's end goal is to get indigenous communities within APEC selling to one another and collaborating on design and production.
"Collectively they present a lot of disposable income and a large market of producers," Ms Lever continued, calling these women "keepers of tradition" as well as potential markets for each other's products and collaborators, since their use of colors, symbols and traditional manufacturing methods is similar.
To help these products break into new markets, the APEC project worked with partners in Chile, Peru, Chinese Taipei and Viet Nam to develop a set of criteria that evaluated how suitable they were for export – goods with an expiry date or ones that required special labeling or licensing, such as food, were eliminated, as was pottery or products that would prove difficult to deliver.
Decorative or household items that fit the "indigenous-made," "environmentally friendly," or "fair-trade" banner were of particular interest, since they could also succeed in niche brand markets, said Ms Francine Whiteduck, an Algonquin from the indigenous Kitigan Zibi Community in Canada and founder of Whiteduck Resources Inc., who also initiated and led the multi-year APEC pilot project.
In Canada, the pilot's test market, the APEC project compared prices at retail outlets offering similar products to determine their competitiveness. Ninety goods from indigenous women micro-enterprises were demonstrated to buyers at trade shows held in Canada in 2011.
As a result of the APEC Trade Network pilot project, 52 different indigenous women micro-enterprise products were ordered and another 50 were under consideration for future purchase by distributors. The project also established linkages between Canadian distributors and the indigenous micro-enterprises.
"I think it's a good way to exchange culture and preserve the customs of our people," said Herminda Quintriqueo Cariman, the founder of Chile's Rayen Multicultural micro-enterprise, which produces handmade textiles and was among the 52 products tested in Canada. "The Mapuche have given Chile an identity and though this project, I am able to generate development opportunities for our family and our people."
Ms Wu said that within the partner economies, the APEC pilot project provided realistic training on pricing, sales and marketing, aggregating products for export, and helped the women producers explore branding opportunities and develop a catalogue of products. It also linked them to advisors and experts in design, research and development and business management.
"We spent more than a year evaluating the strengths and weakness of each business," Ms Wu said, explaining how each one was at a different stage in development. The micro-enterprises also specialized in different crafts ranging from cross weaving and glass bead making to wood carving.
In Chinese Taipei, where the pilot focused on promoting 3E's: everyday living standards, economic empowerment and environmentally friendly products, it has strengthened the women producers' brands and marketing.
The Foundation for Women's Rights Promotion and Development in Chinese Taipei now hosts seven workshops, ranging from glass bead making to cloth and leaf weaving, and has hired local women to support their continued productivity, marketing and sales. Since it began in 2010, the pilot project has trained more than 300 women in Chinese Taipei and linked them to distribution channels in airports, museums, commercial shops and chain stores.
The Foundation assisted several cross-over projects within Chinese Taipei, continuing its work beyond the APEC project. For example, they matched indigenous women producers with a well-known Chinese Taipei jewelry company called Fenice to create jewelry that combines metalworking with glass beads. Through another partnership with EasyCard Corporation, a touch-and-go card ticketing system for public transportation, stores and government agencies, glass beads produced by one micro-enterprise are being used to accessorize millions of EasyCards.
While the potential exists for these women to position their products in new markets, however, continued support is needed to help them transition from local enterprises to start-up exporters.
"The challenge is aggregating the products and the economies of scale necessary to grow the trade network," said Ms Whiteduck. Although APEC provided seed funding for the four-year pilot, as did the economies involved, she said developing a market takes enormous resources and investment.
For more information on the project, please refer to the APEC report "Women's Micro-Enterprise Trade Network Pilot" on the APEC website.