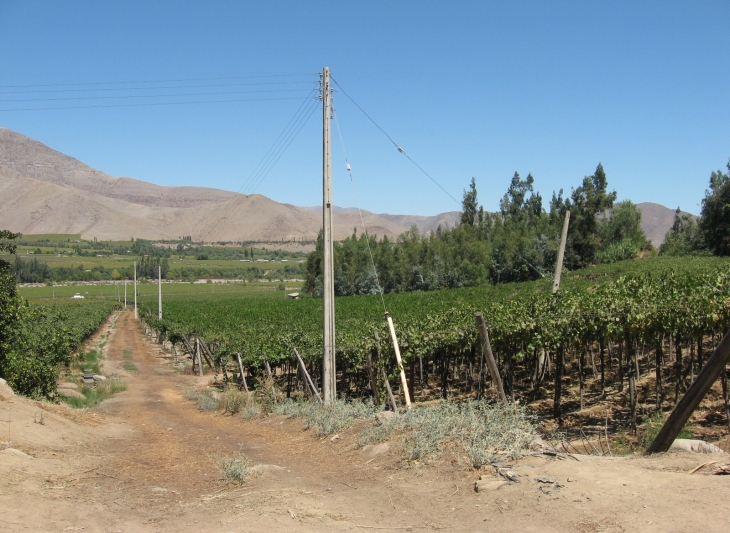 The brand helped us establish a clear and strong market image for our bamboo fiber products and we are continuing to build this brand based on the advice of APEC project experts.
In the sunny, arid Elqui Valley of Northern Chile, workers at ABA Distil harvest muscat grapes for aging in wooden barrels to produce pisco.
ABA Distil was recently selected to participate in an APEC-funded One Village One Brand pilot project to develop an international brand logo and trademark for their new pisco and maquiberry blended beverage. The Korean Intellectual Property Office, who led and co-funded the APEC pilot project, provided branding strategy and legal experts to two selected companies.
"A team of experts from Korea came to our vineyard and production facilities for two week-long visits in November 2011 and February 2012," says Alejandro Aguirre, Director and owner of ABA Distil, a three-generation family business in Vicuña, Northern Chile.
Since 2001, ABA Distil has been exporting its pisco to distributors in the United Kingdom, Canada and the United States. Recently, the company developed a new pisco and maquiberry blended drink which it planned to launch abroad as well.
During the first visit to ABA Distil facilities, the experts from Korea discussed brand identity, logo and intellectual property (IP) protection while the ABA Distil's team introduced their business and new pisco-maquiberry product.
"It was dynamic process with lots of ideas exchanged," says Mr Aguirre. "On the second visit, a few months later, the experts brought several brand design logo concepts and potential brand names."
"There was a lot of discussion and interaction to choose the final brand logo. It was a very intense and productive week."
As a result of the APEC pilot project, ABA Distil now has a beverage product named MAQUIRE with a sophisticated brand design that fits international standards and includes logo, graphics, packaging and trademark protection. The experts also conducted market analysis for MAQUIRE, identifying a potential market with female consumers who preferred a lighter beverage combined with maquiberry's antioxidant qualities.
Speaking about MAQUIRE's elegant purple bottle design with a vine motif, Mr Aguirre says, "The way I see it this is a world-class brand design that gives us confidence to launch this product abroad. It would have been otherwise difficult for us to get this kind of branding and IP advice. Consulting fees are typically high and unaffordable for a company of our size."
The One Village One Brand project was initiated by the APEC Intellectual Property Rights Experts Group (IPEG) to increase awareness of IP protection as a key factor in promoting foreign trade and investment. In particular, narrowing the gaps in IP-related legal infrastructure and policies between developing and developed economies is an important element to attracting financing from abroad. Recognizing this need, the APEC Intellectual Property Rights Experts Group is focusing on increasing knowledge of IP rights and its economic benefits to local communities in developing economies.
"The project aims to help small businesses in rural communities implement product branding through strategic use of IP," explains Jae-hun Park, Director of the Multilateral Affairs Division at the Korean Intellectual Property Office, who managed the APEC pilot project.
"Branding and proper brand protection is one of the most powerful tools to leverage the market power of products," he adds. "However, producers and farmers in developing economies often do not recognize the importance of IP or possess the capacity to undertake product branding."
A rigorous selection process was used to choose the two companies to participate in the APEC pilot project. Another company selected was the Anji Bamboo Fiber Association, located in the bamboo-forested region of Anji County, between Shanghai and Hangzhou, China. The trade association members produce bamboo fiber, a soft, highly absorbent material and an alternative to cotton for clothing.
"The APEC project group designed the brand name "ANJIAN" and trademark logo for our bamboo fiber," says Mr Weikang Zhao, IP Consultant to the Anji Bamboo Fiber Association. "Over 40 producers in our trade association are now unified under the ANJIAN brand. The brand helped us establish a clear and strong market image for our bamboo fiber products and we are continuing to build this brand based on the advice of the APEC project experts."
"In fact, the logo and branding helped encourage other bamboo producers to participate in our trade association. After unifying under one brand, all the producers also agreed to product quality standards as well," he says.
Previously, the producers in the Anji Bamboo Fiber Association served as suppliers, processing the bamboo fiber for companies who then sold the material abroad under a different brand name. However, with the APEC branding advice, the 40 members intend to move higher up the value chain by exporting their bamboo fiber products under the ANJIAN brand directly to global markets.
"We believe that this project helped build up the capacity of both Anji Bamboo Fiber Association and ABA Distil by providing guidance on how to develop new product branding and protect IP rights," explains Mr Park of the Korean Intellectual Property Office. "This should provide the foundation for both producers to develop branding and IP for future products."
The next step will be to disseminate the strategic branding guidelines developed as a result of the pilot project. The guidelines will be shared with APEC members as a model of strategic branding and IP use for small, rural producers and capacity-building cooperation between developed and developing economies.