Winner of 2012 ASPIRE Prize for health innovation announced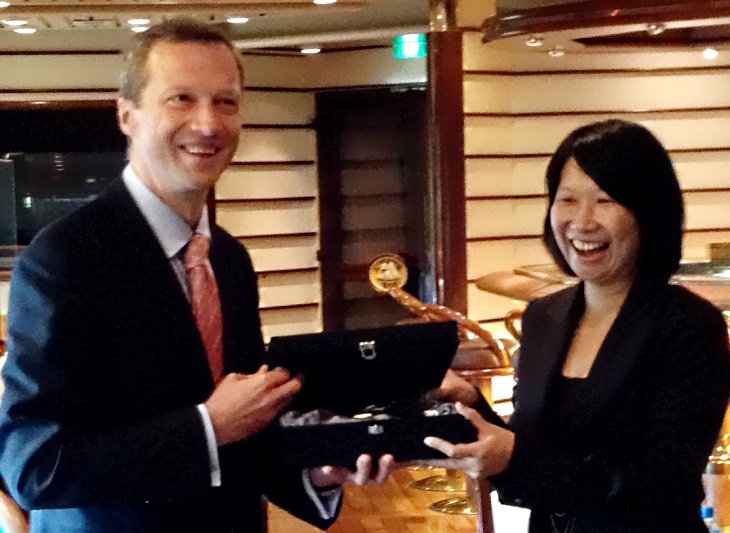 Dr. Rossa Wai Kwun Chiu was presented the APEC Science Prize for Innovation, Research and Education (ASPIRE) Prize on Thursday by Dr. Sergey Ivanets, President of Far Eastern Federal University, alongside the APEC Economic Leaders' Week in Vladivostok, Russia.
"Health innovation," the theme for this year's ASPIRE Prize, was chosen to foster cooperation among economies to support healthy lifestyles, productivity and economic growth. The ASPIRE Prize carries a USD 25,000 award.
Dr. Chiu, who is a chemical pathology professor at the Chinese University of Hong Kong's Morningside College and from Hong Kong, China, was selected as the winner of the ASPIRE Prize for her research and development of non-invasive prenatal diagnostic approaches which demonstrated excellence in scientific research, evidenced by scholarly publication, and cooperation with scientists from other APEC member economies.
Honoring Dr. Chiu on Thursday, Dr. Ivanets said that the ASPIRE Prize recognizes the vital importance of cross-border scientific and technological cooperation in the world's fastest growing region.
"Dr. Chiu embodies the cross-border collaboration that is so vital to advancing the future discoveries that will drive our economies and the health of our citizens. " said Ivanets.
Dr. Chiu successfully used next-generation DNA sequencing in DNA plasma of pregnant women for non-invasive prenatal diagnosis of Down syndrome and performed large-scale clinical studies to validate the test. The clinical use of non-invasive testing for Down syndrome detection is now routine in Hong Kong and the United States, based on her findings.
"Collective efforts between researchers allow resources to be used efficiently for the maximal impact of research," said Dr. Chiu, who collaborated with scientists from China, Malaysia, Singapore, Thailand and the United States to advance her research.
"Cooperation enables the rapid dissemination and application of the fruits of research, translating into tangible benefits for citizens across the region."
Dr. Chiu has produced 105 papers in international peer-reviewed journals, including Prenatal Diagnosis, Science, The Lancet, The Journal of Pathology, Hematology/Oncology Clinics of North America, Blood, and Seminars in Fetal & Neonatal Medicine, among others.
On winning the ASPIRE prize, Chiu said, "I sincerely hope that the work of my research group on non-invasive prenatal diagnosis would save the fetuses whom would potentially be lost due to the conventional prenatal diagnostic procedures."
ISTWG Lead Shepherd Dr. Nares Damrongchai lauded Dr. Chiu's research and the contributions of the other ASPIRE nominees. "APEC continues to lead the way in promoting the vital role of health innovation and collaboration in sustaining the region's economic growth," he said.
"The scientific advances of the region's world-class researchers are very significant and playing a critical role in addressing key health challenges."
Ambassador Muhamad Noor, Executive Director of the APEC Secretariat, said that the ASPIRE prize encourages work and research by young scientists.
"APEC recognizes innovations in health as crucial for productivity and economic growth for our member economies," said Noor. "The ASPIRE Prize is indicative of APEC economies' commitment to promoting research and development that improves the quality of people's lives and economic productivity in the region."
The 2012 ASPIRE Prize is sponsored by John Wiley & Sons, Inc., and Elsevier, two of the world's leading publishers of scholarly scientific knowledge.