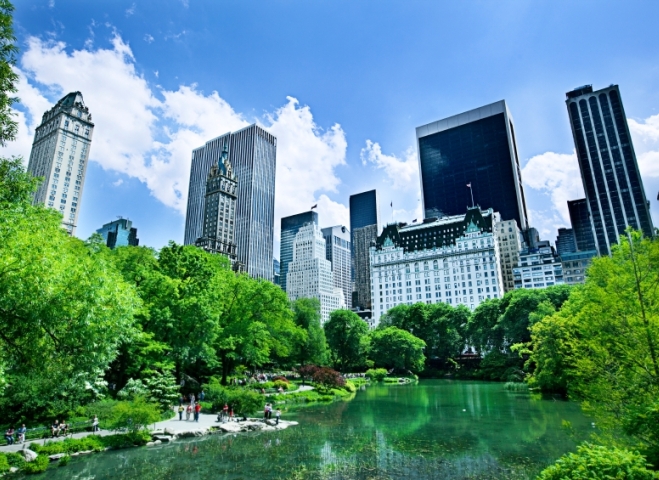 We're putting together an initiative on smart buildings, smart grids, smart transportation and smart workforce training…There isn't just one thing that is important. We have a whole comprehensive package.
If Sun Yang has his way, Yujiapu, a financial district that is rising from the dust and concrete on the outskirts of Tianjin, a coastal city in northeastern China, will one day have electric vehicles and subways rather than cars powered by fossil fuels.

Roads and buildings will be lit by combined operating systems of solar and wind energy, and water treatment systems will do double duty – treating water but also absorbing and storing energy.

When not in use, electric cars will become storage vessels for the electricity generated by windmills overnight, and buildings will be designed with more natural light and high-tech materials to keep them warm in winter and cool in the summer months. Islands of trees and shrubs will dot the downtown, taking in carbon dioxide, emitting oxygen and creating a cleaner environment.

"We're trying to make this real, not just a design," explains Sun, who works for China's National Energy Administration in Beijing and is a member of APEC's Energy Working Group. "We have to integrate smart grids, smart communications, and smart transportation."

Sun is spearheading a new APEC initiative called the Low-Carbon Model Town and the Yujiapu financial district will be the poster child of the campaign. The idea for transforming towns into low-carbon ones was conceived in June 2010 at the ninth APEC Energy Ministerial Meeting in Fukui, Japan, and the Energy Working Group set up a task force to develop the concept. Yujiapu, about 40 km east of Tianjin, was chosen as the first test case.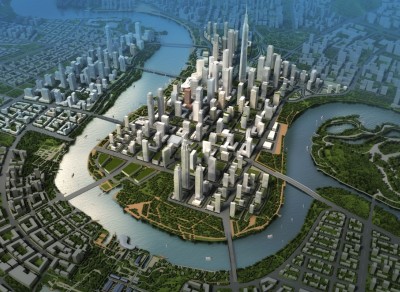 The Low Carbon Model Town project was launched in 2010 and is part of the 'Green Growth' initiative for APEC 2011, which envisages addressing climate change by promoting climate-friendly, low-carbon and energy efficient technologies.

The Green Growth agenda involves upgrading policy initiatives, expanding capacity building and public-private teamwork to promote green industries through finance, trade promotion, green jobs education and training, and facilitating the development and spread of green technology.

Promoting green growth is one of several priorities outlined for APEC in 2011, including strengthening regional economic integration and expanding regulatory cooperation. APEC economies can work toward this priority by removing barriers to trade in environmental goods and services, eliminating fossil fuel subsidies and supporting advanced new green technologies.

Improving energy efficiency is one of the quickest, greenest and most cost-effective ways to address energy security, economic growth and climate change challenges at the same time. More efficient transport, industry, buildings and equipment help limit direct fossil fuel needs as well as demand for electricity, which continues to be generated in large part from coal and natural gas. Energy efficiency measures can cut the region's reliance on oil and gas imports and carbon emissions from fossil fuel combustion.

Sun explains some of the challenges to progress: "Although we have technologies available, most of them are at the pilot or demonstration level. Most of what we're talking about isn't in commercial operation yet."

The other problem is to prove that low-carbon towns can be of economic benefit, he adds.

"This is business – we don't want to waste money."

"During 2011 as it commences, this initiative will start providing important data and disseminating best practices on how APEC's urban areas are meeting the global low carbon challenge," says Dr. Phyllis Yoshida, Lead Shepherd of the APEC Energy Working Group and a Deputy Assistant Secretary at the U.S. Department of Energy in Washington, D.C. "It will provide an important holistic view of how various renewable energy, energy efficiency and urban planning policies and tools can be used together to move APEC towards a low-carbon sustainable future.

One of the keys to creating low-carbon towns will be smart grid technologies, Sun explains, including advanced battery technologies for more efficient and cost-effective energy storage. Smart grids will help integrate intermittent renewable power sources and building control systems that let businesses and consumers use energy more efficiently. Smart grids also increase the reliability of electricity supply.

As APEC enters its third decade, its commitment to finding a regional solution to climate change and to contributing to sustainable growth has never been stronger.

Three years ago APEC leaders proposed a regional goal of reducing energy intensity by at least 25 percent from 2005 levels by 2030.

A system of peer reviews is providing valuable guidance. Last year Chile, New Zealand, Vietnam and Thailand volunteered to undertake peer reviews and Malaysia and Indonesia are next on the list.

"We send top experts from APEC including one of the top energy efficiency experts in the nonprofit sector in the United States and they spend hours and hours beforehand reviewing documents, talking to people about what their economies are doing and what's working and what's not working," explains Yoshida. "Then they make a whole set of recommendations for the government to get energy efficiency on their radar screen. We're going to start doing follow-up reviews to see how the recommendations have helped or not helped."

Yoshida says there are many other important initiatives underway in APEC ranging from harmonizing standards on the energy efficiency of appliances to alternative transportation technologies and biofuels.

"We've done a huge amount on biofuels – looking at how they are tested and what role they can play in terms of displacing oil," she notes. "We've also done conferences and workshops on electric vehicles and we're putting together an initiative on smart buildings, smart grids, smart transportation and smart workforce training…There isn't just one thing that is important. We have a whole comprehensive package."

One of the biggest challenges to reducing reliance on oil imports is the often high cost of new technologies, however. Technologies such as wind power are now fairly competitive and commercial compared with five or ten years ago, Yoshida says, but that's obviously not the case for other new technologies.

The other challenge is to change the public's perception of costs in reaching energy efficiency and in particular short-term versus long-term costs.

"An energy efficient product might be more expensive now but in two or three years you might have made that money back in savings," she explains. "You need to have public education campaigns about it."

At the end of the day, however, if APEC member economies hope to safeguard the environment and ensure energy security, one of the most important ways to do that is by providing incentives for economies to trade in energy-efficient products. And one of the ways to do that is by reducing barriers to trade and investment in these environmental goods and services.