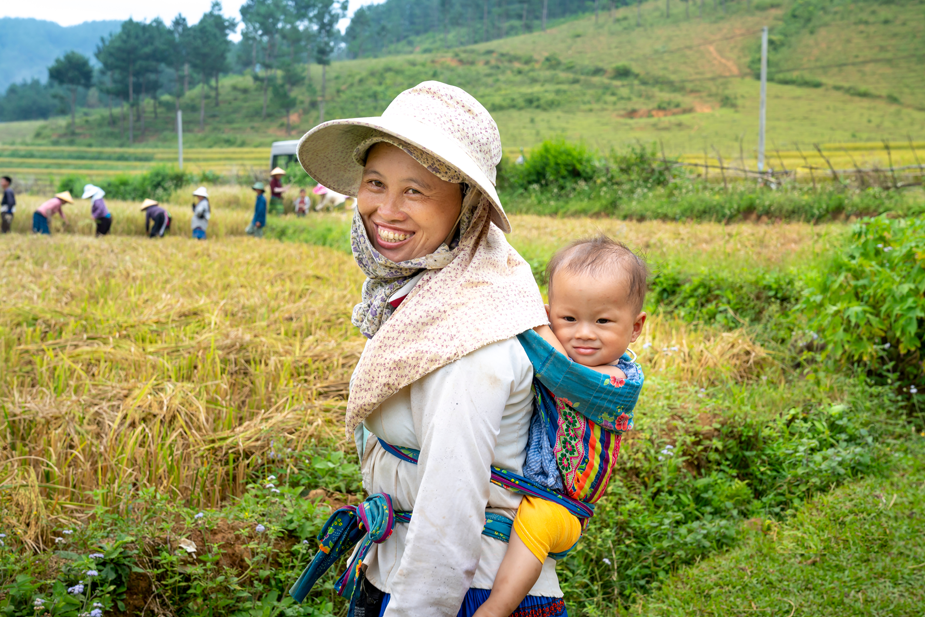 Roadmap to Women's Economic Empowerment
Singapore, 08 March 2021
Much Progress, Many Gaps
For two decades, APEC economies have steadily moved toward implementing policies that widen employment opportunities for women.
In 2019, APEC economies came together in La Serena, Chile to boost the APEC region's momentum in advancing women's economic empowerment. The La Serena Roadmap for Women and Inclusive Growth (2019-2030) adopted by the 21 member economies, defined concrete actions in the areas of education, employment, credit, private and public leadership as well as data collection to create an enabling environment that facilitates the full and equal participation of women in the economy.
Determining the region's progress, particularly in terms of widening women's access to markets and opportunities, requires looking at sex-disaggregated data and policy evidence.
Vis-à-vis the Women and the Economy Dashboard
A resource available to policymakers in the region is the APEC Women and the Economy Dashboard, a long-running report that measures more than a decade of progress in women's economic empowerment through indicators such as access to capital; education and skills, including participation in science, technology, engineering and mathematics (STEM) fields; access to technology; healthcare and leadership opportunities in both public and private sectors.
Some of these Dashboard indicators could aid in tracking the progress of the La Serena targets:
Target 1: Have in place laws, policies, and regulations that prohibit discrimination on the basis of sex in employment access, opportunities and conditions.
Anti-discrimination policies play a significant role in women's decision to enter and stay in the labor market, as do structural reforms that enable women to achieve higher levels of education and harness their skills. They also create an environment that allows a balance between family responsibilities and career aspirations.
The dashboard currently lists 18 APEC economies with laws mandating non-discrimination in hiring based on gender, and 17 economies that prohibit the dismissal of pregnant women from the workforce.
However, women can work in the same industries as men in only 13 APEC economies, and this is already an improvement compared to 10 economies in 2000.
In APEC, 13 economies provide paid maternity leave while 15 economies instituted paid parental leave, allowing the men to share in childcare.
Source: Women, Business and the Law
Another persistent issue is the implementation of laws on equal pay for men and women doing work of equal value. In 20 years, APEC economies that have put such laws in place went from just 4 to 9 economies.
Bridging this wage gap benefits women and men alike, and the whole economy. Women with salaries at par with men are motivated to participate fully in the labor market. Their ability to provide for their families will improve, reducing household poverty. Bridging the gap also takes away some of the financial pressures on men, allowing them to spend quality time with their families instead of working countless hours as the main breadwinners. Moreover, equal wages makes economic sense because it translates into increased tax revenues, which governments can use to augment allocations for education, healthcare and other social initiatives that will benefit society as a whole.
Target 2: Have in place non-discrimination laws, policies and regulations that provide equal access to capital and credit for both sexes.
Ensuring that women can open bank accounts, register a business and sign a contract encourages entrepreneurship and gives women alternative avenues to earn income and provide for their families. APEC economies continue to uphold these enabling policies.
However, access to credit remains constrained by discrimination based on gender. There are only 9 economies with laws against creditor discrimination based on gender. As of 2018, credit discrimination based on marital status is deemed illegal in only 7 out of 21economies.
Furthermore, women who want to be business leaders will find themselves victims of gender stereotyping. One of our policy briefs, for instance, cited results from the World Values Survey which found that while respondents perceived women and men to be equally capable as business executives, around 30 percent of them expressed less confidence in women's business leadership.
Source: Women, Business and the Law
Target 3: Increase the region's gender balance among STEM graduates in tertiary education, and in positions in research and R&D.
There is a dearth of data on women's engagement in the fields of STEM, with APEC economies reporting data intermittently over the years. Estimates covering the period of 2000-2018 show that the proportion of female graduates from STEM programs in tertiary education averaged below 35 percent. Although it is worth mentioning that a few APEC economies have reported participation rates at above or close to 50 percent, women's engagement in STEM has remained low in the region as a whole.
Each year, data on women's participation in research fields are only available for, at most, five APEC economies. When data are available, women in R&D are often below 35 percent in most economies.
Note: Data are based on latest year available.
Source: UNESCO Institute for Statistics: Education; and Science, Technology and Innovation
Target 4: Increase the region's gender balance in leadership positions, closing the gap for women.
APEC women's representation in leadership roles in the public sector has remained persistently low over the last two decades. Latest available data reveal that women in ministerial level positions comprised only 19.6 percent in the APEC region, while women in parliaments averaged at 23.6 percent. This is consistent with the findings from the Global Gender Gap Report by the World Economic Forum, which show that on a scale of 0-100 percent, political empowerment of women in APEC in 2019 averaged only 21 percent. Having women at the highest decision-making bodies will facilitate the implementation of policies aimed at ensuring equal rights and opportunities.
Source: Inter-Parliamentary Union: Women in Politics
Meanwhile, data on female top managers and business owners in the region have remained scarce. In fact, in 2019, only Russia reported that 24.3 percent of their firms have women as top managers. Looking at the data through the years, it could be gleaned that the percentage of firms with female managers was below 30 percent for most APEC economies with available data.[1]
Sex-disaggregated data
In the coming years we should be seeing more calls for governments and institutions to produce and collect sex-disaggregated data to inform policy.
Informed policies, backed by evidence and data on women, are often well targeted and promote inclusion. Sex-disaggregated data can improve transparency and make governments accountable; they help us assess whether policies are effective and appropriate or just shots in the dark.
While the availability of data has improved in recent years, it remains intermittent and insufficient. The lack of data on women's participation in the fields of STEM and research and development is particularly concerning amid an era of rapid technological changes, accelerated by the ongoing COVID-19 pandemic.
Having this kind of information readily available could be a powerful tool. It could raise awareness of the realities women face every day, providing much-needed evidence that could add weight to policy discussions and formulations, and motivating governments to target resource allocation toward helping specific vulnerable groups and/or key sectors.
COVID-19
The La Serena Roadmap was a product of decades of work to fix a structural problem that existed before the COVID-19 pandemic.
There is an increasing concern that the ongoing pandemic is exacerbating existing gender inequalities, dialing back progress made in advancing women's economic empowerment.
The pandemic affects everyone, but the impact is unequal, with women enduring most of the adverse effects. There are more women employed in hard-hit sectors that require face-to-face interaction such as food and beverage, and travel and tourism. Women are also more likely to be engaged in informal work with no health and unemployment benefits, leaving them exposed in episodes of crisis that necessitates the shutdown of business operations.
On the other hand, women who remain employed amid COVID-19 are also likely to shoulder a larger share of unpaid work such as child or elderly care, household chores and other domestic responsibilities that negatively affect their productivity.
Moreover, women-led or women-owned small businesses face challenges ranging from reduced sales amid continued rental and utility payments, decreased access to credit and financing amid urgent liquidity concerns, to insufficient skills and capital to shift to automation and digital platforms. This has left many women unable to participate in an increasingly digitalized economy.
Equally important, there is the observed rise in cases of domestic violence, due to a combination of financial strain and confinement that came with lockdowns, which also substantially reduced resources such as counselling, temporary shelter and health facilities. As a result, many abused women have been trapped for months with their abusers. The UN has projected that, for every three months of lockdown, there could be 15 million more cases of domestic abuse, with movement restrictions expected to result in a 20 percent increase in domestic violence.[2]
This is a lot to take in but addressing these problems requires swift government action: making the right data available as well as sharing good practices and effective policy initiatives among economies.
Today is a good a day as any to say that the La Serena roadmap's implementation could pave the way toward greater women's access to economic opportunities. It is good for women be empowered. It is good for the economy to have empowered women.
1 Source: World Bank Enterprise Surveys.
2 UNFPA, "Impact of the COVID-19 Pandemic on Family Planning and Ending Gender-based Violence, Female Genital Mutilation and Child Marriage", Interim Technical Note (April 2020).
#
Rhea Crisologo Hernando is a researcher at the APEC Policy Support Unit.