2013 Ministerial Meeting on Small and Medium Enterprise (SME) and Women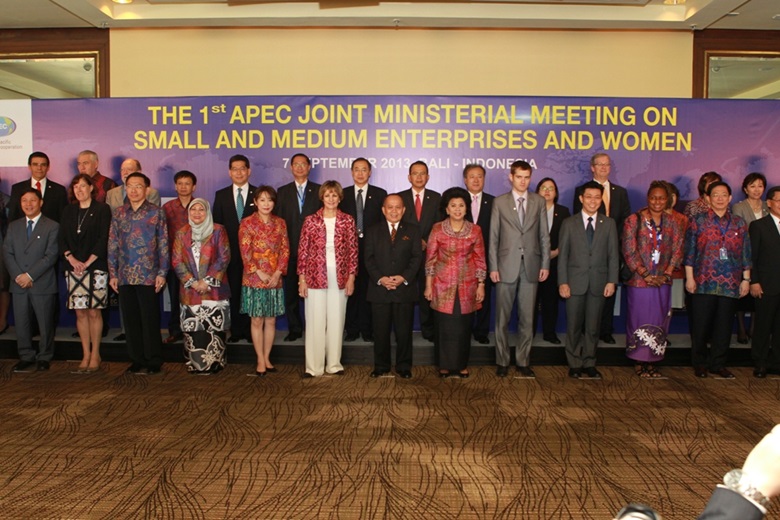 We, APEC ministers and senior representatives from APEC Economies, met in Nusa Dua, Bali, Indonesia, on the 7th September 2013 for the 1st Joint Ministerial Meeting on Small and Medium Enterprise and Women, under the Chairmanship of Mr. Sjarifuddin Hasan, Minister of Cooperatives and Small and Medium Enterprises and Co-Chairmanship of Mrs. Linda Amalia Sari Gumelar, Minister of Women's Empowerment and Child Protection of the Republic of Indonesia, to discuss APEC's roles in strengthening Women SME participation in APEC economies.
Importance of Women SMEs to Our Economies
We recognize the importance of women SMEs to our economies, since it is known that the percentage of women entrepreneurs in our economies is approximately 40%. This percentage includes all types and sizes of businesses, including self-employed small enterprises.
We further reaffirmed the importance of SMEs, including start-ups and microenterprises and, in a number of economies, the informal sector, which have emerged as engines of growth for most of our economies, contributing to Asia-Pacific's resilience. Among SMEs, women entrepreneurs have made tremendous economic strides in generating employment, driving production and innovation, and contributing to local development. Nevertheless, further support is necessary for women SMEs to achieve their full potential.
We encourage the Small and Medium Enterprise Working Group (SMEWG) and Policy Partnership on Women and the Economy (PPWE) to continue to keep each other informed of their activities and to discuss common issues to help address commonly cited challenges faced by women in SMEs through policies, programs and actions in our economies.
Enhancing Cooperation to Empower Women SMEs in the Region
We recognize that it is necessary to enhance cooperation among member economies to further empower women SMEs in the region through collaborative efforts on targeted policy measures for the inclusive development of Women SMEs in the areas of (a) Promotion of Entrepreneurial Culture, and (b) Increasing Access to Finance.
We encourage economies to consider actions to promote entrepreneurial culture in the following areas. Examples of actions that have yielded results in member economies include (a) Developing gender-responsive entrepreneurship policies; (b) Promoting business training that is targeted for women entrepreneurs particularly in business management skills;
(c) Increasing outreach to women on Business Development Services and Business incubators through public-private partnerships, including CSR programs; (d) Measures to foster innovation and, to promote understanding of intellectual property rights among women innovators; (e) Supporting the development of networks for women SME owners and operators; and (f) Providing information that meets the needs of women SME owners and operators.
We also encourage economies to consider actions to increase access to finance in the following areas (a) Reducing barriers to commercial loans, including through women's financial education, the development of an SME credit information system and information-sharing regarding the profitability of loans to women-led businesses; (b) Creating women-focused microfinance programs that support the scaling up from Micro to SMEs; (c) Encouraging economies to create a supportive policy environment for the development of venture capital, angel investment and micro-insurance; (d) Streamlining and improving the business formalization process, including the provision of 'one-stop-shop' services or clear information on starting a business; and (e) measures to encourage the formalization of Women SMEs.
Taking Actions to Empower Women SMEs in the Region
We agree that APEC should emphasis its direct and practical work benefiting Women SMEs. Economies are encouraged to identify priority issues and set goals and targets to be implemented in their economies. We further encourage collaboration between SMEWG members and PPWE members to ensure coordinated APEC action.
We, APEC ministers, are well positioned to undertake the challenges with the commitment towards realizing the 2010 APEC Leaders' Growth Strategy, which underlined the importance of promoting SMEs, Micro Enterprises (MEs), and entrepreneurship development. This includes work to encourage a wider range of SME participation in high-growth sectors; to strengthen comprehensive support for SMEs with a coordinated approach between SME agencies and other related agencies; and more inclusive access to finance and financial services for SMEs, MEs, women entrepreneurs, and vulnerable groups.
We encourage the SMEWG and PPWE to take this work forward and incorporate the results of our deliberations into their Strategic Plans, and to initiate and collaborate on specific and concrete actions in each priority area prior to the APEC Economic Leaders' Meeting in 2014.
-o0o-