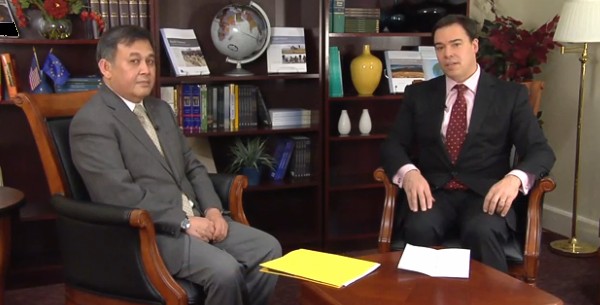 APEC supporting Trans Pacific Partnership process
Washington, D.C., United States, 10 March 2011
APEC is playing a vital supportive role in advancing regional trade negotiations, APEC Secretariat Executive Director, Ambassador Muhamad Noor said this week.
APEC is working to define, shape and address the next generation of trade and investment issues that potential high-quality trade agreements such as the Trans Pacific Partnership (TPP) will contain, Ambassador Noor told the Center for Strategic and International Studies (CSIS) a thinktank based in Washington, D.C.
"The APEC Leaders have assigned us a very clear role as an intellectual forum for an exchange of views on what we call the 21st century trade and investment issues," he said during his visit.
"And that is very supportive of the Trans Pacific Partnership because the aim of the participants of the TPP is to achieve a high-quality agreement addressing such issues."
"We will act as incubator for some of those ideas and in that way we contribute to the negotiations on the Trans Pacific Partnership, an agreement which on the other hand will contribute to our objective of achieving a Free Trade Area of the Asia-Pacific."
Ambassador Noor was asked about APEC's relationship to the TPP during an interview with Ernest Bower, a CSIS senior adviser and director of its South-East Asia program. A video of the entire interview can be downloaded here:
Nine APEC members are currently negotiating the TPP. APEC Leaders stated last year that the TPP is one possible building block, along with other regional undertakings, to achieving a Free Trade Area of the Asia-Pacific, part of APEC's regional economic integration agenda.
Ambassador Noor also discussed the priorities for APEC this year, which is being hosted by the United States. APEC is focused on achieving concrete and practical results in strengthening regional economic integration and expanding trade, promoting green growth and expanding regulatory cooperation and advancing regulatory convergence.
APEC senior officials are meeting in Washington to discuss the priorities and set the agenda for the coming year. APEC's many working groups have also been meeting in Washington to advance their work on trade and investment issues.
# # #
For more information, contact: Trudy Harris + 65 6891 9671 or + 65 98983710 at [email protected] or Michael Chapnick +1 (202) 664 6245 at [email protected]