Last page update:
Structural policies refer to domestic policies and institutions that affect the operation of markets and the capacity of international businesses to access those markets and operate efficiently. Experience indicates that economies addressing domestic or behind-the-border impediments through structural reform are more resilient to economic shocks, achieve greater macroeconomic stability and increased productivity; and experience higher living standards over time.
Commitment to promote structural reforms
In 2004, APEC Leaders recognized the effects of behind-the-border impediments on economic growth and adopted the Leaders' Agenda to Implement Structural Reform towards 2010 (LAISR 2010) which addresses five priority areas for reform as shown below.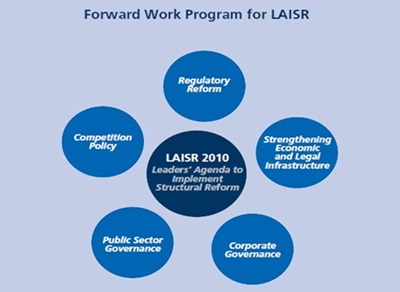 In 2010, APEC Leaders endorsed the APEC New Strategy for Structural Reform (ANSSR) that aims to promote balanced and sustainable growth by fostering transparency, competition and better functioning markets in the Asia-Pacific. In addition, this new strategy emphasizes a social dimension that includes enhancing opportunities for women and pressing for more education and SME development.
Progress of structural reforms in the region
• Good regulatory reforms – According to the 2014 APEC Economic Committee Report on Good Regulatory Practices, APEC has over the years reduced the negative impact of regulatory divergences on trade and investment. In 2011 and 2013, APEC Leaders committed to strengthen the implementation of good regulatory practices through ensuring internal coordination, assessing the impact of regulations, conducting public consultations, and encouraging single online locations for information and other tools. One key achievement is wider adoption of Regulatory Impact Assessment (RIA) which allows economies to assess costs and benefits of proposed regulation and its possible alternatives.
• Fiscal Transparency – Fiscal transparency is a state of governance that entails the full disclosure of budgetary and fiscal activities. By helping citizens stay informed, fiscal transparency aligns government activities with citizen needs, helps minimize corruption and ensures public accountability. In APEC, we have effective legal framework to guide each economy's budget process and independent auditing to maintain quality of reported data and monitor government fiscal activities. To further enhance transparency, the major budget and fiscal documents of most APEC economies are also made available to the public. In 2013, 19 APEC economies submitted Individual Economic Reports providing information on their fiscal institutions and key initiatives and challenges in promoting fiscal transparency. Read the "Factsheet: 2013 APEC Economic Policy Report" for more information.
• Competition policy – A few economies have taken the initiative to enhance the effectiveness of competition policy, including implementation or improvement of competition law. Nonetheless, economies continue still face issues such as insufficient expertise, the need to build a competition culture, a lack of coordination across agencies on competition issues and limited resources.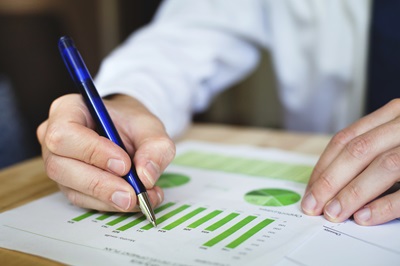 • Public sector governance – Various efforts have been made in member economies to improve the performance of the public service, such as providing greater incentives for public workers, enhancing efficiency and reducing reporting burdens, and promoting transparency.
• Corporate governance – Member economies are increasingly showing interest in applying good corporate governance rules, although different levels of development and different economic structures (e.g. state owned enterprises versus fully private corporations) have necessitated a flexible approach to implementing international principles.
• Strengthening economic and legal infrastructure – Economic and legal infrastructure, including bankruptcy law, has been upgraded in many member economies. Meanwhile, developing economies are increasingly interested in dispute settlement mechanisms such as Alternative Dispute Resolution.
Other initiatives to enhance structural reforms
• Implementation of APEC New Strategy for Structural Reform (ANSSR) – Several workshops have been conducted in 2011 to implement ANSSR. For instance, Mexico held capacity building workshops on Development and Implementation of Methodologies to Improve the Quality of Regulations and Regulatory Impact Assessments for Enhancing Market Openness, Ensure Transparency and Promote Economic Growth. Read about other workshops here.
• Toolkits – APEC also prepares toolkits that provide information for economies keen on developing structural reforms.
• Other initiatives implemented to boost structural reforms can be found here.