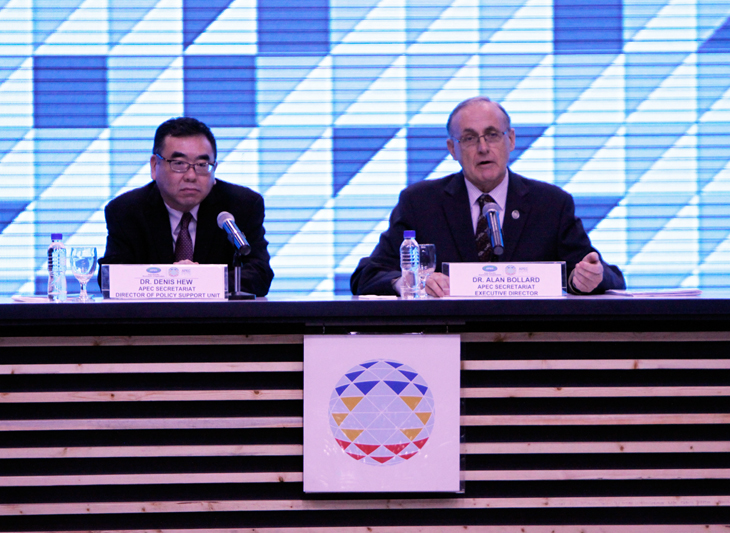 Asia-Pacific economies continue to grow but at a moderated pace on account of slowing global trade, prompting next generation trade and growth boosting measures that target the region's emerging middle class consumers and open up new economic opportunities for more people and businesses.
Growth among the 21 APEC member economies softened to 3.1 per cent in the second quarter of 2015, down from 3.2 per cent in quarter one and 3.4 per cent a year ago, according to the latest APEC Economic Trends Analysis launched at a news briefing in Manila. A separate report on trade and investment trends was submitted to the APEC Ministerial Meeting now underway here. The findings help to set the tone for work by the region's Leaders and Ministers this week in support of greater trade and inclusive, sustainable growth.
"Economies across the Asia-Pacific continue to grow but find themselves in a holding pattern of lower growth in the absence of high trade volumes," said Dr Alan Bollard, Executive Director of the APEC Secretariat. "Private consumption is helping to compensate but must be tapped into more aggressively to keep the regions' economies on track."
"Market uncertainty and protectionist pressures are a concern but trade distorting measures have been generally kept at bay," Dr Bollard noted. "The fact is that economies in the region are still highly trade dependent and opportunities to grow are very much out there but there is a recognition in APEC that traditional approaches are not enough. When you have large sections of the economy that are participating at suboptimal levels it can greatly undermine progress."
The responsiveness of GDP growth to private consumption in the region is increasing markedly as exports contract, the reports reveal. By contrast, the trade-GDP relationship continues to weaken, with trade in the APEC region contracting during the first half of 2015. Goods exports are expected to rise 2.3 per cent for the full year and climb to 3.3 per cent in 2016 in response to rebounding global demand. Yet this is still more than a percentage point below 2014 levels.
Foreign direct investment inflows to APEC economies dropped 22.1 per cent to USD 651.8 billion in 2014 compared to USD 836.9 billion the previous year, reflecting investors' bearish sentiments. Outflows from the APEC region increased by 5.1 per cent in 2014, slower than the 7.5 per cent pace recorded in 2013.
APEC economies must take greater steps to translate trade and economic growth to inclusive growth, defined by improved income growth and distribution, the research goes on to explain. Trade growth over the past quarter century has lifted incomes but it has not significantly contributed to reducing inequalities in the APEC region, it reveals. To combat this trend, it is advised that trade openness be accompanied by policies that enable inclusive growth.
"Policies such as human capital investment, social protection, labor market reform, financial market reform as well as institutional reform could help to ensure that the benefits of economic integration are widely felt," said Dr Denis Hew, Director of the Policy Support Unit, which authored the reports. "Working out the details is something that will take time but ultimately determine whether the value of greater interconnectedness can live up to its full potential."
"Efforts by APEC member economies to support micro, small and medium enterprises to globalize and gain access to international production and supply chains are important steps in the right direction," Dr Hew concluded. "Policymakers in the region will furthermore need to implement an appropriate mix of monetary and fiscal policies combined with structural reforms to achieve more resilient, sustainable and inclusive growth."
The region's economic performance is expected to moderate in 2015, growing by 3.1 per cent, and subsequently recover in 2016 on 3.4 per cent growth. This reflects an upward trend in advanced economies and a more upbeat export performance among developing economies next year.
Click to View Latest APEC Economic Trends Analysis
Click to View APEC Trade and Investment Trends Report
# # #
For more:
Philippine President Benigno S. Aquino III Previews the 2015 APEC Economic Leaders' Week here.
Ten things to know about the 2015 APEC Economic Leaders' Week are described at this link.
Details on meetings and events during the 2015 APEC Economic Leaders' Week can be found at this link.
View live streaming of APEC Economic Leaders' Week meetings, events and programs at this link.
For further details, or to arrange possible media interviews, please contact:
David Hendrickson (in Manila) +65 9137 3886 at drh@apec.org
Michael Chapnick (in Manila) +65 9647 4847 at mc@apec.org
More on APEC meetings, events, projects and publications can be found on www.apec.org. You can also follow APEC on Twitter and join us on Facebook and LinkedIn.