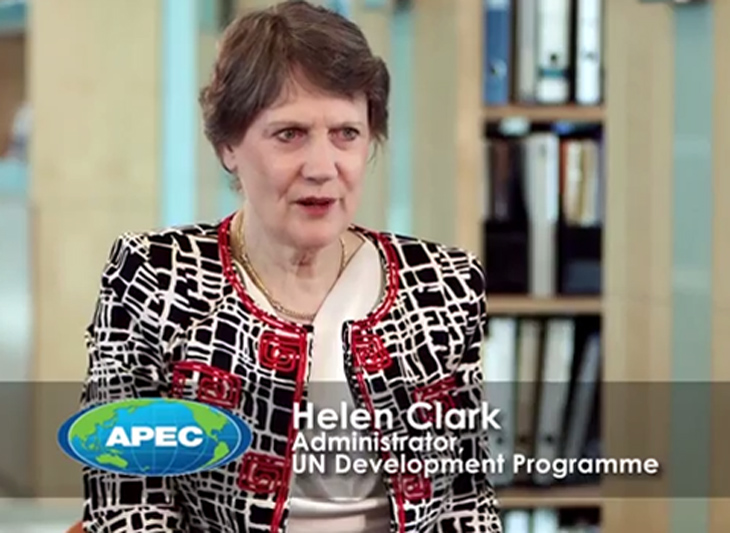 UNDP Administrator Helen Clark said that trade facilitation and capacity building are essential to enable developing economies to take part in the integrated global economy.
On the occasion of APEC's 25th anniversary, Clark discussed her involvement with APEC and highlighted key issues to address moving forward.
Clark said that regional economic integration has taken a slower path despite efforts by some member economies to pursue regional trade agreements.
"When I was Prime Minister of New Zealand, with Chile, Singapore and Brunei, we were fast movers on the Trans-Pacific Partnership, but expanding that has proven to be rather difficult," Clark noted. "I am sure APEC will keep working away at this."
In particular, she stressed the importance of APEC's capacity building work to help support developing economies.
Clark applauded APEC's evolving agenda to promote balanced, inclusive and sustainable growth. But while the region has been successful at fighting extreme poverty, inequalities have also increased and greater efforts must be taken to tackle sustainability challenges when promoting growth, she noted.
"The traditional models of growth throughout human history have meant we've cleared our forests, we've poisoned our water, and we've poisoned our air," Clark explained. "We've now got so many of the major emerging economies which have followed the same path of development with the same tragic consequences."
"I hope in the economic chat around the APEC table, people aren't just talking about growth, growth, growth but the quality of growth," she continued. "Is it environmentally sustainable? Is it lifting human beings? Is it lifting human development?"
Clark outlined possibilities for collaboration between APEC and UNDP. Both organizations are focused on capacity building in similar areas including trade facilitation, integrity in governments, anti-corruption and advancement of women, she said.
"If we are clear about what the priorities for APEC are, where APEC is looking for capacity to be built, for assistance to be improved, where governments could go up several notches, or for women to be included, I think we could do more together," concluded Clark.
As Prime Minister of New Zealand, Clark was involved with APEC for eight years from 2000-2007.
For more:
Broadcast-quality sound bites are available at the APEC Online Media Center.
# # #
For more details, please contact:
Jennifer Juo +65 9721 8660 at jj@apec.org
Michael Chapnick +65 9647 4847 at mc@apec.org
Additional information about APEC meetings, events, projects and publications can be found on www.apec.org. You can also follow APEC on Twitter, Facebook and LinkedIn.