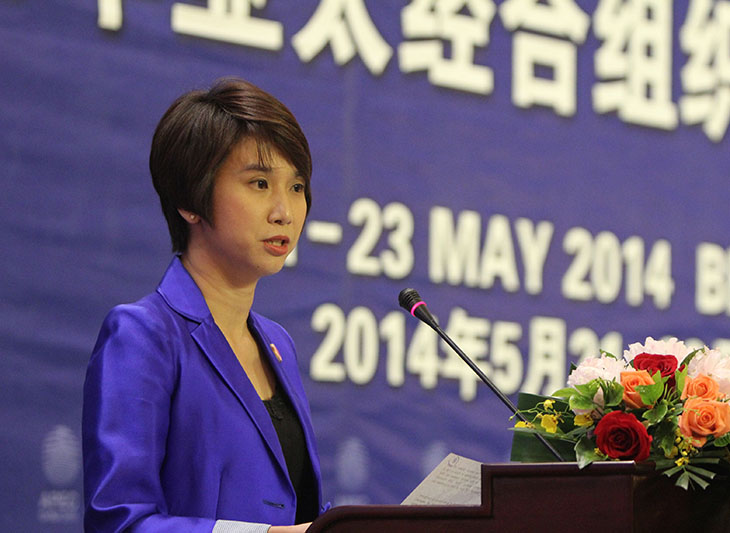 Empowering women for Asia-Pacific prosperity
Beijing, People's Republic of China, 23 May 2014
APEC Ministers responsible for empowering women in the economy, together with private sector leaders, are gathered in Beijing to develop policies to ensure women achieve their full potential through green development, regional trade cooperation and policy support.
Opportunities for greater women's entrepreneurship and involvement in trade through mobile-based smart technology and electronic commerce, and steps to advance this process are among the issues being addressed by delegates at the two-day APEC Women and the Economy Forum that concludes on Friday.
"Women are important producers of both material and cultural wealth, and are also key drivers of development," said Shen Yueyue, Vice Chairperson of China's Standing Committee of the National People's Congress and President of the All-China Women's Federation. "More efforts are needed to facilitate achievement of women's full potential, particularly through skills and capacity building, inclusive growth and cooperation network building."
Around 600 million women currently participate in the labor force across the 21 APEC member economies. But just over 60 per cent of women in the region work in formal economic sectors and productivity within this demographic is still largely untapped.
In China, women constitute 46 per cent of the workforce and only 21 per cent of businesses there were women-owned in 2012.
"Actions are being taken in China to help women realize their full potential and enhance their economic empowerment," said Song Xiuyan, Chair of the 2014 APEC Women and Economy Forum and Vice Chairperson of China's National Working Committee on Children and Women under the State Council. "We'd like to share experiences with and learn from other APEC economies."
Mobile technology and e-commerce platforms offer new ways for women to start their own businesses while balancing family life, delegates noted. Mobile app development and online stores are among the range of new and attractive options.
"Today women have a better environment for growth," said Diane Wang, representative from the APEC Business Advisory Council, China, and Founder and CEO of DHgate.com, a leading online marketplace for goods manufactured in China.
"We have seen many women in China start their own businesses on an e-commerce platform to access international markets and micro-finance," Wang explained. "APEC can help women better leverage these new e-commerce and mobile technologies."
Delegates identified areas where greater policy action is required and coordination between economies can support their adoption.
"When we look at business opportunities, I don't think there are boundaries anymore," said Lois Brown, Parliamentary Secretary to Canada's Minister of International Development. "E-commerce offers exciting new ways for women, even my own daughter, to start their own global online businesses."
"There is much we can do on the policy side to facilitate women entrepreneurship in e-commerce, from making it easier to start a business with one-stop shop licensing to increasing financial literacy of women entrepreneurs," Brown concluded.
Reducing the time to start a business through the cutting of administrative red tape is a priority within APEC and a component of member economies' collaborative work to achieve a 25 per cent improvement in the ease of doing business in the region by 2015.
APEC Small and Medium Enterprise Ministers and Finance Ministers will assess policy progress towards enhancing financial awareness and access to funding among entrepreneurs and start-up companies, and chart the way forward, when they meet on 5 September in Nanjing and 21-22 October in Beijing, respectively.
# # #
For more details or to arrange possible media interviews, please contact:
Jennifer Juo +65 9721 8660 at jj@apec.org
Michael Chapnick +65 9647 4847 at mc@apec.org
Additional details about APEC meetings, events, projects and publications can be found on www.apec.org. You can also follow APEC on Twitter, Facebook and LinkedIn.