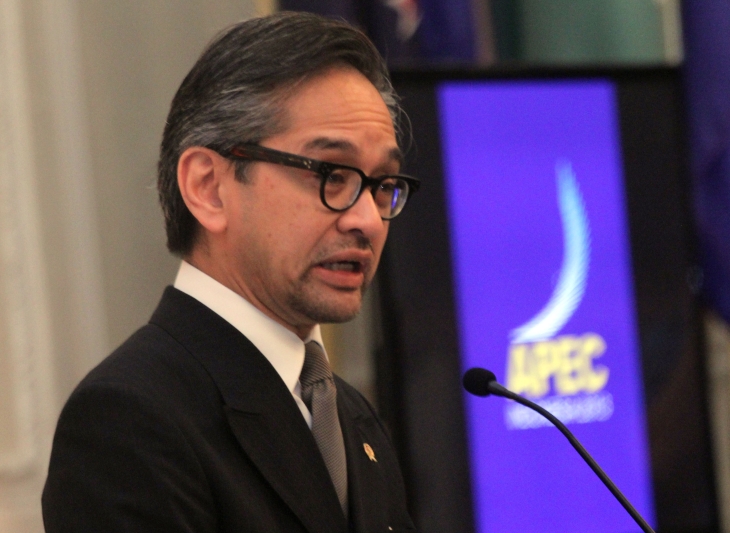 "We are convinced that resilience and sustainable economic growth can be more readily achieved when the whole region grows together," said Indonesia's Minister of Foreign Affairs, Marty Natalegawa this morning as he kicked started the work for 2013.
Addressing APEC's Senior Officials this morning, Minister Natalegawa discussed the need for resilience in the face of challenges and opportunities before the region. Natalegawa will serve as the co-chair for the APEC Ministerial Meeting, along with Indonesia Minister of Trade Gita Wirjawan, which will be held in Bali in October 2013.
Natalegawa described the enormous challenges that are so complex that they make the world a tangle of contradictions.
"It is a world of plenty, yet in which millions go to bed hungry; a world of vast opportunities, yet in which millions are unemployed; a world of amazing connectivity, yet in which distant villages are isolated for lack of infrastructures; a world challenged by the threats of food security, climate change, and energy security," he explained. ""In essence: challenges that demand partnership and cooperation."
For APEC to contribute to economic expansion, Natalegawa said that the Asia-Pacific region should serve as an engine for balanced, sustainable growth with equity. Indonesia's theme in 2013 is "Resilient Asia-Pacific: Engine of Global Growth."
"First, we must maintain the momentum of free and open trade and investment, to which our Leaders committed themselves when they endorsed the Bogor Goals in 1994"
Natalegawa emphasized the importance of enhancing small and medium enterprises; assisting rural populations with means for development; and achieving greater recognition of the role of women in all endeavours, including development efforts.
"Second, we must see to it that economic growth is inclusive, with an eye to equity and social justice-- by empowering and tapping the creativity of our peoples," he continued. "And we must also see to it that it is as sustainable growth, one that is consistent with our environmental concern."
Natalegawa said that the economies of the region have distant provinces and growth poles that are not yet well connected with one another and to the world market.
"Third, we must accelerate economic growth in the Asia-Pacific by addressing the region's need for connectivity. Hence, we must seize the opportunities for investing in the development for infrastructures for connectivity, including infrastructures for connectivity of our maritime areas."
At the conclusion of his presentation, he introduced APEC Indonesia 2013 logo which depicts a strong bamboo tree, with 21 bamboo shoots.
"Indonesia's logo symbolizes the resilience of APEC economies and the firmness of our commitment to serve as a force for sustainable global prosperity with equity."
Indonesia takes the helm of APEC in 2013 almost two decades after it first hosted in 1994 when it facilitated the Bogor Goals to lay the foundation for open trade and investment regime in the Asia-Pacific region.
Russia expressed its support for all of the priorities that were proposed by Indonesia.
"APEC's priorities for 2013 will carry forward the achievements we reached in Vladivostok earlier this year," said APEC Russia's Senior Official, Ambassador Gennady Ovechko. Russia holds the chairmanship until the end of this year.
APEC Senior Officials will meet next in Jakarta in February 2013.
# # #
For more information, please contact David Hendrickson +65 9371 8901 at drh@apec.org or Michael Chapnick +65 9647 4847 at mc@apec.org.
Additional details about APEC initiatives can be found at www.apec.org. You can also follow APEC on Twitter and join us on Facebook.