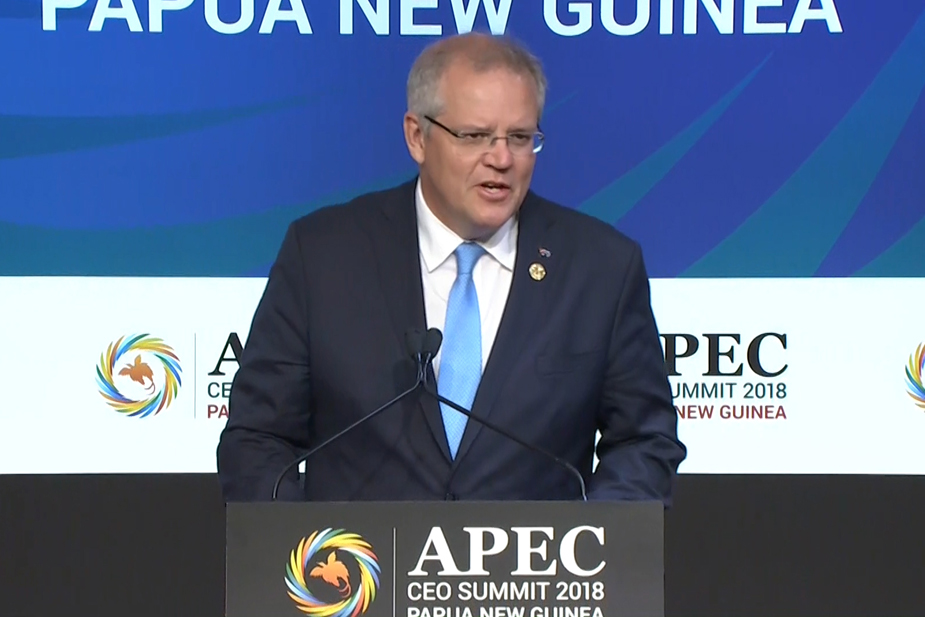 Prime Minister Scott Morrison of Australia is the leader of one of APEC's founding member economies. Here are some excerpts from his speech to business leaders ahead of the APEC Economic Leaders' Meeting.
1. On APEC's future role in the region:
APEC encourages trade and by taking practical steps on the things that matter to business - faster customs procedures, facilitating supply chain connectivity, promoting sustainable development, facilitating the digital economy and digital connectedness.
APEC must remain a very practical forum. It cannot be about talk, it has to be engaged in very practical measures with a focus on facilitating business and a business environment that sets the right conditions for business.
2. On Australia's commitment to free trade:
Tit-for-tat protectionism and threats of trade war are in no-one's interests economically and undermine the authority of the global and regional trading rules that benefit us all and, importantly, the people, the families who live in our economies and are supported by our economies.
3. On the World Trade Organization's role:
We will work with like-minded countries around the world to ensure that it is improved and to understand the issues that they are raising, independently listening and seeking to understand. We want to strengthen and improve the WTO and we will continue to pursue liberalisation wherever we can.
4. On the Comprehensive and Progressive Agreement for Trans-Pacific Partnership (TPP):
The door to the TPP remains open. More can join and we welcome and look forward to those opportunities in the future. It set the standard for what an agreement should look like into the future, by being modern.
5. On improving digital trade in the region:
There are plenty of opportunities before us, like developing digital infrastructure and creating the right regulatory environment that protects privacy, while enabling data to move across borders. Business tells us that we need rules that ensure the free flow of data and facilitate online trade, but at the same time protects consumers and recognises cyber risks.
6. On infrastructure needs:
The Asian Development Bank estimates the Pacific region needs USD 3.1 billion in infrastructure investment, each year until 2030, a tall task. To contribute to that, last week Australia, the United States and Japan signed a memorandum of understanding to support trilateral cooperation in the region.
7. On the aim of the MOU:
Under the MOU, (we) will work together to finance infrastructure projects and mobilise private sector investment to drive future economic growth, job-creation and poverty reduction. We will work closely with partners to identify projects for the trilateral partnership to support.
8: On Australia's move to set up a AUD 2 billion Australian Infrastructure Financing Facility for the Pacific:
(This) will significantly boost our support for concessional infrastructure development. I am looking forward to giving EFIC, Australia's export financing agency, an extra billion dollars in callable capital and a new, more flexible infrastructure financing power to support at commercial rates, investments in the region.