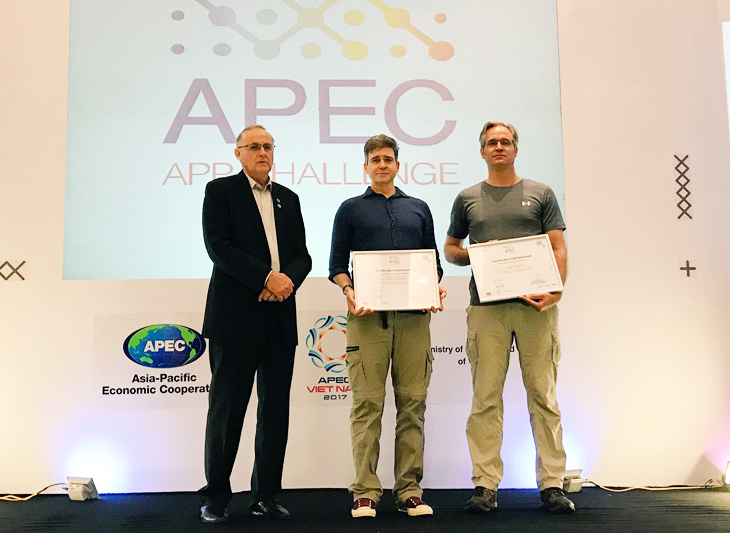 Because the internet provides new opportunities for small and medium-sized enterprises (SMEs) to access global value chains and grow, apps can help empower SMEs and contribute to inclusive growth, by providing services to improve access to finance, business information, logistics - and international marketplaces.
Two software developers were announced as the winners of the 2017 APEC App Challenge at the APEC Symposium on Trade and Innovation in conjunction with the trade ministers' meeting in May. The award honors the best mobile or web application that helps SMEs take advantage of the internet to begin exporting.
Chris Gough and David Elliot from Australia stood out among a field of nearly two dozen other developers from across the Asia-Pacific region with an app that helps small businesses register a global export identity, grow their reputation as exporters, and access export-related standards and regulations.
The winning app, APEC CONNECT, is an online platform designed to bring the benefits of globalization to the smallest business owner by providing small businesses with their own global trading identity via an open digital identity registry, interoperable localized Electronic Data Interchange standards and blockchain-notarized transactions. APEC CONNECT is designed to help even the smallest business establish their own global reputation for trading goods and services.
"We want to help more SMEs get online and take advantage of digital technology to grow," Dr Tran Tuan Anh, Minister of Industry and Trade of Viet Nam said when he announced the winners. "We have done this by placing innovation at the center not just of what we are hoping to create, but of the very process itself with this App Challenge."
"We are very pleased to have been part of this App Challenge and to have helped bring together developers from across APEC," said John Karr, Senior Director of Technology Programs at The Asia Foundation. "There is an incredible depth of digital talent in Viet Nam and across this region, and nowhere is better placed to take advantage of the opportunities of the internet to promote inclusive growth."
"Across Asia-Pacific, small businesses that are online are four times more likely to be exporting," added Caroline Atkinson, head of global policy at Google. "Asia-Pacific is a dynamic region and small businesses have huge potential - all they need are the tools to bring their skills, produce and goods to the world. In fact, small businesses are the new stakeholders of trade."
For the APEC App Challenge winners, the award marks the culmination of an intense 24-hour period in Ha Noi during which they completed their new app; pitched it to a panel of judges from the Viet Nam Ministries, private sector, APEC, The Asia Foundation, and Google; and presented it once more to an audience of APEC ministers and policymakers at the Symposium on Trade and Innovation.
Before returning home, the team expressed excitement at the outcome of the challenge and the future of their product.
"Digital technology promises to lift up millions of micro and small businesses the world over, and we're really encouraged by APEC's focus on innovation in this space," said Elliot upon receiving the award.
Second prize went to AirLaLa, a team from Viet Nam, led by Bùi Đắc Thịnh and Trần Hoàng Hiệp who developed a marketplace and matchmaking platform for local artisans. Third prize went to the Malaysian team of Qamra Jema Khan and Andrew Ken Sean Lee, developers of Connect, an app designed to make it possible for inexperienced small businesses to share information and knowledge on trade issues via an online platform.
In addition to their recognition from the APEC Secretariat and the Ministry of Industry and Trade of Viet Nam, the pair will receive a valuable prize package. The event was supported by The Asia Foundation and Google.