EDNET Co-Chair of Viet Nam on Education and the Future of APEC Region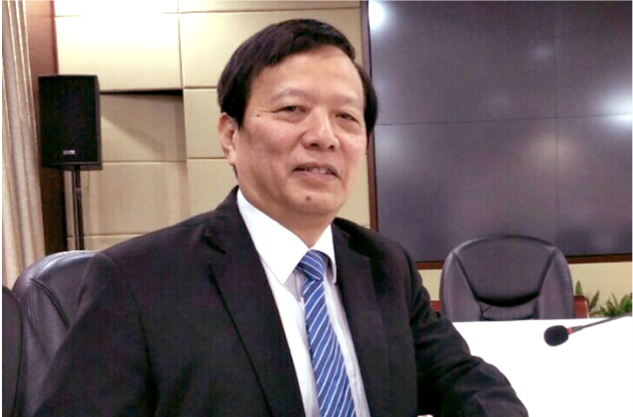 Mr. Pham Chi Cuong, Deputy Director General, International Cooperation Department, Ministry of Education and Training of Viet Nam
As co-chair of the EDNET, how do you understand the work of education of APEC in general?
As you all know, education assumes an important and special mission of producing manpower for socio- economic development, commerce negotiation, diplomatic relationship establishment and people linkages, especially friendship for all nations around the world, so the EDNET – an education organization of the APEC shares the mission that education has been doing.
What has Viet Nam learned or benefited from working with APEC in the sphere of education so far?
Since participation in the APEC in 1989, Viet Nam has been involved in APEC educational activities step by step and has learned a lot of knowledge and information on educational policies, best practices and educational reforms or implication of STEM/STEAM from other APEC member economies. We have also come to know many interesting projects and initiatives carried out by other APEC economies that can help us in our current education reform and in the development of human resources in the future.
In what way do you think that the work of EDNET could best contribute to education development and reform in Viet Nam?
As I mentioned, experience and lessons in implementing STEM/ STEAM in education reform in some APEC economies is significantly meaningful to our education reform so we would like the EDNET to create more chances for Viet Nam to participate in workshops, conferences and other educational activities to have information exchange on this matter with other economies with the aim of applying them, to some extent, to our conditions.
In what way do you think education cooperation among APEC member economies could contribute to economic integration and social well-being in the APEC region at large?
I think that the HRDWG has been implementing initiatives, programs on education, labor and capacity building to develop human resources. These ideas come from decision of APEC leaders and Ministers of Education and Labor, thus training and improvement of human resources could be perhaps the best way for APEC member economies to contribute to economic integration and social well-being in APEC region. This could be done in various ways and in different forms that are suitable and appropriate to the capacity of each economy.
What are the priorities in the field of international education exchange and cooperation in Viet Nam? How have the priorities changed over the years?
Since Viet Nam issued an open- door policy in 1986, Ministry of Education and Training (MOET) has had some international education exchanges and cooperation with foreign universities. The MOET has issued new policies on encouraging Vietnamese universities or institutions of higher education to have twinning training programs, joint research projects, academic faculty and student exchange programs with foreign universities. There are now more than five hundred twinning programs that are carried out by Vietnamese universities. On the other hand, the Vietnamese government has also issued scholarship programs to improve the quality of teaching staff, researchers and officers at the universities as well as in the government. One of the programs is to train 20,000 PhD holders for Universities in the period from 2010 to 2020. Half of them have been sent overseas to study programs or disciplines which are unavailable in Viet Nam but which Viet Nam will need for economic development and national construction in the future. The rest is trained in Viet Nam with involvement of foreign universities. There are about 150,000 Vietnamese students who are studying in over 40 economies in the world, including Vietnamese government scholarship awardees, foreign government/institutions scholarship awardees and self- funded students.
In recent years, in order to implement the cause of industrialization and modernization and international integration in education, we encourage foreign investors to set up international institutions of education at all levels to satisfy a wide range of diverse needs in education and to increase the quality of education and competition among Vietnamese universities. So far, we have had some international universities located throughout Viet Nam such as RMIT (Royal Melbourne Institute of Technology), Fulbright University, Vietnam – Japan University, British University, Vietnam – German University, University of Science and Technology, etc. There are also uncountable international schools owned by foreign investors or set up by domestic business to meet the ever increasing demands of society.
What do you think about education- related projects and initiatives undertaken by APEC member economies and which projects and initiatives are best aligned with Viet Nam's priority areas?
The education-related projects and initiatives undertaken by APEC member economies, including cross-border education programs or academic, student, labor mobility and government-academia- business collaboration programs are meaningful and may be best aligned with Viet Nam's priority areas.
What is your take on the APEC Education Strategy and its Action Plan and their implications for the education development in Viet Nam and the APEC region?
It is possible to say that the APEC Education Strategy agreed by Education Ministers at the 6th AEMM in Peru in 2016 is a goal for the less developed economies just like Viet Nam to strive for the future, at the same time for narrowing the gap in education, creating favorable conditions for bilateral and multilateral education cooperation among APEC member economies.
How shall member economies push forward the implementation of APEC Education Strategy and what role could the Action Plan play in this regard?
I think that all APEC economies realize the importance of this Strategy and will implement it in their own capacities by concrete actions, plans in various forms of self-funded or co-sponsored projects/initiatives, workshops, conferences or signature of MOU, exchange programs of academics and students at all educational levels... In short, I can say that the Action Plan can be considered as a tool to join the APEC member economies together to gain an inclusive and quality education in the future.
How do you think the EDNET could play a better role in building a strong and cohesive APEC education community characterized by inclusive and quality education in the future?
First of all, the EDNET is closely associated with the Human Resource Development Working Groups such as CBN and LSPN to promote the well-being of all people and to achieve sustainable and inclusive economic growth in the region, and it is necessary to consolidate coordinating ties and linkages with these units. Secondly, human resources development is a cross-cutting issue, the coordination with several APEC working groups including the Committee on Trade and Investment (CTI), the Economic Committee (EC), the Small and Medium Enterprises Working Group (SMEWG), the Emergency Preparedness Working Group (EPWG), and the APEC Business Advisory Council (ABAC), and international organizations such as the Organization for Economic Co- operation and Development (OECD) and Southeast Asian Ministers of Education Organization (SEAMEO) in the areas of labor and social protection and foreign language education and training is also a point that the EDNET should be concerned about and take into consideration. Finally, to get more involvement and participation in all educational activities from less developed APEC economies, there should be a foundation or a fund to support them in the future.
What is your take on the APEC Education Development Newsletter?
I think that the APEC Education Development Newsletter comes into being in the right time when all economies, including the APEC economies are entering the Fourth Industrial Revolution in which ICT, engineering, science and mathematics are core elements clearly written in the APEC Education Strategy Action Plan, so the Newsletter is a channel to disseminate it not only for APEC economies, but also for other nations all over the world and for people who are concerned about it. More importantly, the periodical Newsletter will carry the most updated information on educational activities in all APEC economies, therefore the development of the Newsletter is necessary and useful.